Learn how to make the best homemade orange sherbet ever. If the last time you had orange sherbet was floating inside a punch bowl, you are going to want to give this homemade version from Alton Brown a try.
This post includes affiliate links. This means that at no additional cost to you, I will earn a commission if you click through and make a purchase. These are products and services I recommend because I use or trust them. Cookies will be used to track the affiliate links you click.
Orange Sherbet.
It's always there, sitting in the frozen aisle in any grocery store.
Most of the time it's a store brand, nothing fancy.
It's what we get when we want a cheap option or we are making punch.
I don't think a lot of us get a hankering for the stuff, especially when there is much more exciting options to the left and the right.
The problem is that we are buying it, not making it ourselves. When you take the power back into your own hands, orange sherbet, when made with freshly squeezed oranges, is worth hankering for. My favorite recipe is by Alton Brown. It's never failed me.
Jump to:
🥄 Why Make This Recipe
Do you own your own ice cream maker? Maybe you got it as a gift and have been scared to use it.
I would say making homemade sherbet is a great way to start. You don't need to worry about turning on the stove, tempering eggs, making a custard - all of that. It's easy as combining a few ingredients, chilling them, then churning your sherbet.
🍦 What is Sherbet?
What makes sherbet different from ice cream is that sherbet is just uses milk while ice cream often uses milk, heavy cream, and sometimes eggs. Juice is often used as the flavoring agent for sherbet.
🛒 Ingredients
Here is what you will need to make this recipe.
7 ounces sugar
1 ½ tablespoons finely grated orange zest
¼ teaspoon kosher salt
2 cups freshly squeezed orange juice
1 ½ cups cold whole milk
1 tablespoon freshly squeezed lemon juice (optional)
For the best sherbet it starts with freshly squeezed juice. No store bought will do.
In the winter month, when oranges are in season, it's easy to get a bag from the store. Yes I know it's more tempting to make this on a hot day, but the oranges are better in the winter. It's never too cold for frozen desserts in my opinion.
The recipe calls for 2 cups of juice. It's hard to say exactly how much each orange will yield. The best estimate I can give is around ⅓ cup. It's always good to buy some extra oranges just to make sure you have enough.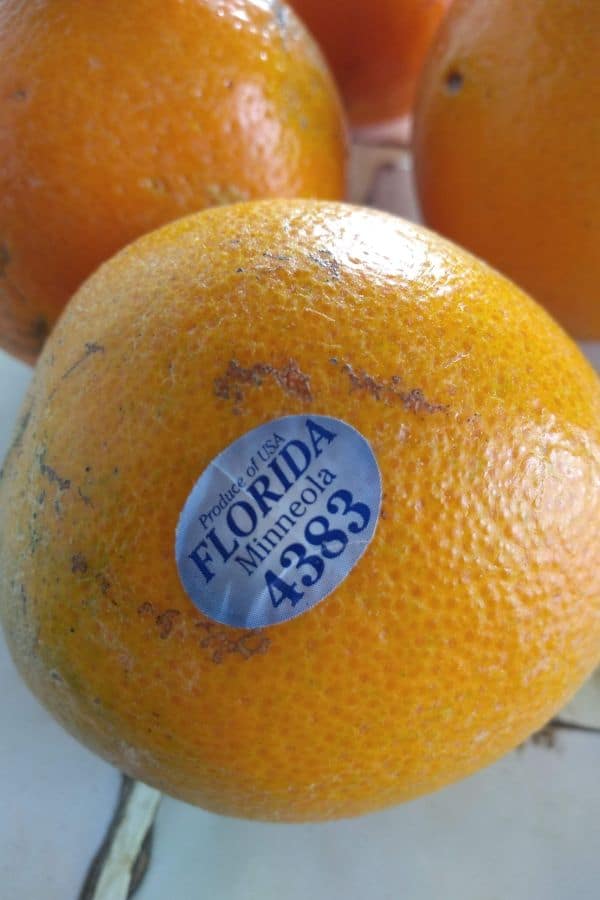 🍊 What Types of Oranges are Best?
Anything labeled as a juicing orange will work. There are other alternatives as well. Here is a list of varieties:
All of these varieties contain lots of juice. A Honeybell, which is a type of Minneola grown in Florida is what I used last time I made this recipe. 5 Honeybells were enough to equal 2 cups of juice. That's really good.
Never use Navel oranges. They contain a chemical that breaks down when you juice them giving the juice a sour/bitter flavor.
Blood oranges make for a beautiful sherbet. I highly recommend them.
RELATED - Get our recipe for a Blood Orange Granita - a frozen dessert you don't need any special equipment for.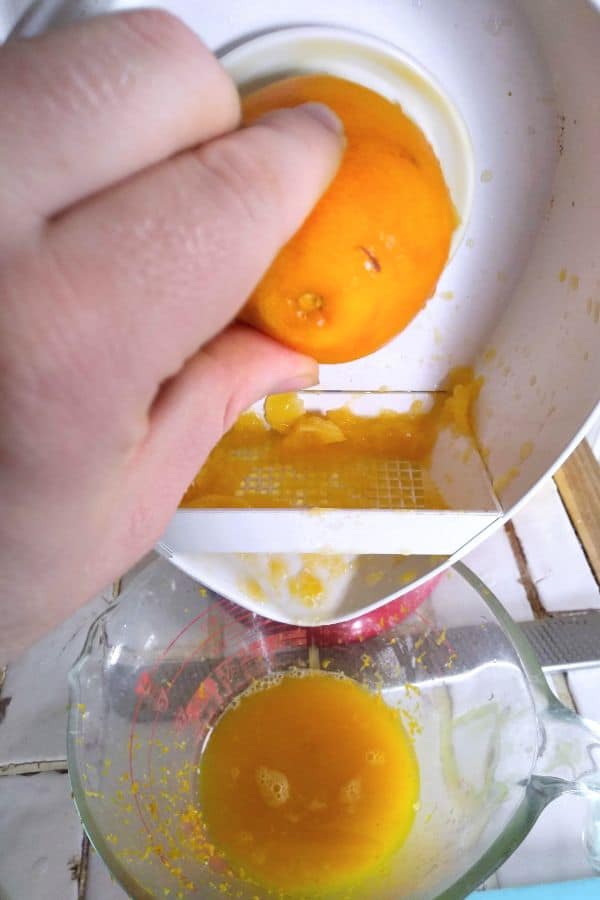 🧃 How to Juice Oranges
The citrus juicing attachment for a KitchenAid Mixer is what we use in our household. It wasn't very expensive and it gets the job done.
However if you juice oranges all the time you might want to look into a Manual Stand Juicer. They use a lever to squeeze the juice, render more juice that other methods. Since it's manual, you can use it even in a power outage!
Can you replace orange juice with any other fruit juice? It can be a bit of a challenge as you don't want to mess with the sugar in the recipe and some juices are sweet or more tart than others. You can use lemon or lime juice but the end sherbet will be more tart than with orange juice.
🧂 Add Salt
Salt is an ingredient in this recipe. That may seem strange but the salt is there to turn up the natural flavors, which is needed for something cold that numbs the tongue. The ¼ teaspoon of kosher salt is a small amount.
Trust me the sherbet will not taste salty.
💡 Top Tip
Once you got your orange juice squeezed you combine that with sugar, milk, salt, and vanilla extract. It's important to then chill the mixture so it's as cold as possible.
The colder the mixture going into the ice cream machine that finer the ice crystals. Fine ice crystals equals pleasing texture.
It's not a bad idea to make the mixture and wait til the next day to churn it.
🧰 Recommended Ice Cream Maker
If you don't have one yet, ice cream makers are not too expensive to buy. Mine is a Cuisinart ICE-21PK Ice Cream Maker. You put a bowl into the freezer, and then church the mixture. Easier than the old fashion ones where you need rock salt and a lot cheaper than the counter top models where no bowl freezing is required.
⏲️ How Long Does it Take?
In my ice cream maker it takes about 15 minutes.
You know it's done once the mixture has thicken to the consistency of soft serve ice cream.
From there, remove it as fast as you can and place it in the freezer to harden. About 3 hours or so will do.
You can eat it as is, but it will melt pretty fast.
Choose an airtight container that seals tightly to place in the freezer. I like the Rubbermaid Briliance Food Storage Containers with the lids that clamp down tightly.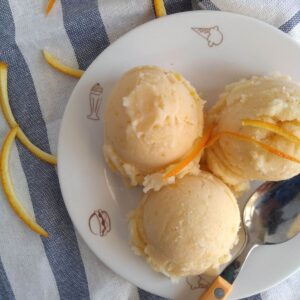 Alton Brown's Orange Sherbet
Learn how to make Alton Brown's Orange Sherbet. Recipe by Alton. Instructions by Eric Samuelson
Print
Pin
Rate
Ingredients
7

ounces

sugar

1 ½

tablespoons

finely grated orange zest

¼

teaspoon

kosher salt

2

cups

freshly squeezed orange juice

1 ½

cups

cold whole milk

1

tablespoon

freshly squeezed lemon juice

optional
Instructions
Remove enough zest from the oranges to get 1 ½ tablespoons. Set aside.

Freshly squeeze enough oranges to arrive at 2 cups.

Weight out 7 ounces of sugar. Add that to your food processor or blender along with salt, zest, the juice and the milk.

Mix until all the sugar has been dissolved.

Place the mixture into a pourable vessel and refrigerate for at least 2 hours, up to overnight.

Pour into ice cream maker and process until it's like soft serve ice cream. Should take around 15 minutes.

Serve as soft serve or freeze for 3 hours to firm up.
Notes
Depending on how sweet or acidic the orange juice I will either add the lemon juice or omit it. 
You can use Valencia, Hamelin, Honeybells, Minneolas, Blood Oranges, Temple Oranges, Sunburst Tangerines, or Honey Tangerines for the freshly squeezed orange juice.
Tried this recipe?
Mention @eatlikenooneelse or tag #eatlikenooneelse