The French call it Bavette steak. Mexican grocery stores call it Flap meat. Whatever you call it, know that this is a tasty steak that you will want to search out and find yourself. We will help you do that, along with some cooking tips.
This post includes affiliate links. This means that, at no additional cost to you, I will earn a commission if you click through and make a purchase. These are products and services I recommend because I use or trust them. Cookies will be used to track the affiliate links you click.
The name of a steak can influence if we want to buy it. What sounds better to you - a chuck arm steak or a flat iron steak? The flat iron had a great name and on name alone I would be more likely to buy it.
What about a steak called Bavette? It sounds fancy. Something I would find in a high end restaurant. French names tend to do that. Learn all about this steak and the other name it goes by that's not as exciting.
Jump to:
🐄 What is Bavette?
Imagine this for me (or even do it right now!), you are down on all fours like a cow. With your head up, looking forward. Point to your stomach. Now you know about where Bavette comes from on a cow. The area it comes from also gives us the flank steak and skirt steak - fajita fans know what those are!
You might have had Bavette before but didn't realize it. It also can be called flap steak or just referred to as flap meat. I think Bavette sounds fancier - thanks to the French!
Bavette is known as a thin steak but thicker than skirt steak which it looks a lot like. When compared to a flank it has more fat marbling.
💲 Where to Buy
Finding it with the Bavette name is tricky. Usually a local butcher or online source are the ones using that name. Flap steak can be found more commonly in grocery store. Having traveled all over the country, I can say that I see it more often in areas with a higher percentage of people of Hispanic origin. It's common to find in Mexican grocery stores.
The best that I have had is from Nashville based Porter Road. Let me tell you about what they offer.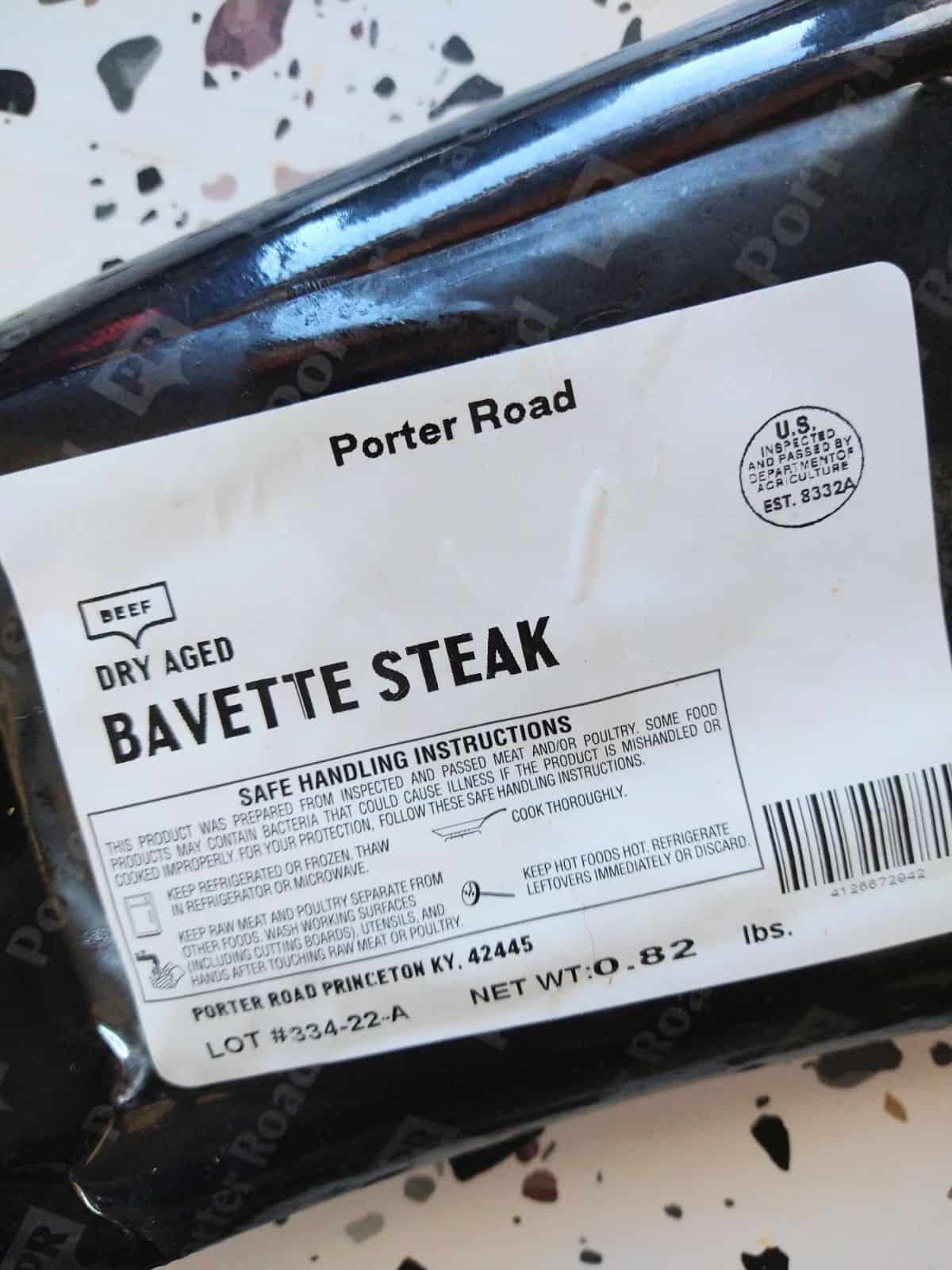 🎵 Porter Road Review
Order a Bavette Steak or Whole Bavette from Porter Road.
The steak was phenomenal. Great beefy flavor. The size of the steak was nice and you can tell that whoever the butcher was did a fantastic job. There wasn't any waste, it was all delicious meat.
Porter Road's beef is dry aged and pastured raised. You can taste the quality. It's never let me down.
You can buy two types of Bavette. You can buy the whole thing or an individual steak. If you are cooking for a crowd, you want to go with the whole one. Great for if you are going to have friends over for a taco night.
🔥 How to Cook
Grilling or searing in a cast iron skillet are the most common ways to cook this steak. I am a sous vide guy, so that is the way I am going to cook mine (instructions below). You want to cook to to medium rare, I like mine at 138 degrees spot which is almost medium, but still considered medium rare.
💡 Tip - If you like to marinate your steaks, this one does a fantastic job of holding onto all the flavor.
📋 Sous Vide Instructions
Before I seal the steak I season with kosher salt and freshly cracked black pepper. Never use pre-ground pepper, it doesn't have nearly as good of flvaor.
The two things I use for vacuum sealing my steaks for the water bath.
The square shape of the Porter Road Bavette steak made vacuum sealing super easy.
I set the water bath to 138 degrees for 1-2 hours. At least one is necessarily and you can go up to 2. Sous vide cooking is so forgiving that I can easily plan the rest of my meal around it.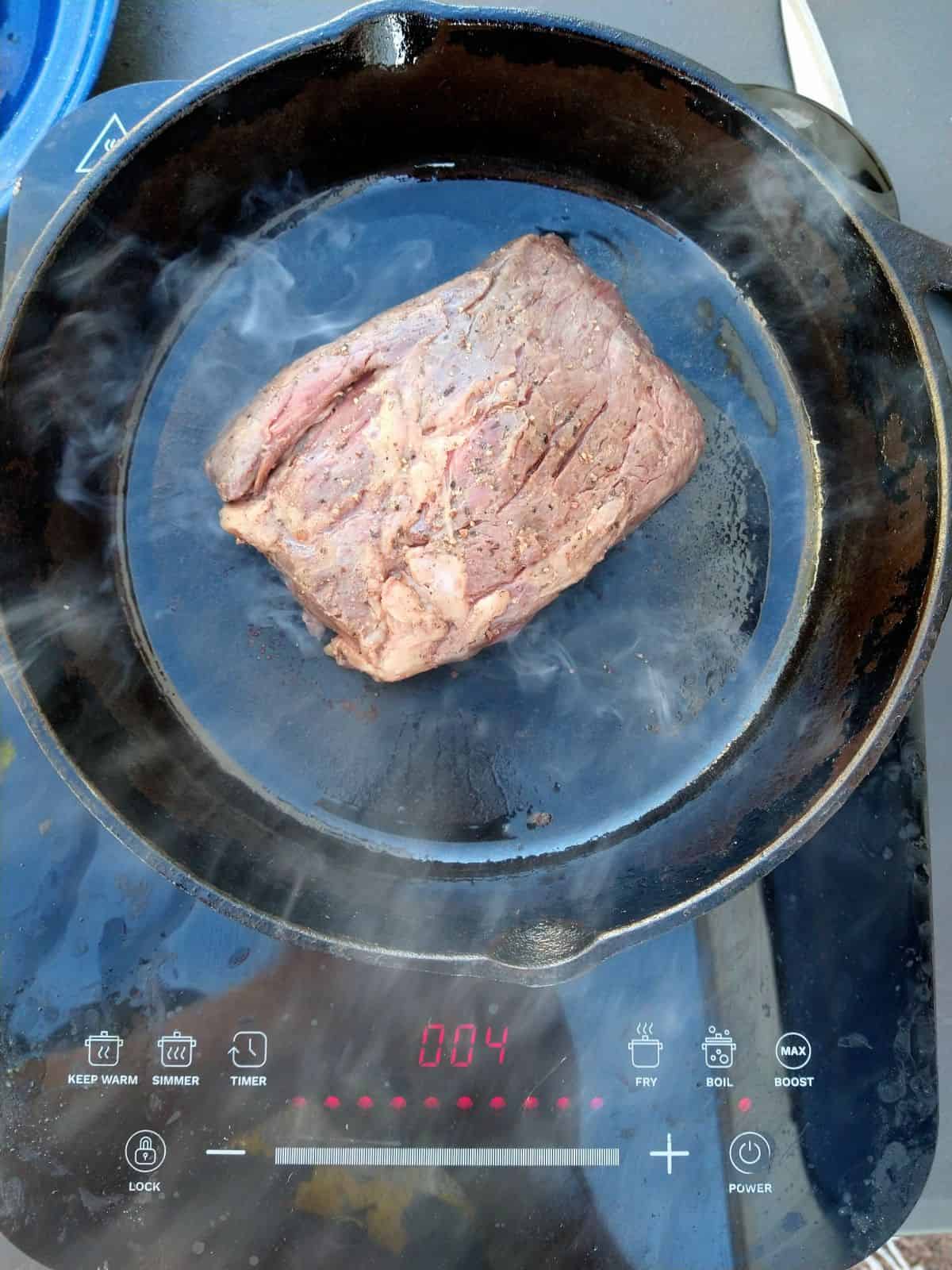 Finish the steak is a roaring hot cast iron skillet. I use an induction cooktop and Lodge Cast Iron skillet. I love taking my cooktop outside and doing it so that I don't smoke up the kitchen or when I am camping the camper.
♨️ Sear 1 minute per side just to get some brown on the outside of the steak.
I always stress to slice your steaks against the grain. This will create shorter meat fibers and thus a more tender steak in your mouth. You went to all the work to cook a perfect steak so don't miss this key step in the end.
🥩 More Steak Posts
The true steak lover is going to want check out these blog posts.
⭐ More Porter Road Reviews
We are working on reviewing more and more of their products. Here is what we have so far.
Sous Vide Bavette Steak
How to sous vide a Bavette steak
Print
Pin
Rate
Servings:
1
steak per person
Instructions
Set your sous vide water bath to 138 degrees for medium rare.

Season the steak with salt and pepper to taste.

Add to water bath. If floating at all, clip it to the side of the water bath or use a heavy object like a pot to weigh it down.

Remove steak from water bath with tongs.

You can drain the liquid inside the bag and serve it as au jus.

Heat a cast iron skillet over high heat. Add 2 tablespoons of cooking oil. Cook the steak for 1 minute per side to brown each side.

Cut against the grain when serving.
Tried this recipe?
Mention @eatlikenooneelse or tag #eatlikenooneelse