Learn why paprika seems to taste like nothing. Is it just to color food? How to source paprika that actually has amazing flavor.
This post includes affiliate links. This means that, at no additional cost to you, I will earn a commission if you click through and make a purchase. These are products and services I recommend because I use or trust them. Cookies will be used to track the affiliate links you click.
Have you ever wondered what the point of paprika was? I certainly have. If I am in the spice section of a grocery store I want to be buying something that is going to flavor my food, not just add color to it.
Let's talk about why paprika often disappoints and what you can do to find paprika that actually has flavor.
Jump to:
❓ Why Does It Have No Taste?
Even thought we are talking about peppers, here I want to begin this discussion by talking about tomatoes. I think this is something a lot of people have more experience with. If you have ever tasted the difference between a grocery store tomato and one that you grew yourself or an heirloom type you got directly from a farmer, you know the difference is night and day.
If you make paprika from peppers that were picked too soon, or just don't have very good flavor, than the resulting powder isn't going to taste like much. Bigger paprika producers are going to pick the peppers not for flavor but for how much the plants can produce. This results in a world full of an inferior product and people coming to a food blogger asking why paprika doesn't taste like anything!
Now I don't want you to just take my word for it. I asked my favorite spice guru, Ethan Frisch of Burlap & Barrel Single Origin Spices this question. Here is his response.
Paprika (like all spices!) is best when it comes from a great farm and is used within a year or two of harvesting. Commodity paprika peppers are grown for volume and price, and then for color but not for flavor, which is why they don't taste like much! Fresh, high quality paprika is a revelation if you've only tried the commodity stuff.

Ethan Frisch, co-founder of Burlap & Barrel Single Origin Spices
🏆 Best Paprika Brand
I think you know where I am going with this! I never truly enjoyed paprika until I got my hand on the paprika from Burlap and Barrel. They have 3 different types of paprika.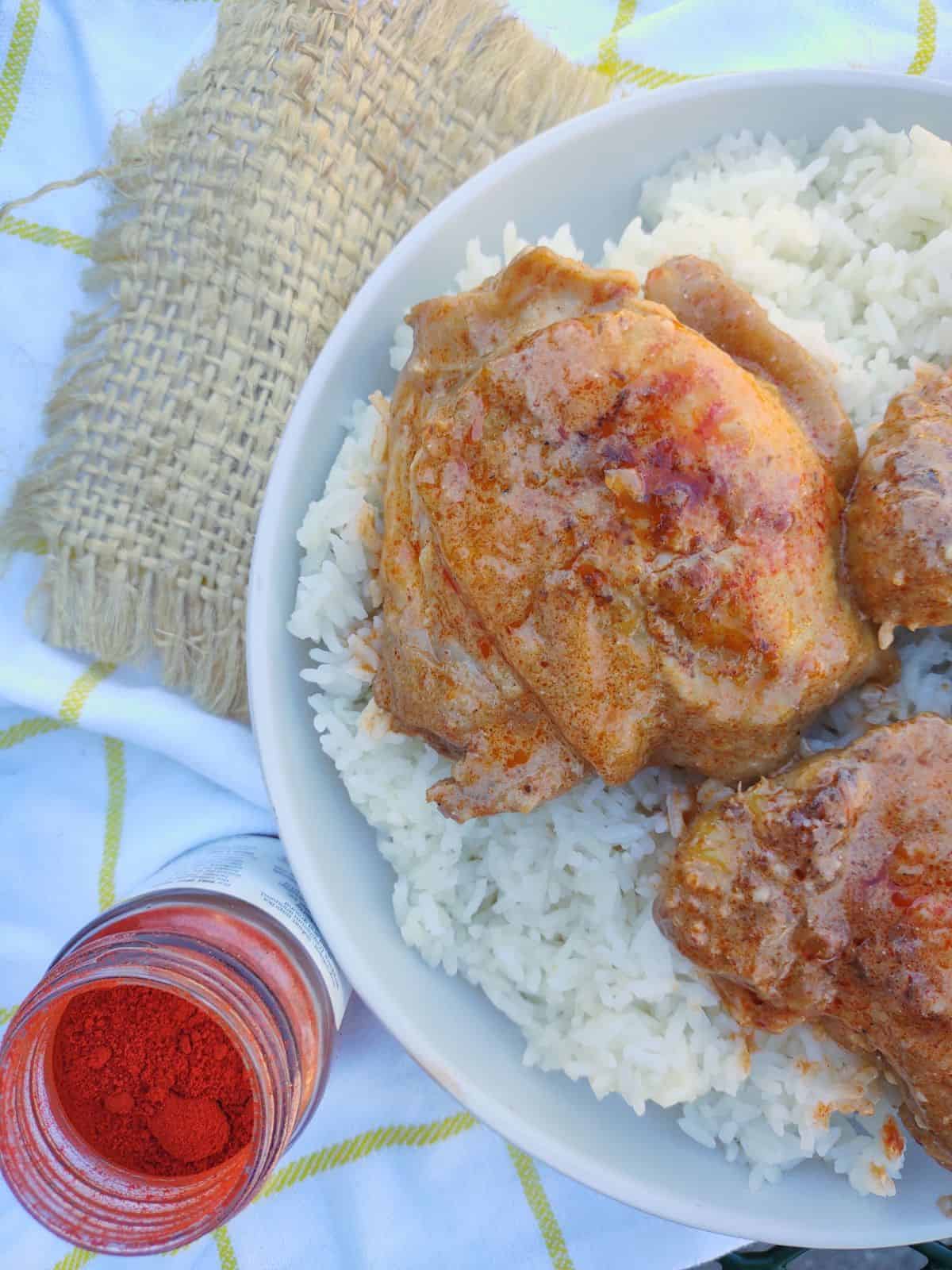 I used the Noble Sweet Paprika from Hungary to make Chicken Paprikash (chicken made with a sauce of paprika & sour cream) for the first time. Oh my goodness how yummy was that. Just this one spice was able to elevate a simple chicken dish to something that now needs to be in my regular rotation.
In the grocery store you will always find a store brand paprika and maybe a few other options. These are just asking for disappointment. If need to get something at the grocery store the Pride of Szeged is a brand that comes in a metal canister that isn't bad. It's from Hungary. I definitely don't like it as much as Burlap & Barrel but I think it's still better than any other option on a grocery store shelf.
🔥 Smoked Paprika
My favorite paprika for sure is smoked. It's a great way to add smoky flavor when you aren't smoking anything yourself or adding bacon. But it has to be done right. You want it to add not just smoky flavor but also that rich pepper flavor. Again that is where Burlap & Barrel is successful. I added their Smoked Pimenton Paprika to a pot of bean soup and man, did it elevate a recipe I had been making for years
What makes this paprika so good is that it is made from sweet red peppers grown in Western Spain, which is famous for it's pepper production. Think Vidalia onions from Georgia or San Marzano tomatoes from Italy.
If you are just shopping for it in the grocery store, you may not get much information on the smoked paprika from the jar. If you can look for paprika from Spain although this doesn't guarantee they are grown in that famous region. The jar would need the DOP seal (Designation of Protected Origin) on it.
A jar of smoked paprika should never list added smoked as an ingredient. We want those peppers naturally smoked, the old fashion way.
🌶️ Where to Find Fresh
What if you want to make your very own paprika. That would be awesome. All the power to you. Where can you find the peppers?
Grocery stores seldom carry the type of sweet red peppers you want. I mean you can do it with red bell peppers, but I don't think they will give you the best results. Look at a local farmer's market to see what they are selling. I have seen some amazing vendors selling peppers of all sorts of shapes, colors, sizes, and heat levels. You are looking for a mild, sweet red pepper.
If you grab yourself a good seed catalog you can find some suggestions for what peppers to grow to make your own paprika completely from scartch. I love Sandia Seed company out of New Mexico. Their focus is peppers, so they offer a great selection.
🛒Buy the Best Paprika
If you are looking for more flavor in your paprika, give Burlap & Barrel a try.