Our guide on where to find authentic San Marzano Tomatoes for all your favorite tomato sauce recipes. How to find the real deal and what to use if you can't.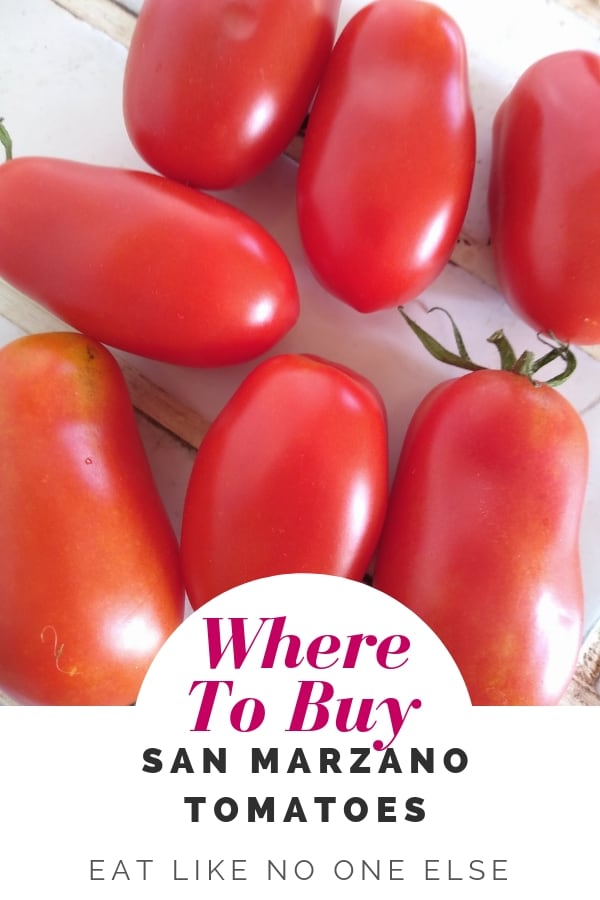 This post includes affiliate links. This means that at no additional cost to you, I will earn a commission if you click through and make a purchase. These are products and services I recommend because I use or trust them. Cookies will be used to track the affiliate links you click.
Tomatoes aren't hard to come by.
Any time of the year we find them in the produce departments. Rarely are they great tomatoes but they are there.
When I want to make pasta sauce and it's not tomato season here in Michigan, I will always pick the best canned tomatoes over the fresh ones in the store. Those are picked so green that you will be lucky to find flavor. And the price isn't worth it either.
There is one canned tomato that stands out from the rest and that is the San Marzano. Known throughout Italy as the best sauce tomato. A certain type of pizza is even required to have sauce made with San Marzano.
The trouble is, San Marzano are hard to find in the US. At least legit ones are. This post will guide you to finding real San Marzano tomatoes and what to use if you can't find the genuine article.
Jump to:
🍅 What are Authentic San Marzano?
If we are going to find legit San Marzano tomatoes we must first define what that is.
San Marzano are:
A variety of tomato
Grown in the Campania region of Italy
Rules govern how the tomatoes look, how they are harvested, and processed.
If the can of tomatoes meets the certifications of the DOP, which stands for Denominazione di Origine Protetta or in English, Protected Designation of Origin it will be labeled that way on the can.
The closest thing we have to that in the U.S. is with Vidalia onions that must be grown in certain areas of Georgia to market the onions as Vidalia.
💗 The reason people love these tomatoes so much is because of their sweet flavor, low acidity as compared to other red tomatoes. The tomatoes also tend to have fewer seeds. Their meaty texture makes them great for sauce as there is less liquid to cook off. You get more sauce than if making with a beefsteak style tomato.
❓ Why Does It Matter?
It comes down to climate and soil. Just as the soil in Vidalia, Georgia makes for an onion that contains less sulfur, thus producing a sweet tasting onion, the San Marzano tomatoes grown in the right part of Italy with rich volcanic soil produce the most flavorful tomato.
👀 What to Look Out For
Here are some things to look for on the can to see if your tomatoes are NOT the real thing.
No Crushed or Diced San Marzano Tomatoes
I was inspired by Alton Brown to write this post. Thanks Alton. On his re-launched Good Eats series he makes Chicken Parmesan. The tomato sauce recipe calls for San Marano tomatoes. In this show he talked about how genuine San Marzano tomatoes will never be found crushed or diced, they always be whole or whole peeled tomatoes.
If it's crushed or diced, it's not real San Marzano. Also there shouldn't added sugar or anything like that on the ingredient list.
Italian Style or San Marzano Style Tomatoes
The tomatoes inside these cans may be similar but they aren't real San Marzano. That it easy enough to spot.
Grown in California
There is a brand literally called "San Marzano". They aren't. If you look closely at the bottom of the label they read grown in California. No diss on them, they are still tomatoes I might buy, but they aren't from Italy.
🏆 DOP Standards
Something else important to note is that the United States doesn't have the DOP standards. Which means our labeling doesn't follow those standards, so companies are not limited by using the words San Marzano on their labels.
It's different than the term "organic" which is certified by the USDA and has to meet specific criteria to get the label.
🛒 Where to Buy
Finding the real deal at the grocery store is a bit of a challenge. Most of the major grocery stores will have San Marzano style or Italian style tomatoes at least, but few seem to have legit ones.
Your best bet is looking for an Italian grocery store in your area or a store that has a large selection of Italian food. There are a couple stores like that here in Michigan (Vince & Joe's Gourmet Market and Cantoro Italian Market).
Large chains like Kroger only had the "style" tomatoes. Costco has large cans of tomatoes that I have made sauce with before, but they weren't San Marzano.
If you are lacking an Italian market near you, ordering them online is going to be your best option. Here are some links (affiliate links) to brands you can check out: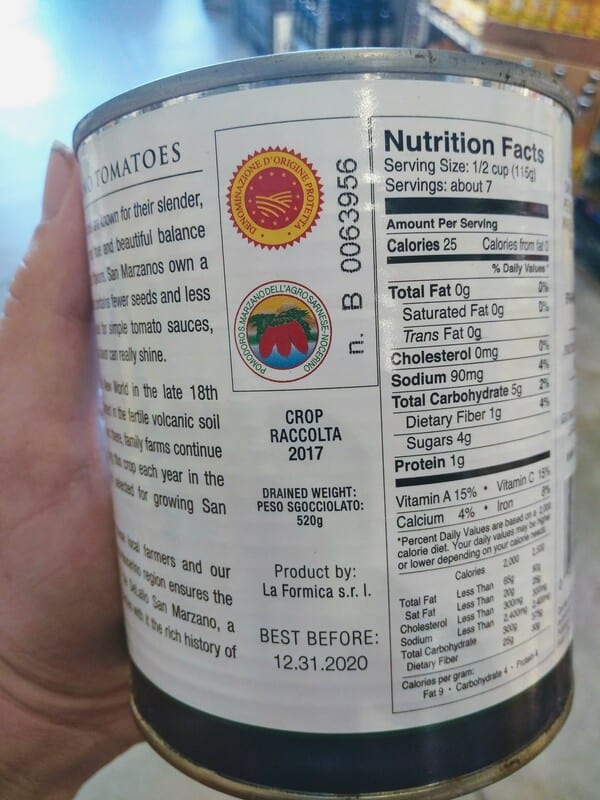 🏷️ Recommend Brand
For premium quality the brands I would recommend the most are La Valle or DeLallo as I could see the actual certification number on the side of the can in the listing.
♻️ Substitutions
If you are unable to find the genuine article, then by all means go ahead and use any San Marzano style or Italian style tomatoes in your recipe. You want a "paste" tomato. These are more meaty with less juice. Big huge beefsteak tomatoes may make great sandwiches, but will make a small amount of sauce.
If you want to go fresh, then Roma tomatoes are the closest. I don't think they are nearly as good, however they are everywhere.
Why do you like San Marzano tomatoes? Leave a comment below telling us.