Kerrygold Irish Butter has been a household favorite for years. Learn how it is different than regular butter. And why it should be on your holiday table whether that holiday is St. Patrick's Day, Thanksgiving, Easter, Christmas, or just your own birthday!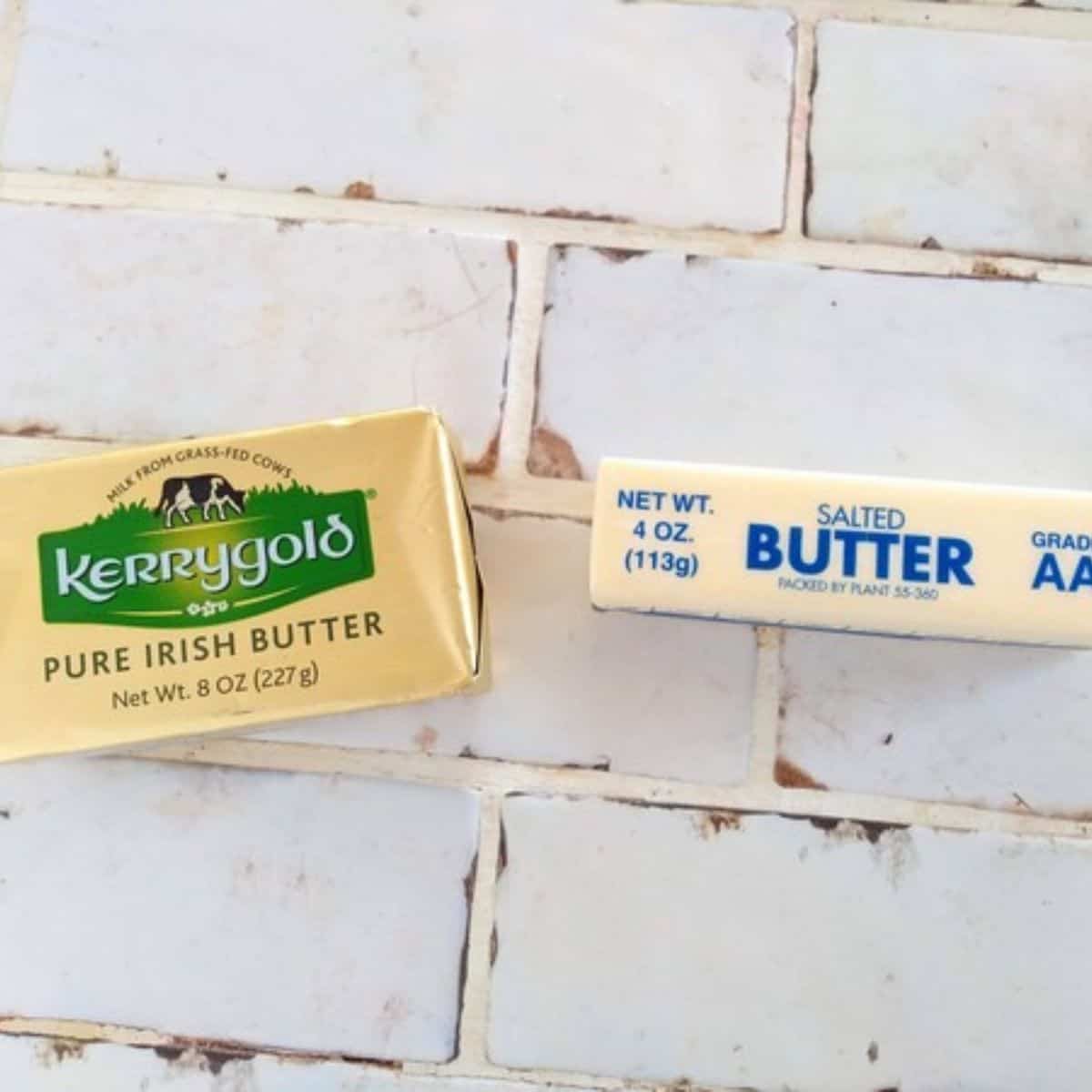 This post includes affiliate links. This means that at no additional cost to you, I will earn a commission if you click through and make a purchase. These are products and services I recommend because I use or trust them. Cookies will be used to track the affiliate links you click.
Butter.
It's an ingredient. It's something we spread or melt on foods to make them tastier.
But it is something that we think about much more than that?
Most of the butter consumed in this country is your generic store brand butter that comes in a box with 4 sticks in it, each being 8 tablespoons.
Whether it's a name brand or the grocery store brand, do we really taste that much of difference? Don't all butters really taste the same?
Not all butters are really the same. When you have had a good butter you will know that. Oh man, will you know it!
One of my favorite "premium" butters is Kerrygold Irish Butter. Let me share with you what makes it different than your stick butter.
Jump to: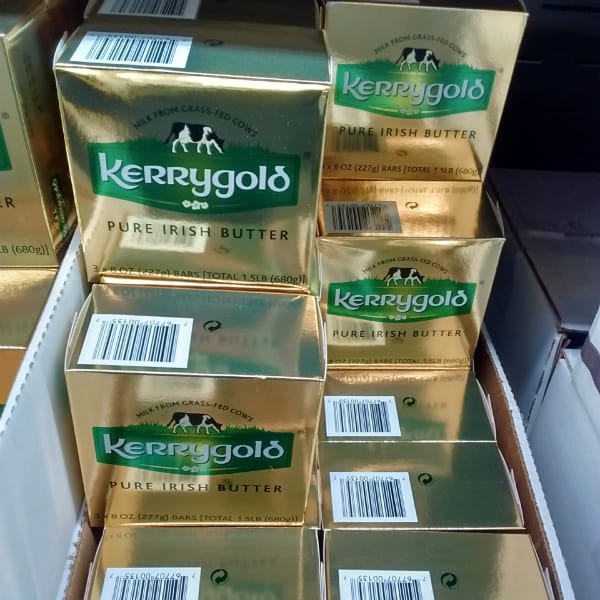 ☘️ How is Irish Butter Different?
The biggest difference in Kerrygold butter starts with the milk. The milk that is used to produce this butter is from cows that eat grass.
A more natural diet, produce a better milk, and then better butter. Grass-fed milk has a richer taste and is creamier, thus why Kerrygold butter has a richer flavor. The butter actually tastes like something, where stick butter has a flat flavor.
🟨 Why is the Butter Yellow?
You will also notice a difference in color. Take a look at a photo of some Kerrygold butter next to a generic store brand stick.
What an animal eats has a direct effect on the color of their milk. Cows that are out grazing in the field produce a milk with a more yellowish color. That is because these cows are getting more beta-carotene in their diet.
Some butter may have annatto added to it to give it a more yellowish color. It's the same thing that is added to cheddar cheese to make it yellow.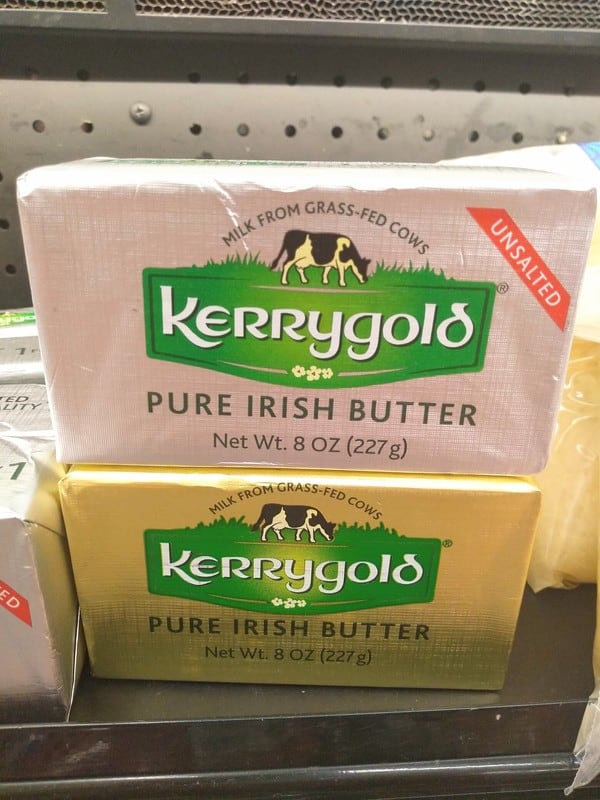 🧂 Unsalted Butter
Yes you can find Kerrygold butter unsalted. Not as common as the salted variety, but a lot of stores will carry both options.
Unsalted butter is commonly used in baking applications or any situation where someone wishes to better control the salt in their food.
🥧 Can You Bake with It?
Kerrygold butter has a higher fat content than your "regular" stick butter. This is great for baking things especially baked goods that you want to be flaky, like croissants and pie crusts.
Or if you are making shortbread or butter cookies, where you really taste the butter flavor.
Making rolls? Brush some Kerrygold butter on top for some added flavor.
Should you ever use regular butter? Yes, I use it all the time, because it's more economical. Kerrygold butter is often the same price or more than the box of 4 sticks and you get half the amount. So I can understand if you want to save money than use stick butter and splurge for Kerrygold when the butter flavor is going to have the biggest impact.
🍿 Is It Good for Popcorn?
Oh my goodness yes! It will make your popcorn taste a thousand times better. I can't recommend more!
Check out all of our posts to learn how to become a popcorn expert!
💲 How Much It Cost?
On average I find a 8oz bar of Kerrygold Butter, whether salted or unsalted to run around $2.99-$3.99 each.
🛒 Where to Buy
Some of the stores that carry Kerrygold Butter include:
Kroger
Whole Foods Market
Costco
Meijer
Walmart
Pavilions
Smart & Final Extra
Stater Bros
Publix
Wegmans
Tops Friendly Market
Sprouts Farmers Market
Trader Joe's
Target
Hy-Vee
Central Market
Check out the Kerrygold USA website - it has a search on where you can find their butter. The week of St Patrick's Day, most grocery stores that carry it will have it on sale, so it's a good time to stock up on this outstanding butter.
If you can't find it in a store in your area, you can also purchase it online in bulk.
Butter usually has a long shelf life, but you still can freeze it to extend that time. So buy a basket full the week of St. Patrick's Day and your feel like you have the luck of the Irish every time you make toast!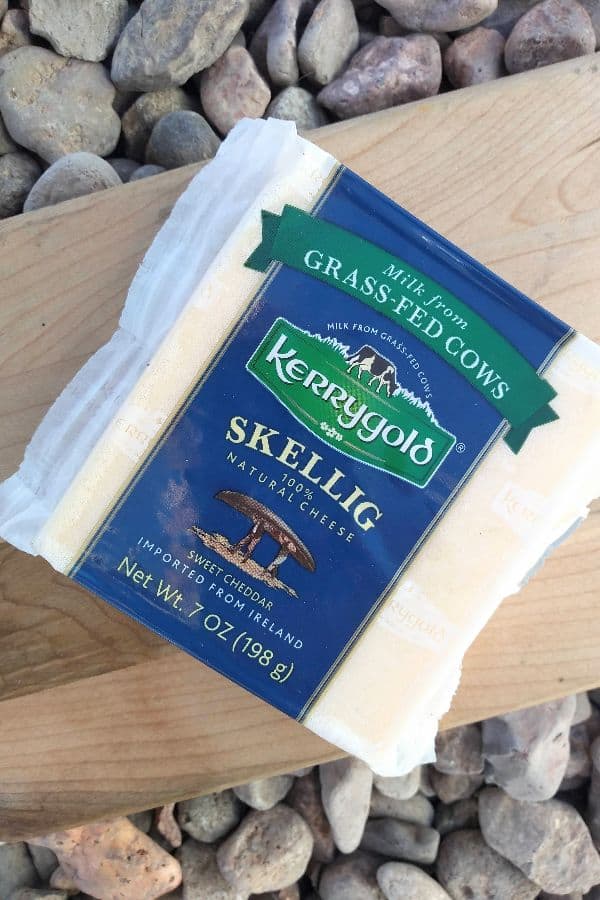 🧀 Cheese Reviews
If you are a Kerrygold fan you will want to check out these reviews of some of their cheeses.
Where do you find Kerrygold Butter? What is your favorite use for it? Leave a comment below. We would love to hear from you!