Looking for a simple way to use turkey leftovers? Tired of being in the kitchen? Or just want a meal that is completely different than what you just ate the day before? Give our Leftover Turkey Ramen a go! This can also be made with raw ground turkey.
This post includes affiliate links. This means that at no additional cost to you, I will earn a commission if you click through and make a purchase. These are products and services I recommend because I use or trust them. Cookies will be used to track the affiliate links you click.
After cooking a large turkey dinner, which is what most of us do at Thanksgiving, you might be tired of cooking.
But you got a fridge full of Thanksgiving leftovers.
Sure you could freeze some of the turkey, but you still need to eat tonight.
Maybe you want something simple that tastes completely different than yesterday's meal. I want to present to you a recipe for a Leftover Turkey Ramen soup. This Asian inspired Ramen is miles away from Thanksgiving dinner, yet still uses up that leftover turkey meat.
Jump to:
🛒 Ingredients
Here is what you will need for this soup
Leftover turkey
Baby Bok Choy
Egg
Carrots
Everything But the Bagel seasoning
Pepper flakes for heat (optional) - We love Flat Iron Pepper
Splash of soy sauce (optional)
If you have leftover turkey broth or turkey stock you can just toss out the flavor packets that comes with the ramen and use it instead. It will taste a ton better! I love to make a stock out of turkey bones, giblets, or neck. Chicken stock would work as well.
The toasted sesame oil is a must for me. Just a small amount will add a ton of flavor to your soup. It's something I always stock in my pantry.
We actually make our very own everything seasoning. The reason for that is we can choose to use higher quality spices and salt than you find in a premade mix.
We like to mix together these:
Sea Salt
Granulated Garlic
Granulated Onion
We honestly just eye ball everything and then taste to see if it's good.
Have any of these other things on hand? They would be good in the soup as well.
Green onions
Shiitake mushrooms
Leftover green beans
Lemon halves
Red miso
Chili garlic sauce
Minced garlic
A splash of fish sauce
Any leftover vegetables you have in your fridge could be great in this soup. Be creative.
RELATED - How to Freeze Leftover Turkey
💡 Top Tip
To make a beautiful sunny side up egg, set your pan to medium high heat and use plenty of oil. Baste the egg with the hot oil instead of flipping to achieve a bright and perfectly runny yolk.
⚙️ Why this Recipe Works
The main reason this recipe works it's something you can mange after a big day of cooking the day before. The turkey is heated up through the warm broth. The carrots are just peels that get soft fast. Boy choy only take a few minutes to wilt.
And it's all tied together by the toasted sesame oil - it bears repeating how important an ingredient to make this a rockstar recipe.
✖️ Double the Recipe
The recipe below is meant for a hardy single serving. You just need to double all the ingredients or triple the ingredients for serving more people.
🦃 Ground Turkey
What if you have leftover ground turkey? Can you use that as well? Sure, why not. Just add it to the soup as you would any leftover turkey.
If you are working with raw ground turkey you will need to cook it first. Here is how:
Bring a skillet with some oil in it up to medium heat.
When hot add the raw ground turkey.
Season with kosher salt and whatever other seasonings you would like.
Break apart with a metal spatula as it cooks. Stir every once in a while.
Cook until cooked all the way through and the meat is brown. Should be around 10 to 15 minutes.
🍜 Serving Suggestion
I think a soup like this is best served in the widest bowl you got. You can find ramen bowls that are wide and come with soup spoons and chopsticks.
🍴 More Leftover Turkey Recipes
Still got more leftover turkey to use? Here are a few recipes you can try.
🥣 More Soup Recipes
How about some other soup recipes to warm you up on a cold day?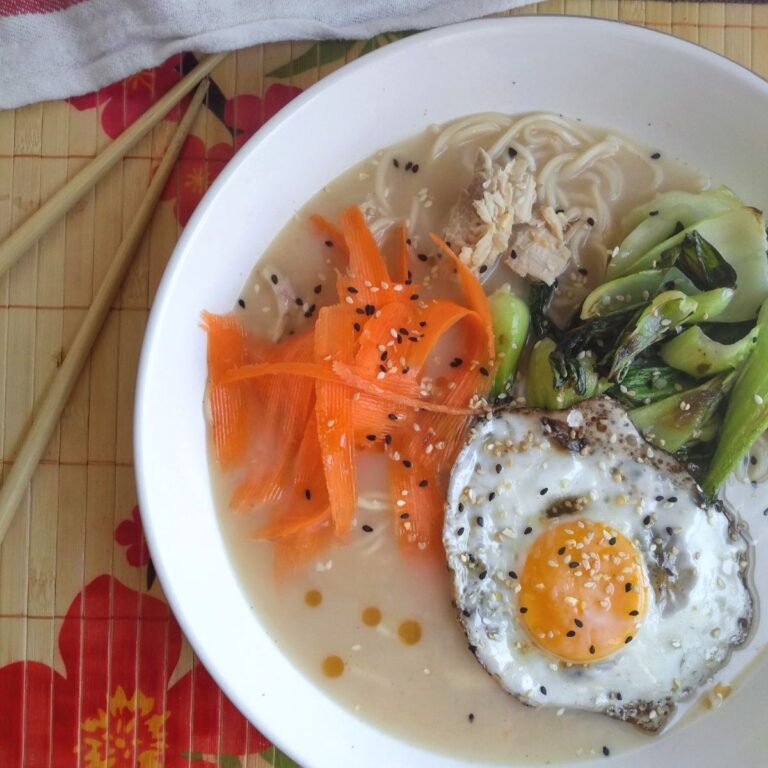 Leftover Turkey Ramen Soup
An easy to make Ramen soup using leftover turkey
Print
Pin
Rate
Ingredients
1-2

cups

shredded leftover turkey

dark and/or white meat

1

packet

ramen noodles

your choice

1

medium

baby bok choy

1

egg

optional

1

tsp

toasted sesame oil

1

small

carrot

peeled with a peeler

Everything But the Bagel seasoning

to taste
Instructions
Cook your Ramen noodles according to the instructions on the packet. You can work on the other steps while it's cooking, being sure not to overcook your noodles.

While the ramen is cooking, take a small carrot and with a vegetable peeler in hand, peel the carrot until you run out of carrot to peel (don't peel your finger!).

Slice the baby bok choy into 3-4 pieces. Place in a small frying pan with a little bit of oil. Cook over medium heat until the boy choy has wilted. Set aside.

If you want to add an egg, a sunny side up egg is the best choice. Set your pan to medium high heat with plenty of oil. You can use the same pan as you did the bok choy. Baste the egg with the hot oil instead of flipping to achieve a bright and perfectly runny yolk. Cook until the edges are crispy and yolk just barely set. Remove from heat.

To finish, add your turkey to the broth along with the boy choy and carrots (they don't need to be cooked first). Stir to combine.

Remove from heat into a wide bowl. Add the finished egg on top and season with the toasted sesame oil, and Everything But the Bagel seasoning. Add salt if desired. Enjoy.
Notes
I recommend using a higher quality Ramen noodles like Mike's Mighty Ramen or you could use ramen noodles that comes with no packets and just use your own broth of choice.
You can try using Daikon Radish instead of carrots. Peel them in the same fashion but you won't need a whole Daikon for a single serving
When the ramen is almost done you could also add in the turkey at that point.
Tried this recipe?
Mention @eatlikenooneelse or tag #eatlikenooneelse