The apple that is being called #AppleofBigDreams is showing up at stores across the country. Find out where you can get a hold of a Cosmic Crisp apple - the new Honeycrisp cross from Washington, near you.
Hype can be a powerful tool.
It gets people excited and wanting to have badly whatever is being hyped.
Out of all the new apple varieties that have been released in the last 10 years and there has been a lot of them, none have had the hype behind them as great at Cosmic Crisp. They even have an astronaut promoting them!
This new apple that is a cross between a Honeycrisp and Enterprise wants to challenge it's parent's spot as America's favorite apple.
Does the Cosmic Crisp live up to the hype or will it soon be afterthought?
What is a Cosmic Crisp Apple Like?
I celebrated my birthday this year with trying my first ever Cosmic Crisp apple. The experience is what I expected, but that's not a bad thing.
The apple is certainly crisp. In a way I like better than Honeycrisp. I find I get sick of chewing the Honeycrisp which I think are crisp to a fault.
The apple is both sweet and tart with the scale slightly to the tart side. It's not overly sweet like an Ambrosia apple, but sweeter than a Pink Lady apple.
The actual flavor of the apple is good. It has a modern apple flavor. I prefer some of my favorite heirloom varieties over this one in flavor, most of which you can only find at an apple orchard or farmer's market. For a apple that is at the grocery store I would pick Cosmic Crisp over some others including Honeycrisp.
Where Do Cosmic Crisp Apples Come From?
The Cosmic Crisp apple was first bred at Washington State University. It has taken 20 years to get this variety ready to be grown, marketed, and sold. A lot of work goes into a new variety and it takes a lot of time to see if it's going to work out.
Then once an apple is deemed viable for the market place, it takes time for the trees to be planted and production to start. For the next 7 years you are going to see a huge increase in the amount of Cosmic Crisp apples available.
So if you don't find any Cosmic Crisp this season, your chances will be better next year and even better the year afterward.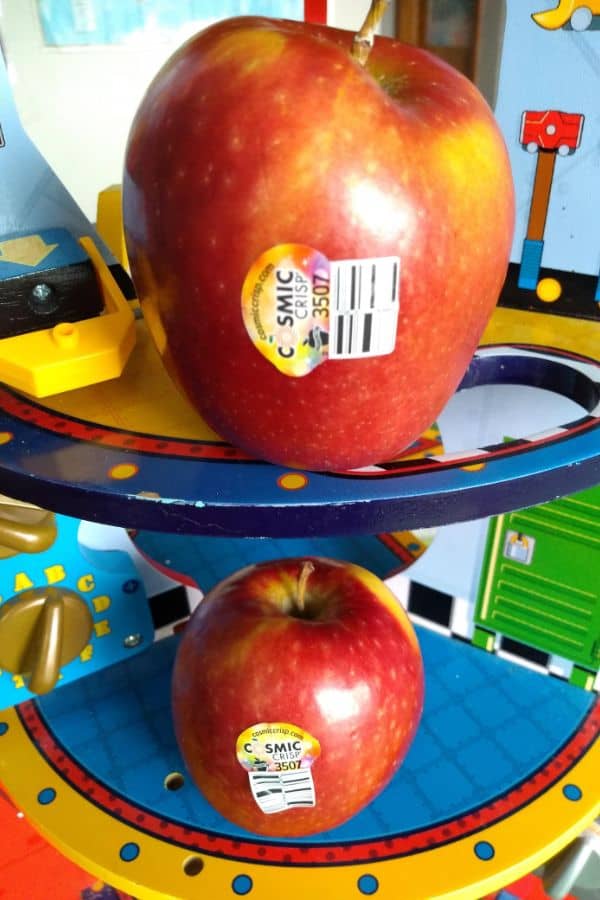 Why Is It Called Cosmic Crisp?
The little dots on the skin of the apple resemble stars in the sky. The crisp part is well because it's a crisp apple related to the Honeycrisp. People are really attracted to crisp apples. It was probably the number 1 question I got about any apple when I worked at Whole Foods Market.
Where to Find Cosmic Crisp Apples
The following is a list of stores that have, had, or will stock Cosmic Crisp apples. Since they are a new variety, supplies are very limited. You might go to a store and find they are sold out.
| | |
| --- | --- |
| Store | Locations |
| AJ's Fine Foods | Arizona |
| Albertsons's | ID |
| Big Y | MA, CT |
| Community Food Co-Op | WA |
| Costco | WA, OR, CA, CO |
| Delicous Orchards | NJ |
| Deromo's | FL |
| Fresh Market | Various |
| Fred Meyer | OR, WA, ID |
| Galati Market Fresh | Canada |
| Gelson's | CA |
| Good Fds Co-op | KY |
| Grocery Outlet | WA |
| Haggen | WA |
| Harmon's | UT |
| H-E-B | TX |
| Holiday Market | MI |
| Hollywood Markets | MI |
| Hy-Vee | IL, IA, KS, MN, MO, NE, SD, WI |
| Jewel Osco | IL |
| Kroger | Select locations |
| King Soopers | CO |
| Kings Supermarkets | NY, NJ, CT |
| Kowalski's | MN |
| Market District | OH |
| Metropolitan Market | WA |
| New Seasons Market | OR |
| Nugget Markets | CA |
| Payless Food Store | WA |
| Plum Market | MI |
| Publix | FL, TN |
| QFC | OR, WA |
| Rosauers | WA |
| Safeway | Only west coast |
| Sam's Club | Select locations |
| Schnuck Markets | MO |
| Shoprite | Select lcations |
| Sprouts | CA |
| Trader Joe's | CA |
| The Market at Edgewood | CA |
| Whole Foods | Only west coast |
| Yoke's Fresh Market | WA |
| Zupan's Markets | OR |
How Long Do Cosmic Crisp Apples Last?
If you refrigerate your Cosmic Crisp apples you can get up to a year of use out of them! They are known as a great storage apple, more so than Honeycrisp. While we have Honeycrisp pretty much available year round now, the quality of the apple is poor once the winter months hit.
And they also tend to get black spots on them, which is called bitter pit. Some apples that go into storage to be sold later end up bad before they make it to the store. I think this is one of the reasons why all these new apples are coming out because Honeycrisp is really a pain in the butt.
Watch for These Apples in the Store
Here are some of my favorite apples to watch for in your local grocery store:
Have you tried this apple? What did you think? Leave a comment below telling us. Be a helper and share where you found it. You may make someone's day with your insider info on where to get them! If you are a true apple lover, you'll want to check out all of our apple reviews.