I have been really getting into small batch jam making. It's so much easier than the traditional method of making huge batches at once that make a lot but take a lot of time and make a lot of mess. I like being able to use whatever fruit I have on hand to make a fresh jam in no time flat. I can choose the season's best fruit and make jam at the drop of hat.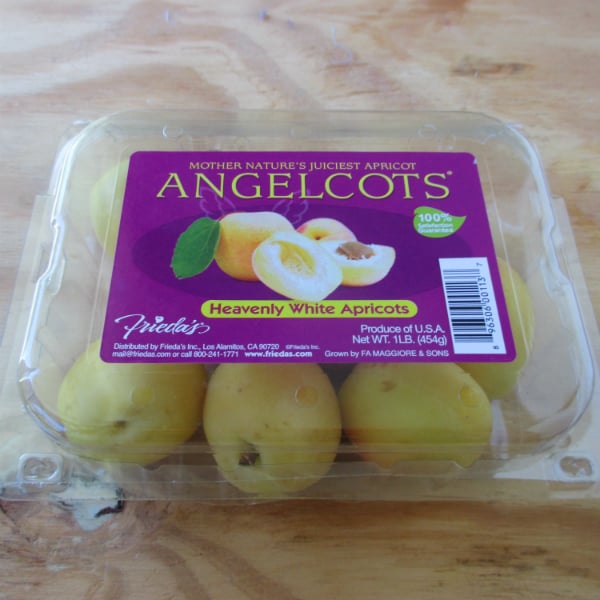 I dropped into Kroger last week to pick up a couple things we needed for dinner when I spotted Angelcot white apricots from Frieda's. I talked about them last week. They are super sweet and juicy apricot. Lucky for me I had some trusty coupons on my pocket, so I walked out with 3 clamsells of Angelcots with one thing in mind - jam. My wife loves apricot jam. Her parents have an apricot tree in their backyard. I really wanted to see what jam made with Angelcots would be like.
The jam prep is really easy. You need a bowl and your hands. You can pop the Angelcots open with your hand and pop out the pits. Make sure you do it directly over the bowl as mentioned these suckers are juicy. Once you have as many as you plan to do you can either pureed them in a food processor or do what I do and just hit them with the sticker blender. If you are going to do that I would use an extra large bowl to prevent being splattered.
Then I weigh out how much puree I have. This is the beauty of this method, you can do it whatever amount you want. No need to measure out by cups and worrying about not having the right amount of having to do any complex math. Once I have the weight I add an equal amount sugar. You can go a little bit under the exact amount if you like, I usually go a little under to save the sugar. Then with pectin in hand you are ready to make jam (see full instructions in recipe below).
The jam came out wonderfully. Nice and thick with a wonderful flavor bringing out the best in this fruit. I shared it with some friends and they loved it as well. A great use for these apricots.
Ingredients
Angelcot apricots

pitted with skins on

sugar

pectin
Instructions
Remove the pits from the apricots. Leave the skin on. Puree the apricots with a sticker blender or food processor.

Weight the puree with a kitchen scale. Add an equal amount of sugar.

Place a small plate in the freezer.

Add no more than 2 cups of puree to a non-stick frying pan over high heat.

Add 1 teaspoon of pectin for every cup of puree.

Stir until the jam begins to thicken about 4 to 5 minutes.

Remove from the heat.

Place a little bit onto the plate you put in the freezer. Put back in the freezer for at least 1 minute. Tip the plate sideways. If the jam stays put, then it is done. If not, then cook the jam longer and try again until it is thick.

Store jam in fridge or freezer. Or process in jars for room temperature storage.
Tried this recipe?
Mention @eatlikenooneelse or tag #eatlikenooneelse