When it comes to marketing a piece of fruit, the name is extremely important. A bad name and a good piece of fruit may just sit there - with it's only hope resting on people like me who seek out anything new. A good name really exictes people. Do you think the Honeycrisp would be as popular as it is without it's name? It's way we now have apples called Candy Crisp and Crimson Crisp. The great name ever for a piece of fruit I have come across has to be the Flavor Grenade pluot. How could you not love that name? You immediately think this is fruit is going to be an explosion of flavor in my mouth and you need one now!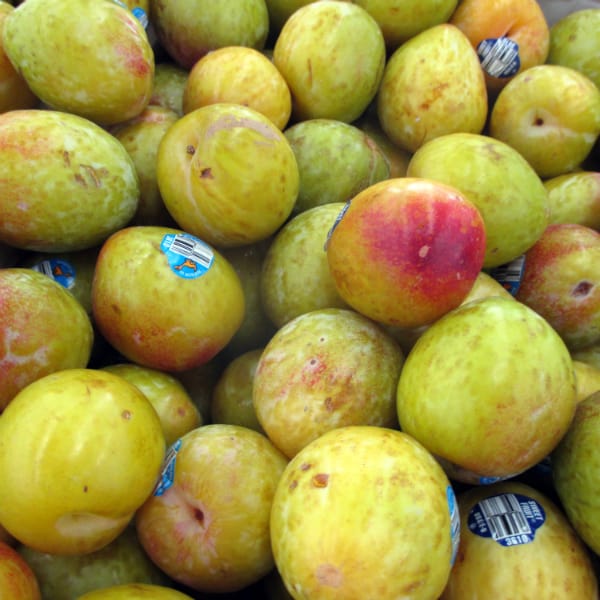 In case you still haven't been introduced to pluot, they are an interspecific plum, which means it has a mix parentage - in this case plum and apricot. It doesn't mean it's a 50/50 relationship or even a 75/25. It could be several generations of crosses. Zaigler Genetics that ones who developed Flavor Grenade are always experimenting by crossing different varieties together until they get something they like and looks commercially viable.
The Flavor Grenade is more oblong that it is round so it has more of the shape of a grenade. The color is initially green and yellow. As the fruit ripens the green turns all yellow and the fruit gains some red color. This is when the fruit is at the peak of flavor. If it is mostly red I find that it is then overripe.
The pluot does live up to it's name. It is indeed an explosion of flavor. Some say the flavor has hints of pineapple in it. I think it does in a subtle way. The unique thing is the texture. It has more of a crunch to it, even when ripe. Not apple like crunch, but definitely more than other pluots. My wife thinks they have a grape-like taste, partly because of that crunch makes her think of a firm grape.
When are Flavor Grenade Pluots in Season
The Flavor Grenade can hang on to the tree for 4-6 weeks when ready to be picked. This helps to extend the season. You can find them from mid-July through August, maybe even into September. Look for them in any store that carries pluots. I find them each year at Whole Foods Market. Several orchards grow the fruit including two of my favorites - Kingsburg Orchards and Family Tree Farms.
If you want to try growing them yourself, here is a link to Dave Wilson Nursery where you can purchase a tree. You need to live in zones 6-10 to grow this fruit (I live in zone 5).
For you enjoyment here is a a video from Dave Wilson Nursery featuring a Flavor Grenade tree.