Want to make your own blue cheese dressing from scratch? Don't have sour cream on hand? No worries. Let me show you how to make a delicious blue cheese chees dressing, no sour cream required.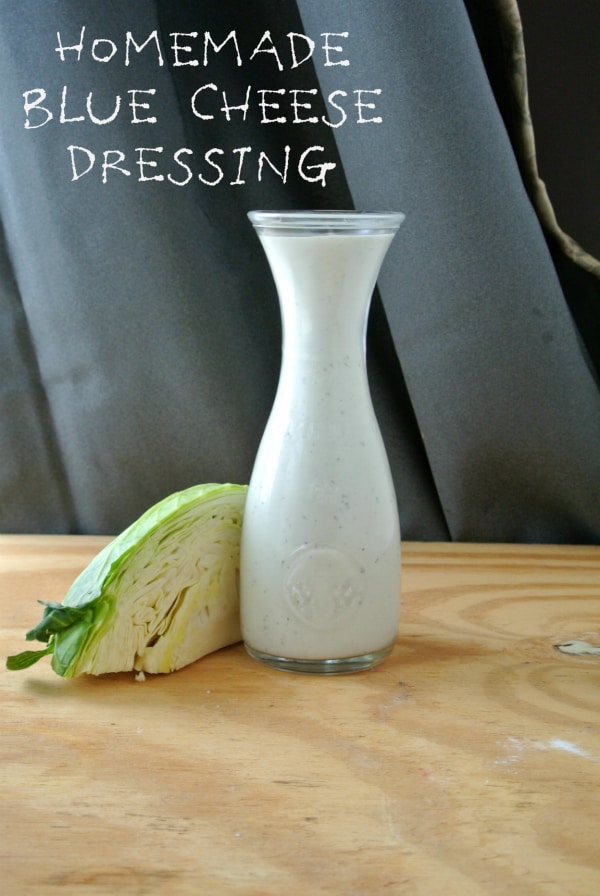 Have you ever made your own salad dressing before? Not a lot of people make their own dressings or condiments.
I can understand not taking the time to make your own ketchup or mayo. If there is anything you can make yourself from scratch make it salad dressing. It is so simple to make and you can customize it so easily to your liking.
Making your own dressing is a money saver as well. The good store bought dressings come a cost. A simple combination of vinegar and oil is enough to flavor your favorite greens.
Today I want to show you how to make a more complex, yet still very easy to make salad dressing - blue cheese.
Jump to:
🛒 Ingredients
There are four main things need to build your blue cheese dressing - vinegar, mayo, dairy, and of course blue cheese.
Vinegar
I like to use really flavorful vinegars like red wine, balsamic, champagne, or apple cider when making my dressings. However in this case you want something mild. I opted for rice wine vinegar. It is very mild but still gives enough punch. The blue cheese is the star of this show, so let it stand alone as the strongest flavor.
Mayo
This is the base of the dressing. Use real mayonnaise, no Miracle Whip please! Most of the time we buy our mayo at either Trader Joe's or get the 365 brand from Whole Foods Market. When we were in the South, we got Duke's Mayonnaise a lot and my wife loves it.
Dairy
This is where you can control how much fat you want in your dressing. You can make it with heavy cream, which I have done before. However I don't have heavy cream on hand at all times. I love recipes that call for ingredients that are all stables. What I always have on hand is whole milk.
When I made the last batch of dressing I used it. I had a little bit more mayo to make it thick enough. You could use a lower fat milk but then again the thinner it is the thinner the dressing will be. I would go with either whole milk, half and half, or heavy cream.
Blue Cheese
The most important part is of course the cheese. Good news is that a lot goes a long way. The recipe you find below only calls for 2 ounces of cheese. Which is enough to make that amount of dressing you see at the photo at the start of this post.
Pick something that is really good and flavorful. Look for sales. Shop at a store that will cut you a piece of exactly how much you need. Get a sample first. Find one that you like. The flavor may be too strong on it's own - this is a good thing you want it to stand out in the dressing.
I recommend Roth Moody Blue Cheese. It is made in Wisconsin in small batches. The best part about it is that is smoked over fruit woods to give it a smoky undertone, which is a wonderful addition to the dressing. It is a salty blue cheese, no additional salt was needed in the dressing. I found it on sale at Whole Foods Market during one of their weekly 3 day cheese sales.
📋 Instructions
This is easiest to do with a food processor, but you could do it in a blender as well. It's pretty simple.
Combine all the ingredients until you have a smooth dressing. You may find that you need to add more mayo to thicken it. Or if it's too thick, add more milk. If it is thick thought you can make a dip out of it instead. Or reduce the milk to begin with so that it is the consistency of a dip.
I always suggest to salt to taste. Just taste the dressing when it's done and add more salt if you think it needs it. Everyone's taste differs.
🗒️ Recipe Notes
The recipe itself is a take off of Ina Garten's Blue Cheese dressing. I have made that in the past but there were a few things I wanted to change.
First was to cut the recipe in half because this isn't a dressing that will keep all that well. I made too much the last time that didn't get used up. I have also read reviews of her recipe of people complaining that the dressing gets runny after a couple days. It's best enjoy as fresh as possible.
The recipe also calls for tarragon vinegar. I don't feel the necessity of buying another vinegar when I have dried tarragon (fresh when my herb garden is in season) and mild rice wine vinegar.
If you have not used tarragon before it's one of my favorite herbs, it adds a licorice like taste, different from fennel also has that kind of flavor. It really rounds out the dressing, do yourself a favor and don't skip it.
The other change was using whole milk and a little more mayo in place of the heavy cream.
🥗 More Salad Dressings
Do you know you can make an amazing salad dressing with fresh avocados. Or make a dressing that uses Tahini as it's base. I also have a recipe to customize your own salad dressing using grapeseed oil.
Save money and make your own salad dressing that will be better than what you could find on a grocery store shelf.
Homemade Blue Cheese Dressing
Easy to make blue cheese dressing based on a recipe by Ina Garten, the Barefoot Contessa
Print
Pin
Rate
Ingredients
2

ounces

quality blue cheese

chopped into pieces

½

cup

mayonnaise

½

cup

whole milk

1

tablespoon

vinegar

½

teaspoon

dried tarragon or 1 teaspoon fresh tarragon

¼

teaspoon

freshly ground black or white pepper

kosher salt to taste
Instructions
Combine all the ingredients into a food processor. Process until the dressing is smooth. Taste. Add salt to taste. The amount you need depends on how salty your blue cheese is.

If you find the dressing is too thin, add more mayo a little at a time and re-process until thick. If you find the dressing is too thick, then add a little milk at a time and re-process until thinner.

Best enjoyed the day you made it or within a couple days.
Tried this recipe?
Mention @eatlikenooneelse or tag #eatlikenooneelse