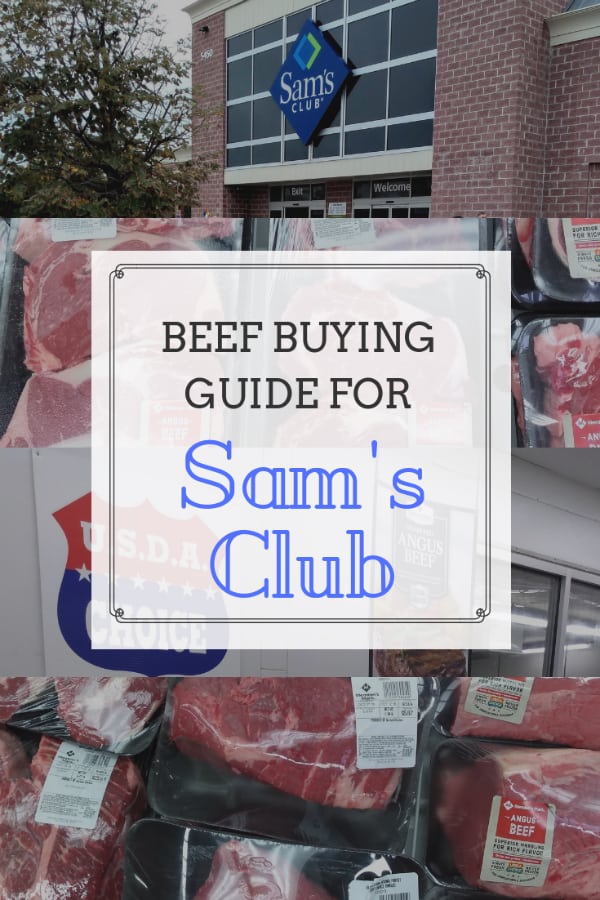 One of my top grocery shopping tips is stop shopping by the price, shop by the pound or the ounce.
This is the only way to judge how much something really costs.
I generally will buy whatever has the best per pound price unless these two conditions exist : 1) the more expensive item is far superior is flavor and quality or 2) the cheaper per pound item comes in a size that I won't use in time for it spoils.
It's easiest to shop by the pound when the price pound is right on the package and you don't have to bust out the calculator. Like you do when shopping for beef. I have had relative success when it comes to traffic for my Beef Price Listing for Costco (also have one for Meijer), I thought I would do the same for Sam's Club.
I popped into the local Sam's Club store on Thursday, March 20th, 2014 and recorded the prices I found. I have since updated that list. Last update was on October 8, 2018.
All the beef cuts were choice beef. The store I looked at was in Ypsilanti, Michigan, prices could vary in other parts of the country. You will also find some tips on what to do with these cuts.
Beef Prices at Sam's Club
Whole Brisket, $4.67/lb
This is the best beef cut for BBQ and smoking as well as what it used for corned beef. Check out my post on How to Quickly Brine/Cure Corned Beef.
Whole Ribeye, $7.58/lb
This is the price for an entire ribeye that's a siginficant chunk of beef!. The price per pound is really low for ribeye. You can cut it up for steaks or roasts. Last time I went there I didn't see any whole ribeye was I was unable to update the price.
Ribeye Steaks, $9.39/lb
There is a $1.40/lb price difference between the already cut steaks and just buying the whole Ribeye.
Whole Tenderloin, $9.62/lb
Want to buy the whole tenderloin and cut it up yourself. It will cost you under $12 per pound. My favorite recipe is Alton Brown's Tenderloin Roast.
Top Sirloin, $5.98/lb
This is one of my favorite steaks. I like the flavor and it's cheaper than a Ribeye or T-Bone. Try Broiled Sirloin Steak.
Flank Steak, $6.92/lb
What I like about the flank steak is that it takes marinades exceptionally well. Excellent broiled or used for fajitas.
Top Round, $3.03/lb
This is cut is often referred to as London Broil. It does best with a slow cooking method as it's a tough cut.
Short Ribs, $6.92/lb
Wonderful for stews and BBQ. They are fatty and tend to give me heartburn thus I rarely cook them. If I want BBQ I would opt for brisket as I can better control the fat content by cutting off any extra fat.
Eye of Round Roasts, $2.63/lb
A cheap steak that can be tasty if cooked perfectly. The steaks were selling for almost the same price $2.69/lb.
Sirloin Tip Roast, $3.04/lb
Don't be confused by the word sirloin. This is actually from the round but close to the top sirloin cut. It is not as good as top sirloin it is more tough.
Whole Round Sirloin Tip Roast, $2.44/lb
Buy the entire roast and save $.60/lb.
Sirloin Tip Steak, $3.04/lb
Sirloin Tip Roast cut into steaks. They are good when sliced first marinated for 2 hours and cooked quickly with high heat.
Chuck Boneless Roast, $4.09/lb
A boneless roast that is perfectly for finger licking good pot roast. Sear it and cook it low and slow. Check all of my Pot Roast Recipes.
T-Bone Steak, $6.96/lb
T-Bone steaks are mostly a strip steak with a t-shaped bone with a little bit of the tenderloin clinging to the bone on the right side. Great for the grill with some homemade steak sauce!
Top Loin Strip Steak, $7.22/lb
Also referred to as a New York or Kansas City Strip Steak. Fall somewhere between Ribeye and Top Sirloin in taste and price.
Beef Stew Meat, $3.45/lb
Leftover pieces of beef sold for stew. Hard to tell the type and quality of these pieces. I would only cook low and slow.
Bottom Round Roast, $2.53/lb
A cheap roast that can be satisfying when prepared right. Check out How to Cook a Tender & Flavorful Bottom Round Roast?
Ball Tip Steak, $4.28/lb
Comes from the bottom part of the sirloin butt. It's full name on the package was Sirloin Bottom Butt Ball Tip Steak. It needs ot be tenderized before eating. I recommend using a 48-Blade Tenderizer
Need more help figuring out what different cuts of beef are good for? Check out the entire collection of posts on the different beef cuts and how to cook them.
Seasoning Your Beef from Sam's Club
As important as it to pick out the right cut of beef and what do with if, it's equally important to choose how your going to season it. And it always started with salt.
Of course you can get salt at Sam's Club, but what they offer isn't anything special. For that I turn to Thrive Market. Thrive is an online shop for organic, healthy, natural, all those fun words ingredients. The salts (HimalaSalt, Celtic Sea Salt, Real Salt to name a few) you find in my pantry are available from Thrive Market. Get an extra 25% OFF your first order + a 30 day free trial membership when you sign up at Thrive Market! (Valid on orders $49+, max $20 discount).
Pairing Sam's Club and Thrive Market together is a great way to save money and have access to bulk and organic/healthy ingredients at the same time.
Resources
Before we close this post out, I wanted to share with you my favorite tools to have one hand when cooking beef.
Instant Read Thermometer - Want to know exactly when you steak is medium rare? Check it's temperature with an Instant Read thermometer and never worry about when your steak is done again.
Probe Thermometer - This type of thermometer is what I use when roasting any large chunk of beef in the oven. You can stick the probe in and close the door on the cord.
Blade Meat Tenderizer - You may have watched your grandma pound out a steak with looks like a hammer. This method easily tears the meat and doesn't really do the job your looking for. Instead I recommend using a blade tenderizer. A bunch of small blades are used to punch holes in the meat without tearing it
If you are looking to learn more about meat in general, you need to check out the Niman Ranch Cookbook. It has a lot of great recipes, including some from premier restaurants. But it's teaching book as well it will teach you how cows and other animals are raised and how to cook them all.
Make sure to check out what I call the Best Book Ever Written on Meat.
Want to learn more specifically about shopping for Ribeye steaks. Make sure to check out the link below.
Disclaimer: Some of the links you will find below are affiliate links, meaning that at no additional cost to you, I will earn a commission if you click through and make a purchase. Cookies will be used to track the affiliate links you click.