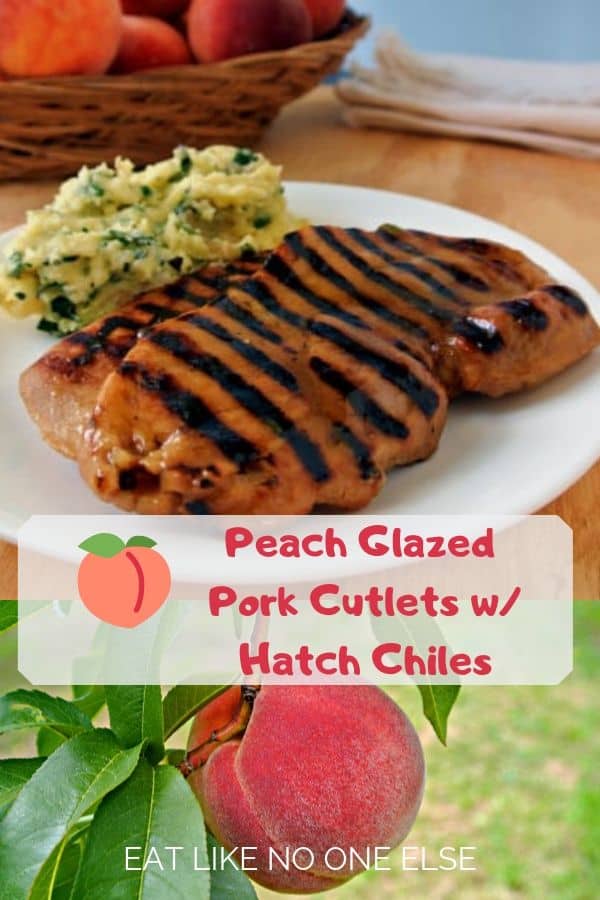 There is nothing like using seasonal ingredients in your cooking. Getting the best of the best at the peak of the season cannot be beat.
After a u-pick peach picking session a lot of peaches were at my disposal. Tons of ideas for using them for sweet dishes easily came to mind. I made several small batches of jam with my peaches.
A savory dish was calling my name. One batch of jam was set aside to use as a glaze. What would be perfect to receive that glaze. Why pork sirloin cutlets, grilled to perfection of course.
Choosing the Pork
When people are cooking pork one of the biggest issues having the pork dry out. One solution is to use a thin cut of pork. The pork sirloin cutlets are thinner than your standard pork chop. The cutlets I grabbed were also boneless.
The reason I originally picked them out as they were cheaper that day at the store than any of their pork chops. I was glad that I made that decision.
My Always Brine Pork Policy
I want to make sure that my pork is moist as well as flavorful so I always brine my pork. A simple solution of salt and brown sugar along with black peppercorns and whole mustard seeds will impart a lot of flavor to the pork. Since the cutlets are so thin you only need about 90 minutes of brine time.
Making the Jam/Jelly
I did not want the chunks of peaches in this recipe, so I really made jelly. Yeah you could use some store bought peach jelly but this is a lot more flavorful and more fun! To make the jelly all I did was cut up two cups worth of peaches. I weighed out the peaches on my kitchen scale, then weighed out ¾th of that total in sugar. I put the sugar in my food processor to make it really fine so it would dissolve quickly, then add the peaches to puree them. I strained the mixture. Then into a frying pan, which I like because I can cook it faster with more surface area available for evaporation. Cook the jelly until it has started to thicken about 6 to 8 minutes. Then it's ready for this recipe.
Adding Some Heat
The glaze is sweet on it's own. It needs a big of heat. What better choice than Hatch Chiles (learn more about them in my Hatch Chile Creamed Corn post). They are in season at the same time peaches are. I broiled my chiles until they were starting to shrivel. I remove the skin and seeds before using.
I really loved how all the components for this dish really came together. The brine makes the pork so flavorful, then you have the charred grilled taste which is always welcomed and it's topped off with a glaze that is sweet with a punch of heat. This is one of my favorite pork dishes I have ever made. I served them up with some Yukon Gold mashed potatoes that I added sauteed kale to.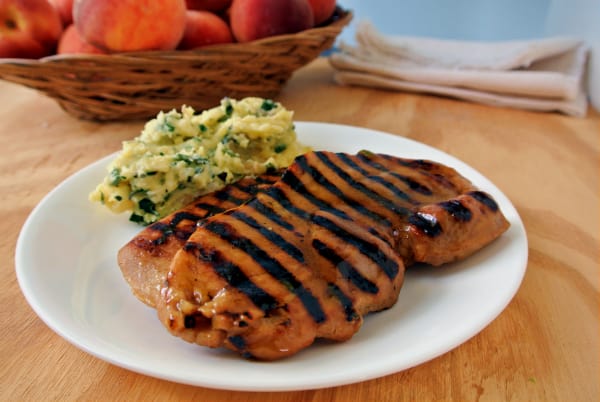 Ingredients
For the glaze
2

cups

peach jelly

2

tablespoons

apple cider vinegar

2

teaspoons

kosher salt

1

Hatch Chile

finely chopped
Instructions
To brine the pork
Combine the water, brown sugar, kosher salt, peppercorns, and mustard seeds in large pot over high heat.

Stir until all the salt and sugar has been dissolved.

Add enough ice to cool the brine down to fridge temperature.

Place the pork into a gallon sized plastic bag and pour in the brine. Place inside in a bowl just in case the bag leaks and place into the fridge. Soak in the brine for 1 ½ to 2 hours.
Preparing the glaze
Combine the jelly, vinegar, and salt over medium high heat in a sauce pan. Bring to just a boil. Then add in the Hatch chile, started with about half of it. Taste it and add more if you want more heat.
Grilling the pork
Heat up your grill or put a grill pan on medium high heat. Cook the pork for about 3 mintues per side until nice grill marks have formed.

Finish it by brushing on the glaze. The glaze should be enough for 6 pork cutlets.
Tried this recipe?
Mention @eatlikenooneelse or tag #eatlikenooneelse