Happy Cinco de Mayo! What a great excuse to eat some Mexican food or at least what Americans think of as Mexican food. For me often good food starts with good cheese. Usually if you search your grocery store's cheese counter you can find some Mexican cheese on sale. My local Meijer store had a sale on all their V&V Supremo brand cheese (from Chicago, Illinois) - just what I wanted. I picked up the three varieties they had and am going to share a little about each one and why you should get them any time of year.
Whenever I think of Mexican cheeses the first thing that comes to mind is always Queso Fresco. It's a classic crumbling cheese. I call this the ultimate salad cheese. Nothing goes better with some fresh baby greens than Queso Fresco. I am sure all the Feta fans will be up in arms but I just prefer the taste of Queso Fresco in my salads. It's salty and mild. It doesn't have that sharp taste of feta. I am a vinaigrette guy, so I get plenty of kick from my vinegar in my dressings. You can also use it on tacos. We made fajitas today and my wife put some on hers along with the next cheese.
Queso Sierra Cotija is named after the town of Cotija in the state of Michoacan. This is a Mexican version of Parmesan. It has the same kind of nutty flavor. Unlike the other two cheeses I picked up this one was only available already grated. For the sake of trying it, I let my rule of not buying already grated cheese slide. This cheese is great performing any task Parmesan does - put in on pasta, pizza, and like we did on our fajitas. I like this kind of cheese on meat. It adds a nutty cheese flavor without feeling too heavy.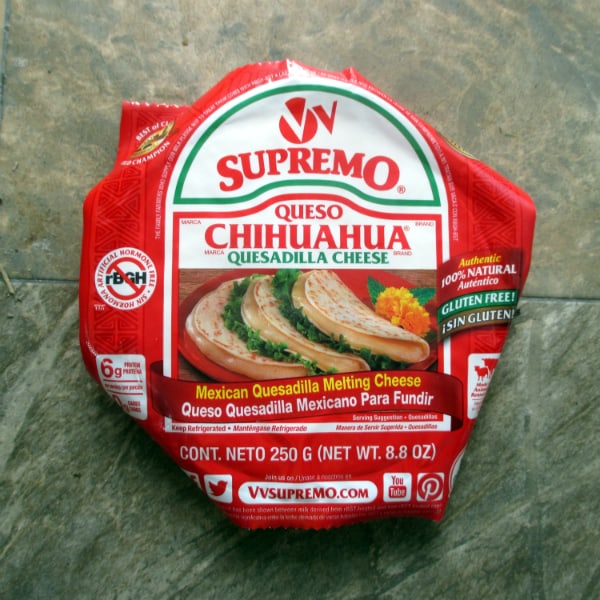 Quesadilla lovers this is the cheese to have. Forget the cheddar - this cheese is a wonderful melter, leaving you with a velvet like consistency and a buttery flavor. Trust me if you this cheese on a Qusadilla you will never want to go back. This cheese would be wonderful on pizza instead of mozzarella. Grilled cheese of course too! If you need to melt some cheese consider this one.
Whether it's Cinco de Mayo, Fourth of July, or any other day on the calendar, give a try to any of V&V Supremo cheeses and you wouldn't be let down.