Your guide to what salt is best to put on popcorn. We will answer the question what's the difference between popcorn salt and regular salt.
This post includes affiliate links. This means that at no additional cost to you, I will earn a commission if you click through and make a purchase. These are products and services I recommend because I use or trust them. Cookies will be used to track the affiliate links you click.
It does not get much easier snacking when it comes to popcorn.
It's easy to make.
It's cheap.
And of course delicious.
As long as you know how to dress your popcorn. It's not the butter that makes the popcorn - I know it feels wrong to say that. Or any special fancy topping. No, it all begins with the salt. Without salt, popcorn has the same flavor as the "popcorn" you find in a package you received.
You can't just pick any salt and expect to have great results. I will help guide you to the best popcorn salt. And you will be forever grateful 🙂
Jump to:
🍿 Popcorn Salt vs. Regular Salt
What is popcorn salt? It's a very fine grain salt.
When it comes to salting popcorn you want to think small. You want the salt to be able to get into the little nooks and crannies of the popped kernel. You want the salt on the popcorn, not just laying at the bottom of the bowl.
Popcorn salt is different from regular salt is that it's finer salt grains. That it's.
All my recommended salts are going to be of the fine ground variety. It should look like the grains of sand you find on the beach.
Not all the salts on here are labeled as popcorn salt, but they are fine enough to do the job well.
Read about the Differences between Yellow and White Popcorn
🏆 What are The Best Salts for Popcorn
Below I am going to share with you my two FAVORITE brand of salt for popcorning (that word is in the Eat Like No One Else dictionary).
Selina Naturally sells a lot of amazing salt. Celtic Sea Salt Fine Ground is their best for popcorn. Its a light grey salt, that they have finely ground. It the perfect size to make it into every crevice of your popcorn. It dispenses really easily from the shaker.
🌊 What is Grey Sea Salt?
Curious to why this salt is a light grey color?
Most of us are use to perfectly white salts but some of the best ones have more color to them. The gray color comes from the clay lining the beds where the salt is harvested. It contains 80 vital trace minerals and elements that are so good for our bodies. They also give the salt it's unique flavor.
🧂 Redmond Real Salt
I have enjoyed a lot of popcorn with this "Real Salt".
I bought it for a foodie friend on a whim for Christmas one year. I was intrigued by the different colors in the container (hues of brown and pink).
My friend told me how great the salt was on popcorn - it adheres really well to each kernel. He certainly was correct in his assessment. The salt brought life to my popcorn that was never there before.
The flavor had more depth to it. It would be like having only 1 key on your piano that worked. It still makes a sound. Get the piano fixed and you can create something special.
Why is it "Real Salt"
Why is it called "Real Salt"? The salt has nothing added to it or removed from it.
Table salt has all the trace minerals removed while Real Salt contains more than 60 trace minerals. It is these unique minerals that contribute to the salt's flavor and nutrition content. They are removed in some salts, so they look uniformly white. To me table salt has a undesirable bitter taste. Real Salt has ever so slight sweetness to it, with no added sugar.
It comes in container with a shaker lid. I love the lid because it has three different "settings" to control the amount of salt that comes out. Makes it easier to not over-salt. To save money you can also buy it in a 26 ounce bag and re-fill the shaker. I have even found it at bulk food stores which is a really good value.
I also found bags of Real Salt Powder Salt at their store in Heber City, Utah. This was salt was so fine it was a powder, which works great on popcorn. It can clump up. So what you can do is put a few kernels of popcorn in the salt shaker. This will help when you shake it up to break up the clumps. Real Salt doesn't add anything to their salt like anti-caking agents.
🙋 Can You Use Kosher Salt For Popcorn Salt?
This is not the time for kosher salt - which I call as Alton Brown calls - the workhorse of my kitchen. The flakes of kosher salt are just too big. I have found that when it was the only salt I had one hand that it did not do a good job of sticking to the kernels. I ended up having to use more salt and still ended up with unseasoned popcorn - something very unsatisfying.
However if that is all you have, you can put some salt into a blender or food processor to make the texture finer. I have done that before when I ran out of all salt but kosher.
I also don't like using flake salt such as Maldon. That salt is better at as finishing sauce that you put on something like a steak at the dinner table.
💡 Tip - Search for salt that is labeled as being super-fine salt. That will be your best bet to find a salt that will stick to your popcorn.
❔ Why I Don't Buy Salt Labeled as Popcorn Salt
You can buy salt labeled as generic popcorn salt, I have never found out that I liked. They are often just cheap salt that has been really finely ground. They get the job done but don't enhance the flavor of the popcorn.
🚫 Never Use Regular Table Salt
Even worse than choosing generic popcorn salt is choosing table salt. I never recommend regular old table salt. The flavor is more bland and it is more pure sodium without the trace minerals that make other salts unique and delicious. You will never find it o my table.
🎧 Check out our podcast episode on salt where we talk about why regular table salt is lacking.
🤏 Other Salts to Choose From
Life is full of options, so let me give you more.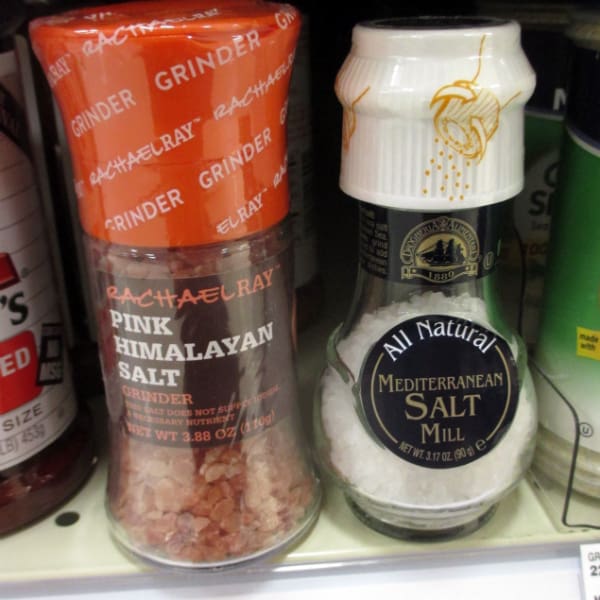 What you could do buy a salt that comes in container with a grinder on top. Grind it yourself for a fine grind for popcorn. Beware some of these salt grinders are cheaply and may not work as well you would like.
What be a better option is use a pepper mill or grinder and fill it with salt instead. These grinders normally come with a nob on top you can adjust the grind of what's inside.
I have a FinaMill grinder which comes with individual pods you can easily swap out for fast grinding. You would need their Pro Plus pod for salt.
Pink Himalayan Salt that you can get a fine grind for is a good way to go.
🧈 Butter Flavored Salt
I have seen several butter flavored salts on the market, but none have I been very impressed with. It's a nice thought for convenience sake. But I prefer my salt without FD&C Yellow, Modified food starch, and artificial flavor.
I have not tried this yet myself but you could look into a dry butter powder that doesn't have extra ingredients in it. You could mix that butter powder with popcorn salt. I will always prefer buttering my own popcorn. I have an entire post dedicate to buttering popcorn evenly.
You can also make your own popcorn salt using a food processor or coffee grinder - check out my post on How to Make Your Own Popcorn Salt.