(Last Updated On: May 25, 2017)
It does not get much easier snacking when it comes to popcorn. It's easy to make. It's cheap. And of course delicious. As long as you know how to dress your popcorn. It's not the butter that makes the popcorn or any special fancy topping. No, it all begins with the salt. Without salt, popcorn has the same flavor as the "popcorn" you find in a package you received. You can't just pick any salt and expect to have great results. I will help guide you to the best popcorn salt.
Think Small
When it comes to salting popcorn you want to think small. You want the salt to be able to get into the little nooks and crannies of the popped kernel. There is not the time for kosher salt. It's flakes are just too big. I have found that when it was the only salt I had one hand that it did not do a good job of sticking to the kernels. I ended up having to use more salt and still ended up with unseasoned popcorn – something very unsatisfying.
The Best Salt for Popcorn
In my humble opininion the best popcorn salt on the planet is called "Real Salt". I bought it for a foodie friend on a whim for Christmas one year. I was intrigued by the different colors in the container (hues of brown and pink). The friend told me how great the salt was on popcorn – it adheres really well to each kernel. He certainly was correct in his assessment. The salt brought life to my popcorn that was never there before. The flavor had more depth to it. It would be like having only 1 key on your piano that worked. It still makes a sound. Get the piano fixed and you can create something special.
Why is it "Real Salt"
Why is it called "Real Salt"? The salt has nothing added to it or removed from it. Table salt has all the trace minerals removed while Real Salt contains more than 60 trace minerals. It is these unique minerals that contribute to the salt's flavor and nutrition content. They are removed in some salts, so they look uniformly white. To me table salt has a undesirable after taste. Real Salt has ever so slight sweetness to it, with no added sugar.
It comes in container with a shaker lid. I love the lid because it has three different "settings" to control the amount of salt that comes out. Makes it easier to not over-salt. To save money you can also buy it in a 26 ounce bag and re-fill the shaker.
Other Salts to Choose From
If you can't find Real Salt in your area or your just looking for other options, then look for salt that is finely ground. It should look like the grains of sand you find on the beach. I never recommend regular old table salt. The flavor is more bland and it is more pure sodium without the trace minerals that make other salts unique and delicious.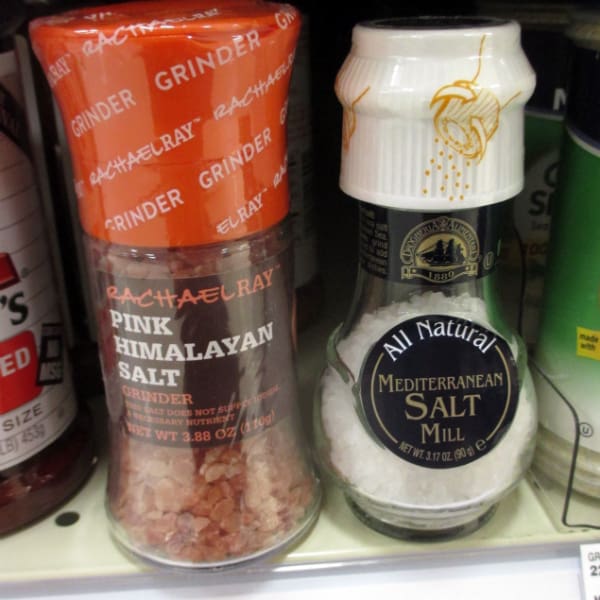 You can buy salt labeled as popcorn salt, I have never found out that I liked. Often those don't say exactly what salt you are getting. What you could do buy a salt that comes in container with a grinder on top. Grind it yourself for a fine grind for popcorn. Beware some of these salt grinders are cheaply and may not work as well you would like. What be a better option is use a pepper mill or grinder and fill it with salt instead.
You can also make your own popcorn salt using a food processor or coffee grinder – check out my post on How to Make Your Own Popcorn Salt.