Get the lowdown on when you can expect to find fresh figs in the grocery store. We have a list of the varieties available.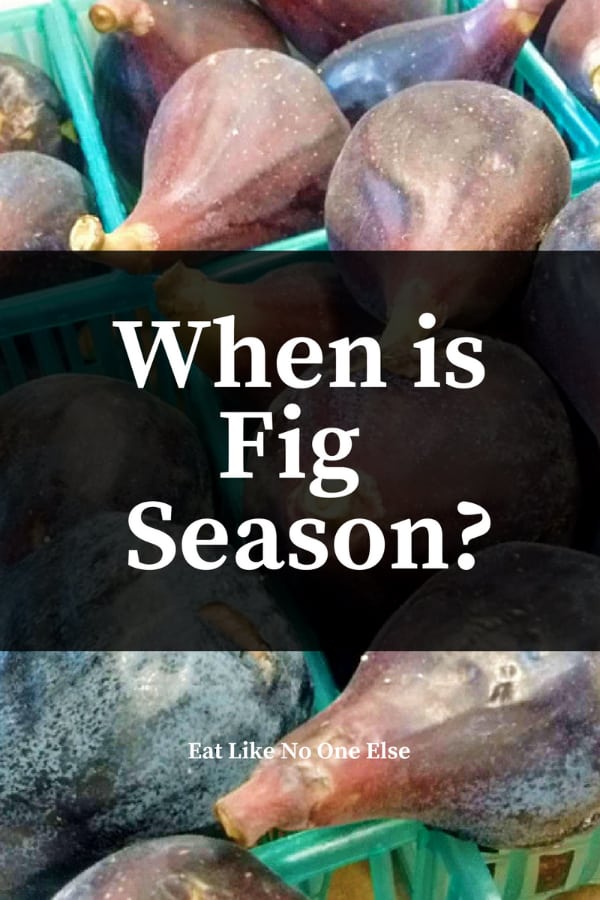 When are Fresh Figs in Season?
First off, fresh fig season is here!
Rejoice fig lovers!
In my time spend working the sales floor in a small produce market I was asked many questions over and over again.
One of those frequently asked questions I am going to answer today - when are fresh figs in season?
First I will give you the simple answer and then I will share with you some more details. For the sake of this post I will only be dealing with fresh figs from the United States, although they are imported from Chile and New Zealand from companies like Frieda's. Almost all the fresh figs in the U.S. come from California, with a smaller percentage coming from Arizona.
When Does Fresh Fig Season Begin?
Mid-May
When Does Fresh Fig Season End?
December. Most places I know of seem to stop carrying them when fall crops arrive.
The first of the fresh figs beginning showing up in mid-May, right before Memorial Day.
The first variety on the market is the classic Black Mission. It is the standard black fig. I found that the earliest shipments aren't as sweet, but things get better rather fast. You don't see other varieties until later in the season.
Brown Turkey are the next variety to show up, then Kadota. Calimyrna figs which in my opinion are the best tasting variety are the last to show up.
You should find a steady supply of Black Mission throughout the growing season.
Here is a full list of when each fig variety should be available.
| | |
| --- | --- |
| Black Mission | mid-May to November |
| Brown Turkey | early June to November |
| Kadota | late June to October |
| Calimyrna | July to September |
| Tiger | August to September |
One thing to keep in mind is that because of hot July temperatures, the amount of figs available might go down during the month.
The heat tends to make the figs taste fermented. So if you see them disappear from your store and the calendar still says summer, ask the produce manager if they expect more in and the answer should be yes.
Where Can I Buy Fresh Figs
So where do you find fresh figs? I will list the sources that I know but if you have some more please leave a comment below and I will add them to the list.
Stores
The Produce Station (Ann Arbor, MI) - They have all 4 varieties throughout the year (they also sell fig trees!)
Busch's (stores in southeastern Michigan)
Whole Foods Market (confirmed in Ann Arbor, MI)
Look for stores that carry Frieda's produce
Online Sources
Why Can't I Find Fresh Figs for My Stuffing?
I see recipes for fresh figs in stuffing or dressing. I see people at the store asking for fresh figs for their stuffing.
Problem? Fresh figs are out of season in most places by the time Thanksgiving comes around. Unless you like in a climate that grows them, your chances of finding any more fresh figs anywhere are extremely remote. Since their season runs mid May to October, maybe even to early November in a good year.
Doesn't make much sense to call for an ingredient that it out of season. The reason you might find recipes like this is a lot of Thanksgiving recipes are tested out way before the holiday when you can still find fresh figs in the store. Don't worry you are not all out of options if you can't track down any fresh figs.
Using Dried Figs Instead of Fresh
Dried figs are easy to find year around. You usually find them two ways - packaged up in a ring or available loose in a bulk bin. Stores like Whole Foods and Trader Joe's are great places to look.
I highly recommend the green figs as I think they have the best flavor - more fruity. As for using them in the stuffing just chop them up and use them as you would the fresh or any other dried fruit. Dried fruit does really well in stuffing.
When you cook the stuffing the fruit will absorb some of the moisture and plumb up a bit. So not worries if you can't go fresh, dried ones won't cause any issues at all.