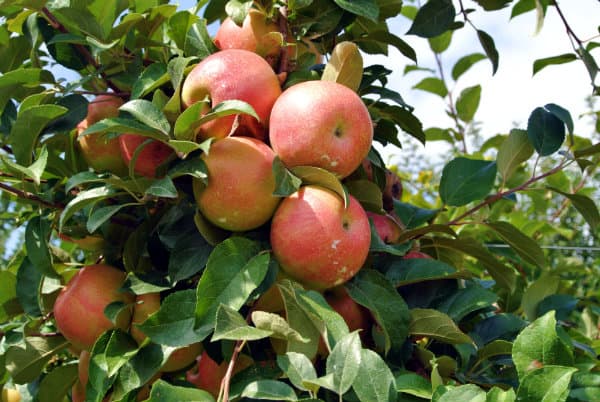 There is no doubt right now that the Honeycrisp apple reigns supreme when it comes to apple sales. Many orchards report they sell twice as much Honeycrisp as any other apple. The fall I worked at a table at farmer's market we had to put one person in charge of keeping the Honeycrisp on the table alone while everyone else handled the rest of the apples. With an apple being this popular sooner or later you are going to see value added products containing Honeycrisp. Apple cider was a natural choice. There are now many places that sell apple cider that is 100% pure Honeycrisp or at least some type of blend featuring Honeycrisp. In this post, I want to share with you some of the sources I know of. If I miss any that you know of, please leave a comment below and share what you know. I hope to watch this list grow as the season goes on!
Where to Buy Honeycrisp Apple Cider
Many orchards are getting into turning Honeycrisp into cider. People are attracted to the "Honeycrisp" name.
Look out in retailers for Fowler Farms cider. They make 3 ciders that are 100% of one apple. They do have a 100% Honeycrisp cider as well as SweeTango and Fuji. Visit their website and contact them to find where their ciders may be carried.
Sunrise Orchards out of Gay Mills, Wisconsin produces a 100% Honeycrisp apple cider.
Here are some stores where I have seen Honeycrisp apple cider being sold:
Whole Foods Market (note some stores may also sell Honeycrisp apple juice, not cider, made fresh in house)
Trader Joe's (in 2014 they an unfiltered 100% Honeycrisp cider)
Not 100% Honeycrisp
The following cider are not 100% Honeycrisp, but contain a blend that contains Honeycrisp. Even if not 100% these are still ciders worth checking out.
Sam's Club carries Litehouse cider
SunRype - Canada
Ryan's Juice - Hood River, Oregon
Fruit Acres Farm - Coloma, Michigan