When you say the name "Flavor Pops" you might be thinking of some kind of brightly colored ice pops. That is what my kids though I was getting when I said Flavor Pops were coming. Their initial disappointment faded away when they saw the container of grapes I had for them to try. Due to my wonderful relationship with Grapery, I have gotten to try some of their Flavor Pops grapes. I feel very fortunate to be able to do this as these grapes are in very limited availability. In fact I have never myself been able to locate the in any grocery store.
The Flavor Pop line is like Grapery's version of Willy Wonka - unique flavors, shapes, that will blow your mind and change your view of what a grape is. One of the purposes of this line is get these new grape varieties into the hands of retailers and consumers to gain feedback. The varieties do not even have names yet - they are that new. It's an amazing concept unseen anywhere else in the produce world.
The first Flavor Pops variety I got to try was a elongated green grape. It had a shape and size somewhat similar to their Tear Drops and Moon Drops grapes. I love these shaped grapes for their texture. They are uniquely crisp. The flavor of this grape was sweet, with undertones of musk melon. If you hold the grape up to the light it is almost translucent, looks like a long light bulb. I definitely would buy these grapes if they become available on their own. I submitted several name suggestions to Grapery, but you'll have to see if any of those are used in the future. What a sweet honor it would be to have helped name a new grape variety!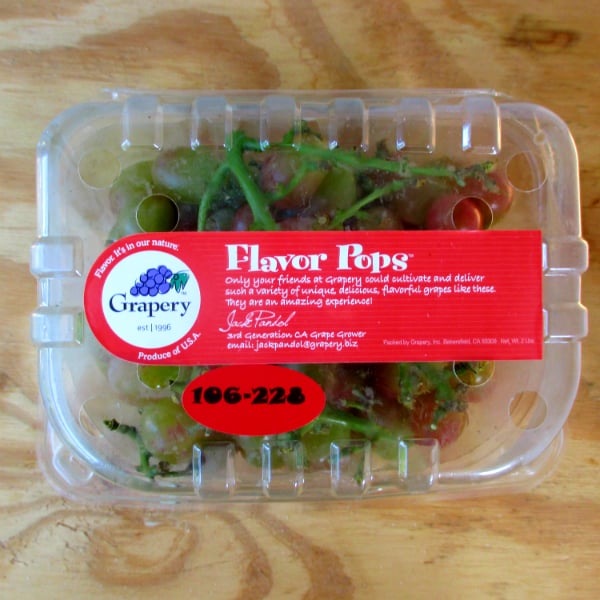 The second variety I tried was a grape that was both red and green. More green in the color with shades of red on one end. A pretty grape. As I chewed on these grapes, I didn't catch it immediately, but then I got a burst of strawberry flavor in my mouth. These grapes have more tartness to them than Cotton Candy. I would almost say these grapes are kind of like strawberry lemonade. The look of the grape itself, reminds me of going to our favorite pizzeria that serve lemonade with fresh strawberries in it. The red color is all on the bottom until you stir it up. The really interesting thing about this grape is that the flavor is better at room temperature where as Cotton Candy is better really cold.
As I mentioned Flavor Pops grapes are in very limited availability. If you ever see them, snatch them up immediately and you too can have the chance to influence the future of these grapes.
Here is a video of some Flavor Pops grapes that arrived at Iovine Bros market in Philadelphia in 2014.
Another video from Shasta Produce showing the 2nd variety I tried from the Flavor Pops line.
Gum Drops Grapes | Read my full post on Gum Drops
A grape can graduate from the Flavor Pops line to being their own variety, it's kind of the goal of the program. This is what happened in 2015 with the now named Gum Drops variety. It was a Flavor Pop grape last year. It taste tested well. Many even like it better than their original hit, Cotton Candy and that is saying something! They are in limited availability for 2015-2016, but by 2017, they should become easier to find. And in 2019, even easier as early producing Gum Drop grapes come into production.