Learn all about the difference between beef stew and pot roast. Are they really just the same dish? Can you use the same type of beef for both?
This post includes affiliate links. This means that at no additional cost to you, I will earn a commission if you click through and make a purchase. These are products and services I recommend because I use or trust them. Cookies will be used to track the affiliate links you click.
When it comes to beef as a comfort dish, nothing brings about that cozy feeling like a warm bowl of beef stew. Or it is that pot roast that you ate every Sunday night growing up.
Today I want to talk about this two classic comfort foods and look at how the two are similar and how they are different. Does the type of beef you use matter?
Jump to:
🐄 Similarities
Both beef stew and pot roast are made from affordable beef cuts that are tough cuts. We aren't talking about beef tenderloin here! They will need to be cooked for a long time with low heat in order to be tender. You need to either use a slow cooker or Crock Pot or a large pot or Dutch oven set to simmer on the top of the stove. A pressure cooker or Instant Pot are great for speeding up the process.
By slow cooking the beef you break down tough connective tissues which makes it finger licking good. Unlike a steak, reheating the leftovers is often better the next day as the flavors have time to marry.
Both dishes are also often served with potatoes and carrots. I often like to skip the potatoes and serve it on top of some grits or polenta. The creaminess of the grits is a great counterbalance to the beef.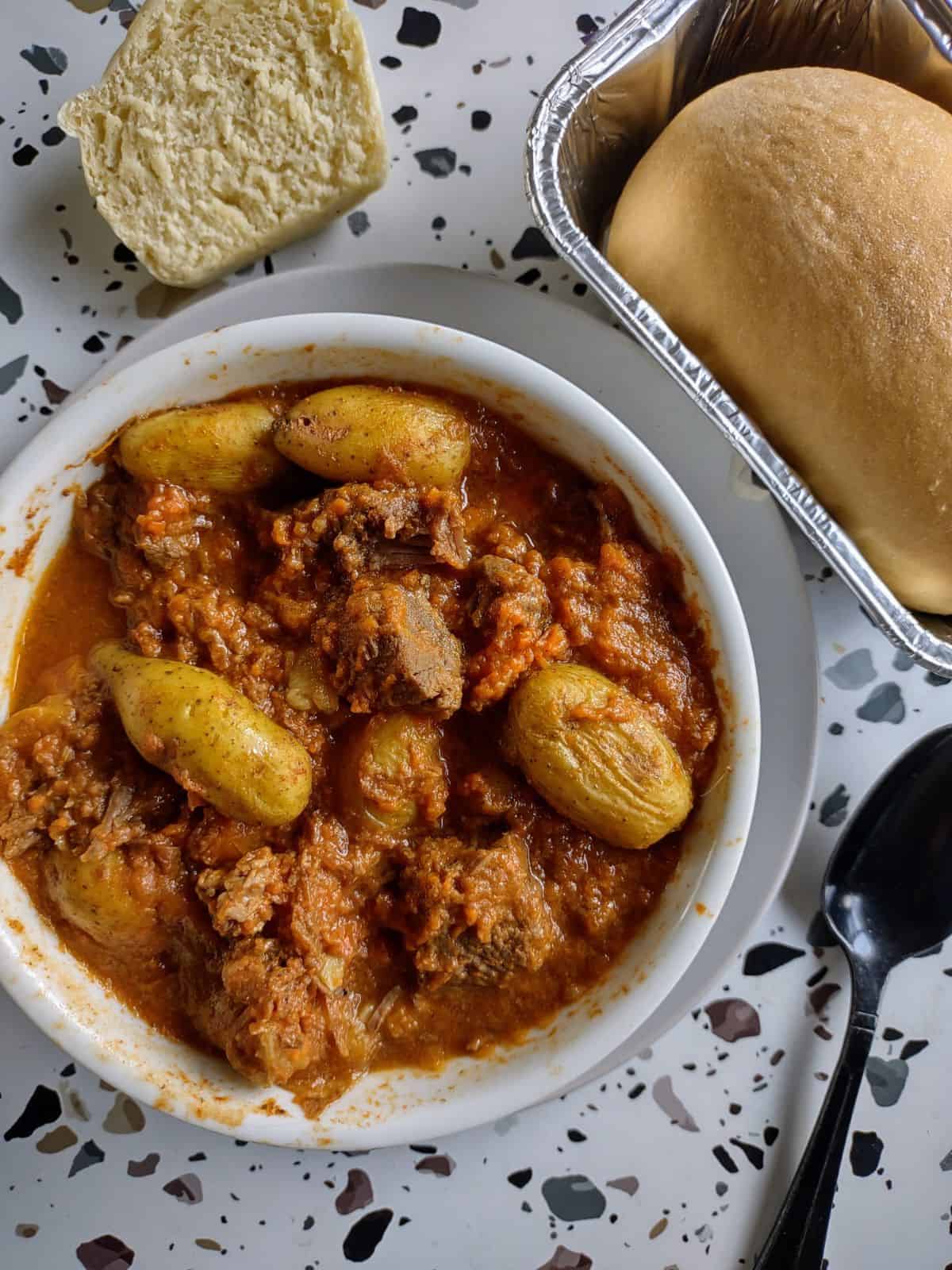 🐮 Differences
When it comes down to it, the big difference is really the size of the meat. Pot roast is a large piece of meat and beef stew is made with small pieces of meat that are bite sized. The size difference also means beef stew has a shorter cooking time.
💡 Tip - Speed up the cooking of your pot roast by cutting it into 4 pieces like Alton Brown does.
While you cook both in a flavorful liquid, only beef stew is served with the liquid. A pot roast is removed whole from it's cooking liquid along with the vegetables. Beef stew is also cooked with more liquid.
Also stew meat tends to be leaner than pot roast. Most pot roasts are made from chuck, which is a flavorful and fatty. The final texture of a pot roast is more shreadable than most stews.
💡 Tip - Whether you are cooking beef stew or pot roast a flavorful liquid is the key. I like to use beef broth or beef stock along with Worcestershire sauce, garlic powder, sun-dried tomato powder, paprika, and freshly cracked black pepper. On occasion I will se fresh dill which I think goes so well with beef. Bay leaves are also a good choice.
🏆 Which is Better?
This is all a matter of opinion. I like them both. I like that beef stew cooks quicker and since it has more surface area, you get more browned pieces of meat when you sauté it first. That being said the extra fat of a pot roast means extra flavor, and I think it actually ends up tasting better. You really can't go wrong either way.
🥩 Best Meat for Beef Stew
Can you use the same cuts of beef for both? You surely could, however that's not usually what is done.
Most of the time people just grab the beef stew meat the store. It's usually just a mix of leftover pieces of meat from the butchering process. Doesn't mean you are getting bad meat necessarily. Beef stew meat is generally lean. You don't normally find fatty pieces.
If you want to make your beef stew more fancy, try using short ribs.
💡 Tip - If you don't like cutting onions, use pearl onions in your pot roast or beef stew. You can throw them in whole, no reason to cut them.
🍖 Best Meat for Pot Roast
Here are the cuts you will find in the store that are used for pot roat
Chuck Steak or Chuck Eye
Boneless Chuck-Eye Roast
7 Bone Chuck Roast
Rump Roast
I prefer chuck for pot roast as I think it has the best beefy flavor. To learn more check out our post - Chuck Roast : The Best Cut for Pot Roast. You also can use bison meat to make pot roast.
You could take any of those cuts if you wanted to and cut them into small pieces for stew making.