A leaner version of pot roast can be created by using bison instead of beef. Make this in your slow cooker, Instant Pot, or oven for an extra special pot roast experience.
At the end of the post you will find an optional recipe to make mushroom broth to use in our pot roast recipe.
This post includes affiliate links. This means that, at no additional cost to you, I will earn a commission if you click through and make a purchase. These are products and services I recommend because I use or trust them. Cookies will be used to track the affiliate links you click.
"Oh give me, a home where the buffalo roam."
Wait, I would have to move to a different country for that.
We don't have have buffalo in the United States. We have the American Bison. I learned this as a kid from a park ranger at Yellowstone National Park.
Bison and buffalo are completely different animals. Buffalo or water buffalo look more like a cow. It makes sense as bison meat has a lot of similarities to cow.
The cuts you get from both animals are the same. You get a chuck roast from a cow, you can get one from a bison.
I have not cooked a ton of bison yet, but I have had some experience cooking bison chuck roast. And that's why you are here today, to learn how to cook a bison chuck roast.
Jump to:
🙋 What is a Bison Chuck Roast?
The chuck roast comes from the front part of the animal, near the head and neck. Just like cows, this muscle gets a lot of work, so it will be tough if you don't cook it low and slow.
These types of roasts whether cow or bison (or if you have to call them buffalo) are perfect to make a finger licking good pot roast.
🌽 Nebraska Bison
I wanted to give a quick little shutout to Nebraska Bison who so kindly provided a Bison Chuck Roast for me to use in this post. I highly recommend you check Nebraska Bison out and see all the different cuts they offer.
🍖 What's the Difference Between a Bison and Beef Pot Roast?
The biggest difference between making a pot roast with beef and making one with bison, is that the bison meat is a lot leaner. You won't see much marbling or fat.
I actually like this. Since I am going to cook the meat at a low temperature for a long time, I not all the concerned with it being too dry. The fat isn't necessarily to make this a delicious roast, that is just as good, no, in fact better than beef.
If I eat really fatty meat, I have a tendency to get heartburn from it. Bison I never have that issue.
Since I don't eat the really fatty pieces of a beef chuck roast anyway, not having them with the bison means I end up with 100% usable meat.
💡 Best Tips
Before we dive into my bison chuck roast recipe, here are some pot roast rules I set for myself
Always brown the meat before cooking
Cook any vegetables separate from the roast
Make sure the braising liquid I use is really flavorful
Browning the meat before cooking equals flavor. Only skip this step if you don't like your food with too much flavor!
For the best flavor you want to make sure your cooking liquid is heavily seasoned. Taste it before you add in the bison. It should have a strong flavor. If it doesn't, then add more seasonings and taste again.
I know most people want to throw their potatoes, carrots or other vegetables in the pot roast as it cooks. Might be less steps that way, but you are doing no favors to the veggies. They will be overcooked and bland.
I always opt to cook my veggies separate (do the same with my bean soup too) and then add them to the roast. If you want the flavor more incorporated, you could always take the liquid from the meat when it's done and use it to perfectly cook your veggies in.
As you see from the picture at the top of this post, when I made this pot roast I served it over polenta/grits. I love the contrasting flavor and texture the polenta provides eating with the pot roast.
🛒 Ingredients
Here is what you will need to make our recipe.
🥕 What Vegetables Go Well?
I believe pot roast is a great time for clearing your fridge out of veggies that might be pass their prime.
If you got floppy carrots or celery, break them in half and toss them in to add more flavor.
Or if you got an onion going soft or with a bad spot, use what's good of it and toss it in the slow cooker too.
Whatever you have on hand that could add some flavor toss in the slow cooker, it's a lot better option than just tossing it in the trash.
📋 Slow Cooker Instructions
Here is how I made my bison pot roast.
Start out by sprinkling kosher salt on both side of the roast.
Put a pan (preferably cast iron) with some oil over medium high heat. Place the roast on. Brown on one side, then flip.
Brown the sides of the meat as well. I just grabbed a fork and held the roast on it's side until brown, then moved to the next side until browned like in step 4.
Add spices to 3 cups of broth. I used homemade mushroom broth (see instructions after the recipe). You also could use beef broth or stock. Pick a low sodium option so you can control the amount of salt better to your liking.
Taste your broth before adding to the meat. It should be strongly flavored. If needed, keep adding more seasoning until it is. This is very important to the final flavor of your roast.
Add the sprigs of rosemary on top. Put the lid on the slow cooker, and cook for 6 to 8 hours.
🍴 How to Know for Sure It's Done?
If you can cut it with a fork then it's done. It should fall apart. You also could take the temperature of your roast using a digital instant read thermometer. You want it to be at least around 195-200 degrees. That's a lot higher than you would cook a steak to. You are going for a different texture with a pot roast.
❓ Can You Make Gravy?
Absolutely you could. I don't always do that, but you sure can with the flavorful liquid you created. Here is an idea of how I like to make gravy.
🔥 Other Cooking Methods
Looking for another cooking method? Let's talk about making in the Instant Pot or oven.
How Long to Cook in the Instant Pot?
If you wish to use your Instant Pot, here is what I recommend - I have not tested it yet myself, so you may need to fine tune. For a pot roast the average times range from 60-90 minutes.
How Long to Cook in the Oven?
To cook in the oven, set your oven to the lowest temperature and place the roast inside a cast iron Dutch oven with a lid if you have it. If not inside another oven safe vessel covered in foil. I would cook it for 4-6 hours or until it's falling apart.
💾 Saving Leftovers
A lot of foods aren't as good leftover as they were when you made them. However pot roast is a huge exception. It's often better leftover. The flavor have more time to mix and mingle. I never have any problem eating leftovers on pot roast.
Whenever I refrigerate leftovers I like to do in a container than can go in the microwave, so that I am not dirtying extra dishes. Pyrex glass containers are my favorite for this. Plus they are easier to clean than plastic.
You can use the meat to make sandwiches too. I would choose a hearty, sturdy bread that will hold the meat. if you use cheap white bread it will just fall out as you eat it.
🎧 If you want to learn more about other types of game meat, check out our podcast interview we did with some farmers in Utah and learn how elk meat compares to bison and beef.
🍽️ Other Recipes You Might Like
I do talk about how to cook other types of bison on the blog. Make sure you see how I cook bison ribeye by sous vide.
If you want more pot roast or beef recipes, give these ones a try. I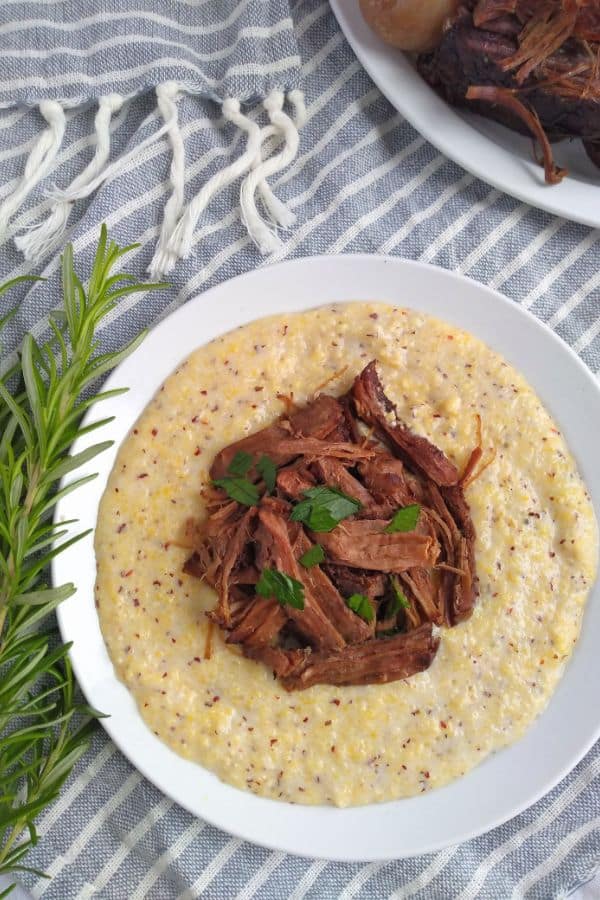 Slow Cooker Bison Pot Roast
Learn how to make a flavorful and lean bison pot roast.
Print
Pin
Rate
Instructions
To start, sprinkle the roast liberally with kosher salt on both sides. This will help bring moisture and protein to the surface to help brown the meat.

Heat up a pan large enough to fit the roast, over medium high heat. Cast iron would be best. Add enough cooking oil to coat the the bottom of your pan,

Once hot add the roast. Make sure to brown the meat on every side. Whole process should take about 10 minutes.

Add all the seasonings to the broth. Taste the broth to make sure it's strongly flavored. Add more until it's really strong. Then pour over top the roast.

Add the sprigs of rosemary on top. Put the lid on the slow cooker, and cook for 6 to 8 hours or until the pot roast falls apart with a fork.

Add in your favorite cooked vegetables (like carrots, celery, or potates). Or serve over freshly made grits or polenta.
Notes
It's normal to see some shrinking with a bison chuck roast. 
If you have some past their prime carrots, celery, onions, etc, throw them in the slow cooker as well for added flavor. It's better than just tossing them.
If you want to use the Instant Pot, I recommend trying to cook it between 60-90 minutes. I have not tested this yet with a bison chuck roast.
To cook it in the stove, set your oven to the lowest temperature and place inside a sealed cooking vessel. Cook for 6 hours.
Tried this recipe?
Mention @eatlikenooneelse or tag #eatlikenooneelse
🍄 How to Make Your Own Mushroom Broth
If you want to make this pot roast really special, you can make your own mushroom broth for it. It's the way to add some umami flavor.
It's super easy to make.
Roast 8 ounces of Cremini/baby bella mushroom in a 400 degree oven for 15-20 minutes or until browned.
Put the mushrooms into a pot over high heat and add 3 ¼ cups of water. Once it reaches a boil, put a lid on, and turn down to low. Let simmer for 30 minutes.
Strain before using for your pot roast.