Soft, delicious cookies made from fresh pumpkin. Swapping the all-purpose flour for gluten free flour will make these cookies even better.
I am a big fan of soft and/or chewy cookies.
I just can't get enough of that texture!
That love and the leftover pumpkin puree in my fridge lead me to search for a pumpkin cookie recipe to try. Pumpkin Snickerdoodles is what caught our eye.
When we first tried to make these cookies, my wife was talking part of a challenge to make YouTube videos based on things found on Pinterest. It was called Pintober. You can watch that video here. It's fun to see my kids so little.
The recipe that my wife found on Pinterest was from the blog, Seeded at the Table.
What is a Snickerdoodle?
A snickerdoodle is a cookie made with flour, some type of fat, and sugar that is rolled in cinnamon sugar. Simple, yet tasty stuff. Snickerdoodles are typically soft on the inside, which I adore!
It's origin is debated, could be German or a fancy cookie name that they came up with in New England. Anyone that knows more about food history I would love to hear more on their origin 🙂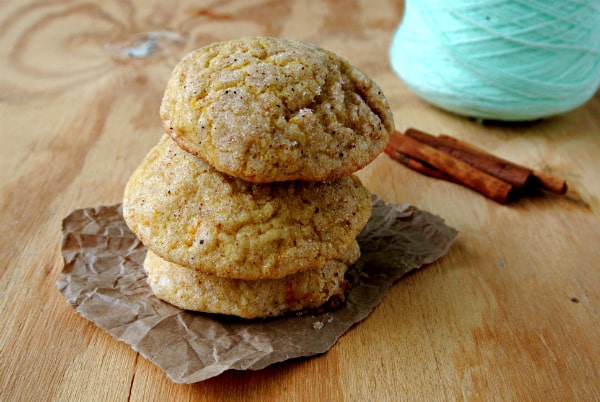 Why This Recipe Works
Whenever you are adding something heavy to a batter, such as pumpkin, there is also the concern that it will be too dense. It was something I had to address with my pumpkin waffles.
In this recipe, the cookies are puffy and soft. They are definitely not too dense. That's a huge success.
The pumpkin flavor is spot on as well. The original recipe just said pumpkin puree. I used pumpkin puree that I made myself from a real pie pumpkin.
And as a side note, I am not shy with the spices. Feel free to get even more than the recipe calls for!
How to Make Gluten Free Snickerdoodles
If you are looking to make a gluten free option, it's pretty simple to do. I just swapped out the all purpose flour for Jessica's Gluten Free All Purpose flour. I first became a fan of their granola/crack, but now I love their flour just as much!
The cookies came out just as wonderful. Still soft and delicious. In fact the more flavorful flour blend actually made the cookies taste even better. I would use it just for that.
Other Pumpkin Recipes You Might Like
Pumpkin Pie with Gingersnap Crust
Pumpkin French Toast (can be made as sticks)
Ingredients
For the cookies:
1

cup

unsalted butter

at room temperature

1

cup

granulated sugar

½

cup

light brown sugar

¾

cup

fresh pumpkin puree

1

large egg

2

teaspoons

vanilla extract

3 ¾

cups

all purpose flour or gluten free flour

1 ½

teaspoon

baking powder

½

teaspoon

kosher salt

½

teaspoon

ground cinnamon

¼

teaspoon

freshly ground nutmeg
Instructions
Start by beating room temperature butter in a mixer with both sugars until they are light and fluffy.

Add the pumpkin puree, egg, and vanilla. Mix until integrated.

In another mixing bowl combine flour, baking powder, salt, cinnamon, and nutmeg.

With your mixer set to low (unless you like flour in your face!) slowly add the dry ingredients.

Mix until everything just incorporated

Cover and chill the dough in the fridge for about an hour. This will keep the cookies from spreading too much when baked off.

Preheat your oven to 350 degrees

Prepare sheet pans with parchment or a silicone liner.

Scoop the dough on the pans. Try to get them to be in equal in size. A disher is the best tool for that job.

Roll the dough in mixture of sugar, cinnamon, ginger, and allspice.

Bake for 12 to 14 minutes

Transfer to a wire rack for cooling after allowing them to rest on the pan for a couple minutes.
Notes
To make the cookies gluten free, swap out the all-purpose flour for a gluten free all purpose flour. The blend I like to use is from Jessica's.
Tried this recipe?
Mention @eatlikenooneelse or tag #eatlikenooneelse
This post includes affiliate links. This means that at no additional cost to you, I will earn a commission if you click through and make a purchase. These are products and services I recommend because I use or trust them. Cookies will be used to track the affiliate links you click.