Learn how to make homemade pumpkin puree, the Alton Brown way. This pumpkin will taste better than anything you would get out of a can.
This post includes affiliate links. This means that at no additional cost to you, I will earn a commission if you click through and make a purchase. These are products and services I recommend because I use or trust them. Cookies will be used to track the affiliate links you click.
Across the country, people are planning to head to their kitchen before Thanksgiving to create their own pumpkin pie.
As they look at their shopping list, most people will have on it a can of pumpkin. What their list should say is a pie pumpkin. Making your own pumpkin puree not only provides a better flavor but also it not that hard to do. And it's a better value.
Alton Brown displayed this on an episode of Good Eats entitled "American Classic IX: Pumpkin Pie".
Below you will find my notes from my own experience with this recipe.
Jump to:
🎃 What Pumpkin to Use
There are options when it comes to buying pumpkins for this recipe. First, you need to do that this won't be good with a Jack O'Lantern style pumpkin. Those pumpkins are grown for their size and shape, not flavor.
What you want is a pie pumpkin or sugar pumpkin. These are medium sized pumpkins that are going to be sweet and tender when cooked.
You can also also use a Tiger stripe pumpkin. They are commonly found at Trader Joe's and are great if you only need a small amount of puree - I made 1 cup of puree last time I used one.
If you are lucky enough to find a Long Island Cheese pumpkin, you are finding my favorite pumpkin for cooking. They are shaped like a wheel of cheese with a light brownish skin. I have also seen a variety called Winter Luxury that is known for being a great choice too.
If all else fails you can actually use a Butternut squash or the smaller, tastier Honeynut.
🍴 Cooking Tips
Here are some things that I want to point out about Alton's recipe.
I have made my own pumpkin puree before. However my recipe didn't call for kosher salt. But it is a great idea. Salt helps pull out moisture, which helps to soften the pumpkin. And it adds flavor.
My other recipe also didn't call for me to bake the pumpkin flesh side down. Doing so is a good idea because it helps the flesh not to burn.. I found that by following Alton's method, I had pumpkin puree faster than I did with my old recipe.
I also like that he recommends using a ice cream scoop to remove the seeds. I have a wide mouth scoop that works really well. Great to give that scoop another job to do besides ice cream!
If you want to make cleanup easier, you can place a piece of parchment paper on the sheet pan before adding the pumpkin.
Although cutting something and throwing some salt in it, isn't much of a recipe, but Alton's instructions deliver a better result than I have had in the past. Which is way I give this recipe an A for a grade.
🎧 Listen to our podcast episode on How to Make Pumpkin Waffles.
🔥 Roast the Seeds
Definitely don't just toss those seeds out. Roast them!
We think the best way to do that is at a low temperature for a long period of time.
Check out our blog post on - What Temperature to Cook Pumpkin Seeds At?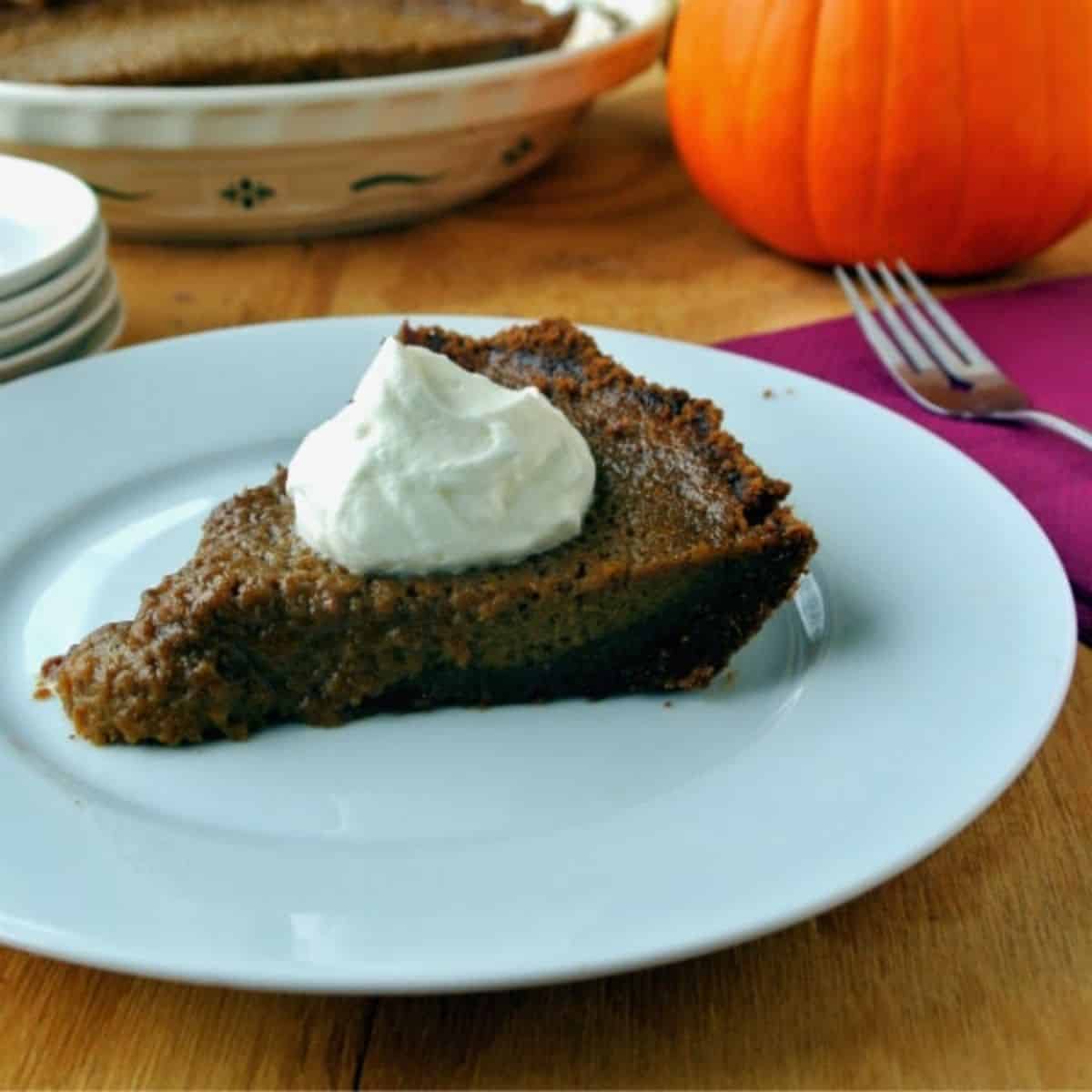 🥧 Recipes
When I first made this puree I did so to make Alton's Pumpkin Pie. Since then I have made a sous vide version as well.
Here are other recipes to use the puree in.
Alton Brown's Pumpkin Puree
How to make homemade pumpkin puree for pies, donuts, breads, cakes, soups, sauces, and more. This is an Alton Brown recipe with instructions written by me.
Print
Pin
Rate
Instructions
Preheat your oven to 400 degrees

Slice off a small part of the skin of the pumpkin to make it more stable for cutting. Break off the stem.

Scoop out the seeds using a wide ice cream scoop. Save the seeds for roasting later.

Place the pumpkin halves onto a sheet pan. Liberally sprinkle with kosher salt. Then turn them so the flesh side is down.

Roast for 30 to 45 minutes or until a fork or knife can easily pierce the skin in several places.

Remove from the oven. Allow to cool for 1 hour before removing the flesh.

Place the pumpkin into a blender or food processor and blend until smooth. Now your pumpkin is ready to be used in recipes.

The puree will last about a week in the fridge. After that you should freeze it for longer storage.
Notes
You can do this in your air fryer as well. You are going to have to work in batches and cut the pumpkin into quarters that will fit in your air fryer basket. Same temperature - 400 degrees. Timing will depend on your air fryer. I would start checking it around 15 minutes. 
Can't find a pie pumpkin, use any of these instead
Butternut squash
Hubbard squash
Tiger Stripe pumpkin
Long Island Cheese pumpkin
Honeynut Squash
Winter Luxury pumpkin
Cooking times will vary based on the size, shape, and variety of squash/pumpkin you use.
Tried this recipe?
Mention @eatlikenooneelse or tag #eatlikenooneelse