Learn what temperature to cook pumpkin seeds at so that they come out perfect, never burnt, and tender. Learn why a low temperature method is the way to go. We also have tips on how to clean them.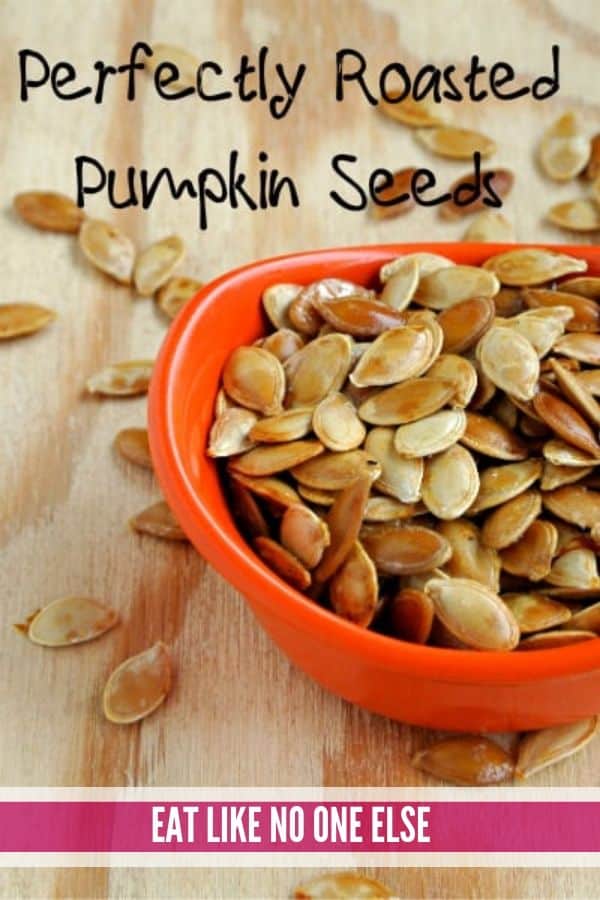 This post includes affiliate links. This means that, at no additional cost to you, I will earn a commission if you click through and make a purchase. These are products and services I recommend because I use or trust them. Cookies will be used to track the affiliate links you click.
Across the country this week a lot of people will be carving out pumpkins.
They will scoop out the seeds and all the junk that comes with them and throw them in the oven.
People do this maybe because they like them or maybe they feel guilty about wasting "food" so they feel obligated to roast the seeds. I know a lot of people do this but do a lot of people think about what they are doing?
Do you just turn the oven on to 350 degrees, throw the seeds in, and wait until they look right?
What I normally find is that the seeds come out half burnt and the other half are so chewy on the outside that they get stuck in my teeth until I am finally able to free the debris hours later.
Sorry for that visual!
When it comes to roasting pumpkin seeds it all comes down to temperature. Is the "standard 350" the way to go or is there a better way?
Jump to:
🌡️ Best Temperature
The problem a lot of us have with roasting them is it's so easy to burn them. We roast them on Halloween at time when we are really busy. If you forget to check them for a few moments you end up with burnt seeds.
The ideal or best temperature for roasting pumpkin seeds might surprise you.
275 Degrees
Yeah I am guessing you didn't see that coming. Isn't that too low?
When you roast them at a low temperature it's much easier to not burn them. When you taste how tender these pumpkin seeds are you won't think that's too low.
⏲️ How Long to Roast
Wouldn't cooking the pumpkin seeds at 275 take forever?
Yes, roasting them this low is going to take a while. Quite a while. About 2 to 2 ½ hours.
Sometimes for the best end result it requires patience. I can promise you that your patience will be rewarded - thanks, Alton Brown for adding that phrase to my vocabulary.
Tips - Cook the pumpkin seeds on a rimmed baking sheet lined with parchment paper for easy clean up. Store your roasted pumpkin seeds at room temperature in an airtight container. They should last for a couple weeks.
❔ Why More Tender?
Besides avoiding burnt seeds, the other advantage is a better texture. I found that the outer shell is softer, yet still crispy when given the time to cook.
Higher temperature roasting leads to faster browning so less time to cook the outer shell, which ends in the teeth experience I shared earlier.
Just think like you are cooking a tough piece of beef or a stewing hen. Going low and slow is how cook tough meat and works well for pumpkin seeds. It gives you time to break down that outer coat of the seeds.
You could try to shell the seeds and then you have the green pepitas you find in the grocery store. I think with this low and slow method you don't have to do that.
🛢️ Adding Oil
To promote browning I coat the seeds with oil before roasting. You can use any oil you want from olive oil to pumpkin seed oil! Since the temperature of the oven is only going up to 275 degrees you don't have to worry about the oil burning. So you are able to use oils that have a lower smoke point.
🧽 How to Clean the Seeds
The only real challenging part of roasting pumpkin seeds is getting them clean in the first place.
The what I call "pumpkin guts" gets easily stuck to the seeds and doesn't want to easily release itself. I almost want to call it pumpkin glue.
You can remove it by hand, but I don't like that goo all over my hands. Instead I would opt for filling a sink full of cold water. The seeds will float to the top and you can "skim" them off with a strainer.
I have tried doing this in a large bowl of water, but even my largest mixing bowl doesn't provide enough space and the goo is still stuck to the seeds.
Always air dry before roasting the seeds. Wet seeds will take longer to roast.
Place the seeds on a clean towel or a paper towel. Choose thick paper towels. When they are too thin you might have some of the paper sticking to the seeds and then you are again trying to get stuff off them.
Make sure you dry them in a single layer. You can leave them overnight if you want.
Besides large pumpkins for carving and pie pumpkins you can roast seeds of any of the squash family. One of our favorite squash seeds to roast is Delicata. That squash has small seeds that when roasted have a subtle corn.
🧂 Seasonings
If you want to add some additional seasoning to your seeds here are some ideas.
Sea salt (instead of kosher)
Black pepper
Parmesan cheese (at when out of the oven)
Garlic powder
Pumpkin spice (cinnamon, ginger, or nutmeg)
Curry powder
Chili powder
Slow Roasted Tender Pumpkin Seeds
Roasting pumpkin seeds low and slow will make for perfectly roasted seeds.
Print
Pin
Rate
Ingredients
pumpkin seeds from 1 pumpkin

cleaned

kosher salt

to taste

oilve oil

or another cooking oil
Instructions
Preheat your oven to 275 degrees

Take your cleaned pumpkin seeds. Lay them on a single layer of a single pan lined with parchment for easier clean-up. Sprinkle with kosher salt to taste. Add any other seasoning you like.

Drizzle your favorite cooking oil on top.

Roast for 2 to 2 ½ hours until the seeds have browned and the outer shell has softerend.

If seeds are not brown but the shell is soft enough, then turn up the temperate to brown the seeds but be careful to watch them so you don't burn them.
Tried this recipe?
Mention @eatlikenooneelse or tag #eatlikenooneelse