Everyone knows about roasting pumpkin seeds, but what about squash seeds? Are they edible? And particularly the Delicata squash. Should you save the seeds to eat or toss them? Spoiler, you will find a recipe for slow roasted & tender Delicata squash seeds at the end!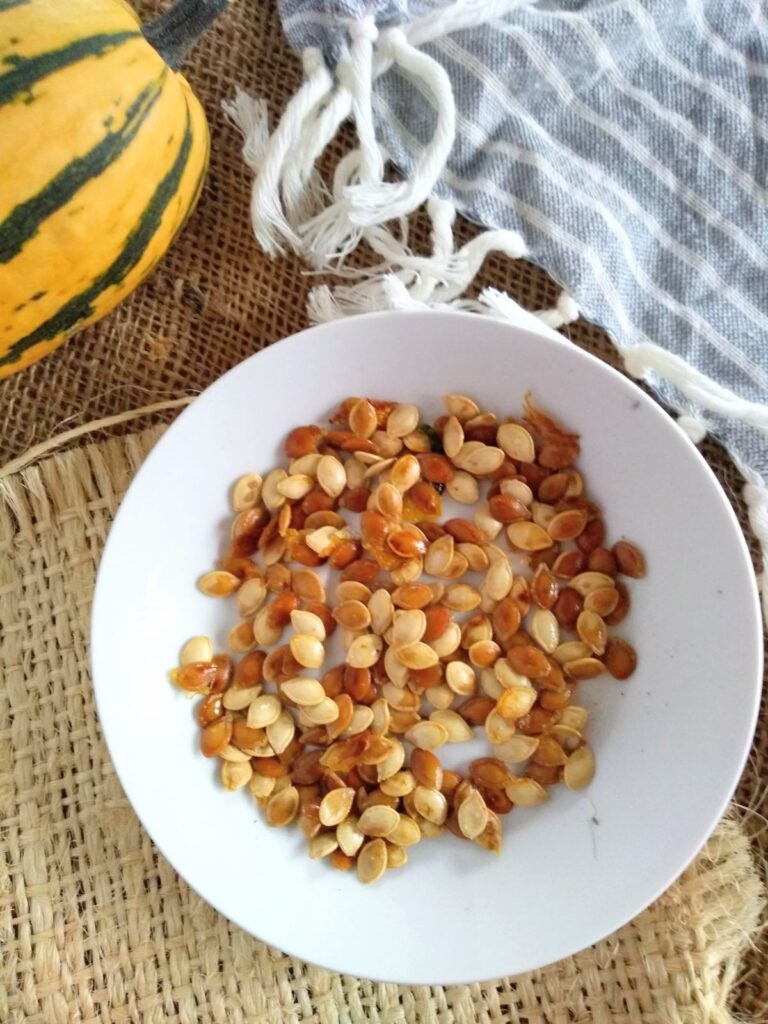 This post includes affiliate links. This means that at no additional cost to you, I will earn a commission if you click through and make a purchase. These are products and services I recommend because I use or trust them. Cookies will be used to track the affiliate links you click.
When you carve your pumpkin for Halloween, do you like to roast the seeds? Well that doesn't have to be just for that time of year. You can roast squash seeds as well. Keep in mind, pumpkins are indeed members of the squash family or if you go by it's scientific name, cucurbita pepo.
I have roasted many different types of squash seeds. They are all safe to eat. However not all of them work out that well. One that I find does work out is one of my favorite winter squashes, the Delicata squash.
Jump to:
📖 What is a Delicata Squash?
If this is your first time learning about this squash, welcome. Your world is about to change. This delicious squash is smaller in size. It's little yellow colored squash with green stripe. The skin is completely edible. And so are the seeds!
If you want to learn more about Delicata squash and how to use them, check out my post What to Do With a Delicata Squash
❔ How are the Seeds Different?
I want to compare the seeds of a Delicata squash to your standard Jack o'Lantern. They are a lot smaller in size and a bit more round in shape. This will certainly affect the cook time, allowing them to cook much quickly.
As for the flavor, I think Delicata seeds taste better. They have more of a subtle corn flavor. My daughter loves them and was talking about them for months afterwards!
❔ Did you know that the Delicata squash has edible skin? It's thinner than other squashes so you can cook it without peeling it.
💡 Tips for Removing the Seeds
The best tool I have found to remove the seeds is a wide mouth ice cream scoop. You can really dig into the squash and get the seeds out super easy, even in one scoop. A grapefruit spoon could work as well but since it's smaller it will take longer.
Then I like to pull the seeds in a large mixing bowl, filled with water. I then use my hands to remove any pulp that is stuck to the seeds. Then lay the seeds out to dry. Some people recommend drying them on paper towels but if you do, don't do it on the cheap one as they tend to stick to the seeds. A dish towel would be better.
You want them to be completely dried before you cook them.
If you aren't ready to cook them that day, you can refrigerate them for a couple days before roasting. I often roast them the next day after cooking the squash itself.
🌊 Do You Need to Boil First?
Some people like to boil the seeds first. This can help to remove the pulp as well and soften the seeds before roasting, I don't think this step is really necessary. I think getting the temperature of the oven right will insure you get tender seeds. Don't make more work for yourself.
🌡️ What Temperature to Roast At?
For the most tender seeds it's best to go low and slow. Set your oven to 275 degrees and cook until they are tender. This should take about 35-45 minutes. I would check on them every 15 minutes and flip them to encourage even browning. The cook time will depend on how dry your seeds are.
If you have more than 1 squash, you can roast the seeds all at once, it won't increase your overall cooking time.
Make sure when you are roasting them that you spread them in a single layer on your baking sheet or sheet pan. Adding some olive oil will promote browning and will keep them from becoming too dry.
You can use parchment paper on your sheet pan but I think it's not necessary as the seeds don't make too much of a mess. They don't really stick to the pan that much if you have enough oil.
RELATED - How Long to Cook Pumpkin Seeds?
🌬️ Air Fryer
Want to pop them in the air fryer instead of the oven? You certainly can do that. It's faster.
I started them out at 5 minutes at 350 degrees. They already were starting to darken, but I didn't think the seeds were crispy enough all the way through. I reduce the temperature to 320 degrees and cook them about 10-15 minutes more. This allow for the inside to soften without burning the outside of your crunchy, salty treat!
🧂 Seasonings
While just good salt and oil on them will them flavorful enough, you definately could add more flavor. Here are some seasonings I recommend:
Freshly cracker black pepper
Garlic powder
Cayenne pepper
Cinnamon
Ginger
Nutmeg
Paprika
Dill
Add all your seasonings before you put them in the oven after you have tossed the seeds in oil.
Do you have some other ideas to season your seeds? Leave a comment below and let us know.
📦 How to Store
If you don't eat up all your seeds at once, you can store them for several weeks. Choose a cool dry place and an air tight container to store them. A plastic container of glass jar with a lid would be best.
➕ More Delicata Squash Posts
Learn more about Delicata and get some ideas on how to cook it.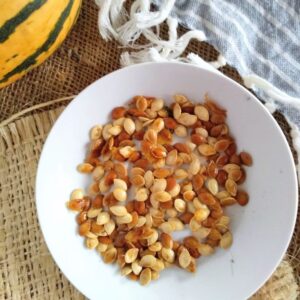 Slow Roasted & Tender Delicata Squash Seeds
Save those seeds and roast them for a delicious snack or salad topper.
Print
Pin
Rate
Ingredients
seeds from 1-2 Delicata squash

1-2

tbsp

olive oil

kosher salt

to taste
Instructions
Once you have removed the seeds from the squash, place them into a bowl of water. Using your hands remove the pulp and place the seeds onto a towel to dry.

Once the seeds are completely dry. Set your oven to 275 degrees.

Place the seeds on a half sheet pan in a single layer. Drizzle with olive oil and season with kosher salt to taste.

Roast for 35-45 minutes. Check them every 15 minutes and flip the seeds to cook evenly. The time may be more or less depending on how dry your seeds are and how old your squash was. It's best to check them often.

Allow to cool before eating. They need to be completely cool before storing.
Notes
You don't have to cook the seeds right away when you remove them from the squash. You can refrigerate them for 1-3 days until you are ready to roast them.
Tried this recipe?
Mention @eatlikenooneelse or tag #eatlikenooneelse