Wondering what the yellow squash with green stripes that you found at a farm stand, grocery store, or farmer's market is? You my friend are in possession of a Delicata squash, one, if not, the best tasting squash there is. It's our family's favorite squash. Find out what you can do with this fall treat.
This fall I am on a mission to more familiarize myself with the squash family.
I did not grow up as a squash fan, but I am looking to make up for some lost time.
I am experimenting with different recipes trying to find the best use for each type of squash. Butternuts are the only type I have spend much time with. I have mainly use them in Alton Brown's recipe for butternut dumplings. Such a good recipe!
In my mission to branch out, I gave Delicata squash a try.
Jump to:
❓ What Is a Delicata Squash
Here is the lowdown on this squash:
| | |
| --- | --- |
| Category | Description |
| Appearance | Long yellow squash with green stripes and green spots throughout |
| Other names | Sweet potato squash, peanut squash, Bohemian squash |
| Nutrition | Good source of dietary fiber and potassium |
| Average weight | 1 to 2 pounds |
Let me give you just a bit more info on this variety. It has been around for quite a while but feel out of favor as it doesn't ship as well as other hard squashes.
In recent years I have seen it more and more. They use to be only at the farmers markets, but now most stores carry them in the fall season. They are not available year round like acorn or butternut squash.
RELATED - What's the Difference Between Butternut and Acorn Squash?
⏲️ How Long Do They Keep
Another interesting tidbit is that the Delicata belongs to the same family as the zucchini and yellow crookneck squash. So really it's a summer squash with the longevity and harvest time for like a winter squash. Although they don't store as well as a butternut or an acorn, you can still get a few weeks out of them.
🍯 Darker Squash
You might find Delicata squash that looks darker with more of a mustard brown color instead of yellow. These are still Delicata squash and can be used the same. This is a strain that was developed in Oregon called Honey Boat Delicata.
Does it taste any different? I did a side by side comparison.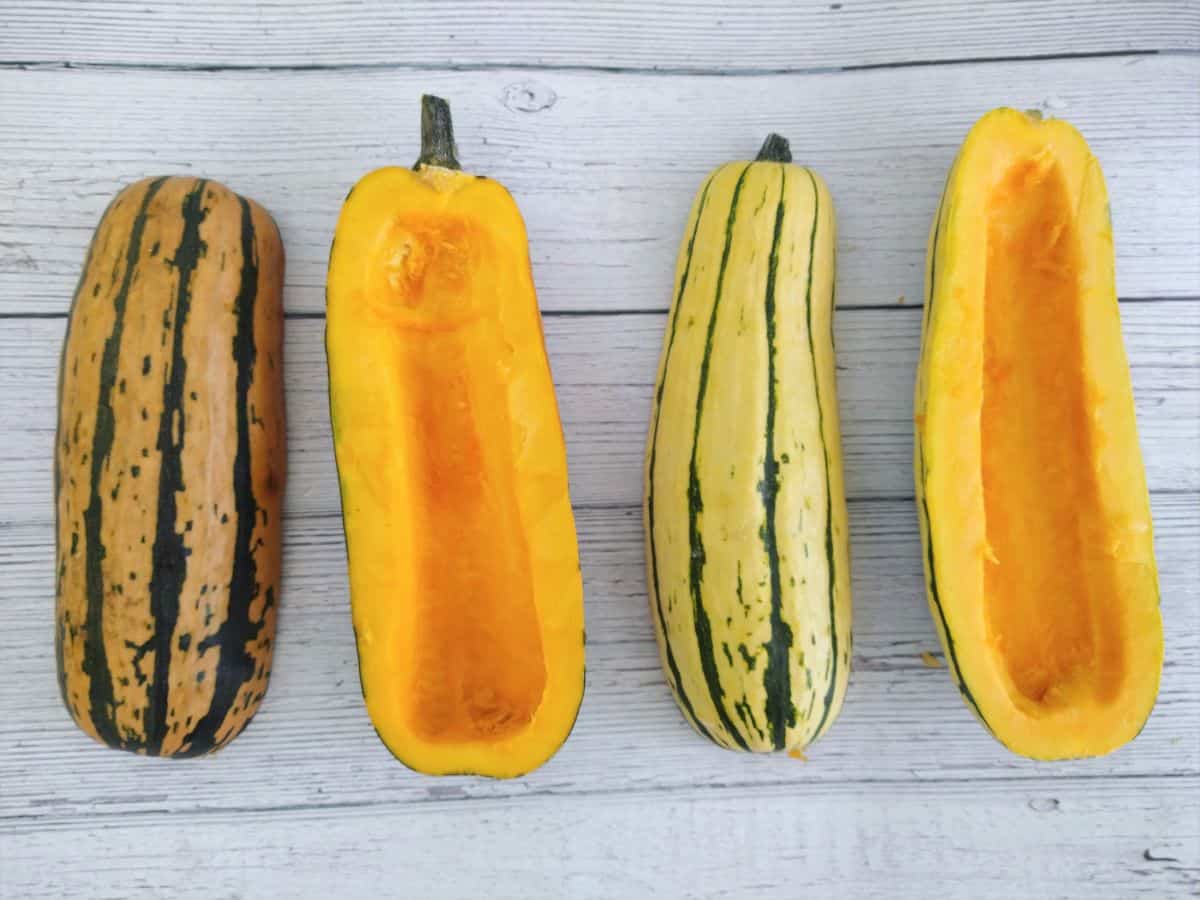 The flavor of the darker Delicata was sweeter than the original one. I feel when roasted it had notes of roasted corn. The texture was the same and the cook time was the same. Maybe a tad moister but not that noticeable to make a difference.
I say if you find it, go right ahead and get it. If you have the choice between the two which is rare to have, go with the darker skin. I was lucky to find a farmer at a farmer's market selling both types at once.
🍴 What to Do with Them
The first time we used one we just roasted it in the oven. Then we pureed it and used it as any ingredient for a Sili Squeeze treat when my daughters were young. Would also work well for baby food purees. They are sweet like a sweet potato, so that may be attractive to kids.
The next time I used one I roasted them again but changed up the technique. I made them into "delicata squash fries" I sliced them into half moon slices and then made them like I would oven fries by tossing them onto a baking sheet with olive oil and seasonings.
And we have a winner! The oven fries turned out fantastic and it's a real easy recipe. Find the recipe at the bottom of the post.
💡 Tip - When roasting in the oven make sure to put the squash in a single layer. This is what will help them to cook evenly. You can also rotate the pan half way through.
🍽️ More Recipes
Here are some other recipes you'll want to check out:
❔ Do You Need to Peel Them?
Later on I learned that you can actually get away without peeling the squash for this recipe. The skin is actually edible when you cook it. You can still peel it if you want, but I love saving the time.
📧 Email List
Delicata squash are a seasonal variety usually only found in late summer into fall. If you are interested in knowing when they are in season each year and when other fruits and veggies are in season, you'll want to sign up for our seasonal email list.
🔥 How to Roast
The key to roasting them is to slice them into half moon shape squash pieces. Do this by slicing the half, removing the seeds, and then slicing each half into the moon shapes. Since it has a thinner skin than most winter squash, this is a lot easier to do. Remember this squash has an edible skin, so skip the peeling.
Here are some more tips for roasting the oven fries. Full instructions in recipe card below.
You can spice them up by adding plenty of fresh cracked black pepper and/or cayenne pepper.
Don't forget the kosher salt, it's the best salt choice as it draws out moisture for crispier squash.
I add a little olive oil to help the squash brown nicely.
Place the squash into a hot oven - 400 degrees for 12 to 15 minutes. Then rotate the pan and cook for another 12 to 15 minutes until golden brown and soft in the middle.
Save the seeds. They can be roasted just like pumpkin seeds.
You can also cook them in the air fryer. Check out this post for the instructions.
Ingredients
2-3 1

lb

Delicata squash

oilve oil

freshly ground black pepper
Instructions
Preheat your oven to 400 degrees

Peel (or leave the skin on) the squash

Slice in half.

Remove seeds (don't throw them out, save them for roasting)

Cut squash into ½ inch slices

Place on sheet pan.

Coat with some olive oil and salt, pepper, and garlic powder to taste

Bake in the oven 12-15 minutes, then turn and bake another 12-15 minutes until they have darkened along the edges and soft in the middle
Notes
The "fries" in my picture look black around the edges. Don't worry even if they are dark, they didn't taste burned even in the slightest. I thought they were perfectly cooked.
Tried this recipe?
Mention @eatlikenooneelse or tag #eatlikenooneelse