Both parts sweet and savory, these spicy Delicata halves could be your next fall stable side dish. Oh and did I mention they are buttery as well!
Fall is my favorite time of the year by far.
It's the most exciting time for the blog with the great apple harvest, pumpkins, Halloween, Thanksgiving, etc.
One sign of the fall season is when hard squash begin to show up in grocery stores and at your local farmer's market. While typically I wait for fall to official begin to start my squash cooking, I couldn't resist picking up the first locally grown Delicata squash I could find.
Jump to: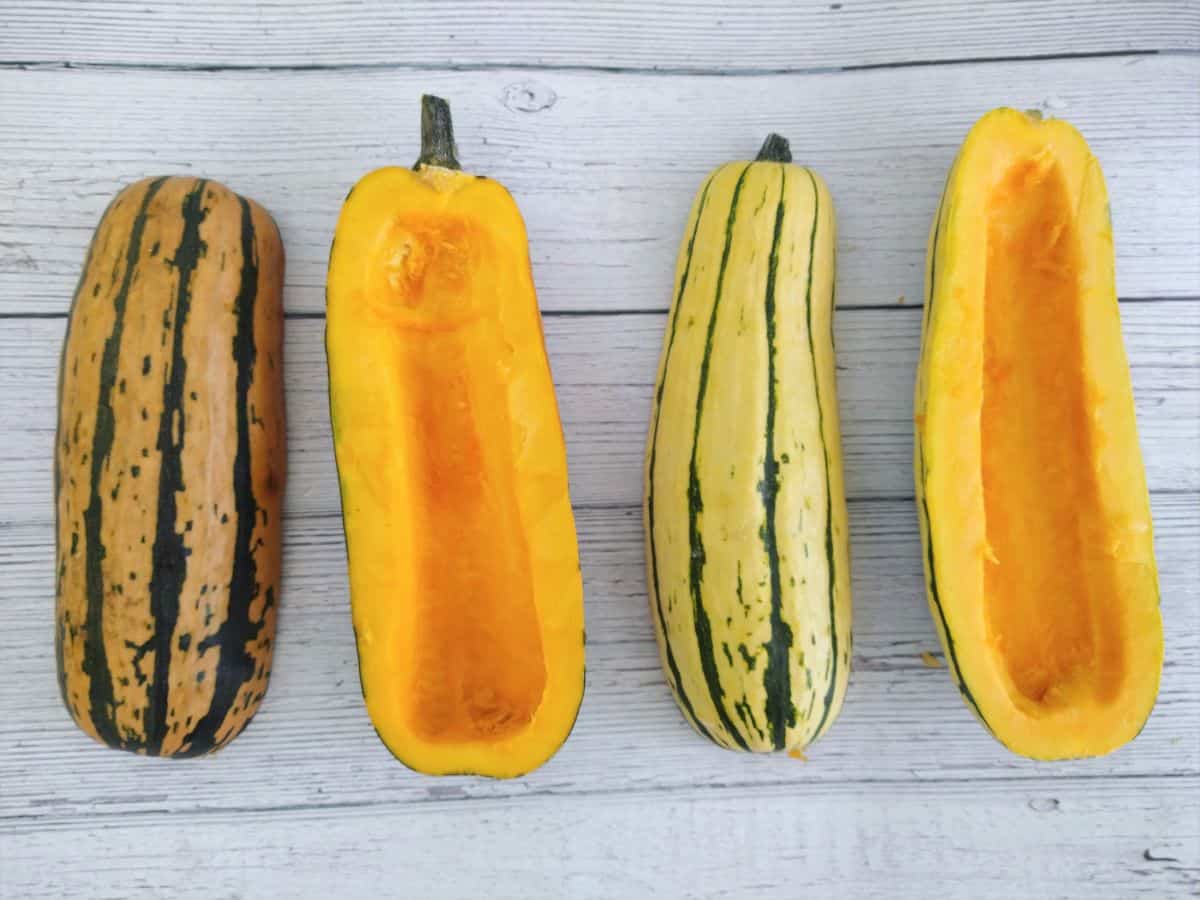 ❔ Why Delicata?
These are my wife's favorite squash and with good reason. They have similarities to a sweet potato, which is why sometimes you will find them called sweet potato squash. They are small size which makes the perfect serving size.
The skin of the Delicata is thin enough to eat without peeling.
⚙️ Why This Recipe Works
My in-laws are visiting our house this week. My mother-in-law is not a big squash eater. She did say however that she likes sweet potatoes as long as they are smothered with brown sugar and butter. That got me thinking, why not try that with the Delicata.
One concern I had about this dish is it being overly sweet. The squash is pretty sweet itself. What could I do to cut the sweetness. A lot of time people use something acidic like lemon or lime juice that didn't seem right in this occasion.
Then it hit me.
What it needs is a little heat, say from a Hatch Chile. I have a bag of Hatch chiles in my freezer already roasted - ready to be used in any dish.
I didn't just want to chop up the chile and throw it on the squash. Mixing it with the butter seems like a winner. I just took about a half of a Hatch threw it in my food processor with a stick of butter and voila - Hatch Chile Butter, which I can also use now in other dishes.
💾 Save the Seeds
Did you know you can roast squash seeds just as you do pumpkin? So save those seeds for a snack later.
I find that a wide ice cream scoop is the best tool to remove those seeds and get out any of the stringy pulp - there shouldn't be much
RELATED - Can You Roast & Eat Delicata Squash Seeds
🛒 Ingredients
Here is what you will need:
Delicata squash
Brown sugar
Butter
Hatch or other type of fresh green chile
Kosher Salt
♻️ Substitutions
Don't have all the ingredients or want to make a swap? Here are some ideas.
Brown sugar --> Maple syrup
Butter --> Ghee or olive oil
Fresh green chile --> Chile powder or pepper flakes (*see notes)
Kosher salt --> finish with your favorite flake salt
*You could also use powdered chile instead like cayenne pepper, chile powder, or chiptole powder. Or you could even serve them with pepper flakes and let people choose their heat level.
If you want to use maple syrup instead of brown sugar, may I suggest you give a barrel aged maple syrup a try. They have so much flavor.
⏲️ How Long Does it Take
The total cook time is around 25-30 minutes, so they are a fast squash to cook. Acorn squash takes twice that time.
I cook them at 400 degrees, then pull them out, brush on the butter and sprinkle o the brown sugar and return them to the oven for the last 5 minutes at 450 degrees. They should be fork tender and golden brown when finished.
More Delicata Squash Posts
Ingredients
3

Delicata squash

sliced in half, seeds removed

½

cup

brown sugar

1

stick butter

½

roasted Hatch Chile
Instructions
Preheat your oven to 400 degrees.

Slice the squash in half and remove the seeds. The seeds can be roasted later.

Place the squash cut side up on a sheet pan lined with parchment paper

Season with kosher salt and place into the oven for 20 minutes or until it can be pierced with a fork.
To make the butter
Place half a Hatch chile, seeds removed into a food processor with 1 stick of butter cut into cubes.

Process until smooth. You won't need all the butter, you can save it in the fridge or wrapped tightly in the freezer.
To finish the squash
Remove from the oven. Raise temperature to 450 degrees.

Brush on the Hatch Chile butter. Sprinkle with brown sugar.

Return to the oven for about 5 minutes or until the sugar has melted and caramelized. Keep a careful eye on it so that you don't burn the sugar.
Notes
Substitutions
If you aren't using the butter, you can just drizzle the squash with olive oil when you put it in the oven.
If you are going to use cayenne, chile, or chiptole powder you can sprinkle those on at the beginning.
If you want to use maple syrup or honey instead of the brown sugar, still add it in the last 5 minutes of cooking. 
Tried this recipe?
Mention @eatlikenooneelse or tag #eatlikenooneelse