(Last Updated On: October 11, 2017)
I love french toast. Every time I went on vacation as a kid, I would always order that for breakfast as long as it was on the menu. I have enjoyed french toast in many a state. Some of the best french toast I have had has not come while on vacation, but after a hard day of work. I have been spending a lot of time making pumpkin recipes this fall this month so I can re-shoot some of the photos. I am a better photographer and I have a better camera than in fall pasts. One of the recipes I re-did was for pumpkin yeast rolls and bread. I thought since I have already made the loaf, why not create a new recipe out of it? I needed something for dinner, and we like doing breakfast for dinner once a week as the kids love it. French toast seemed like the perfect option. I decided to do dress up our normal bread dip with of course – pumpkin!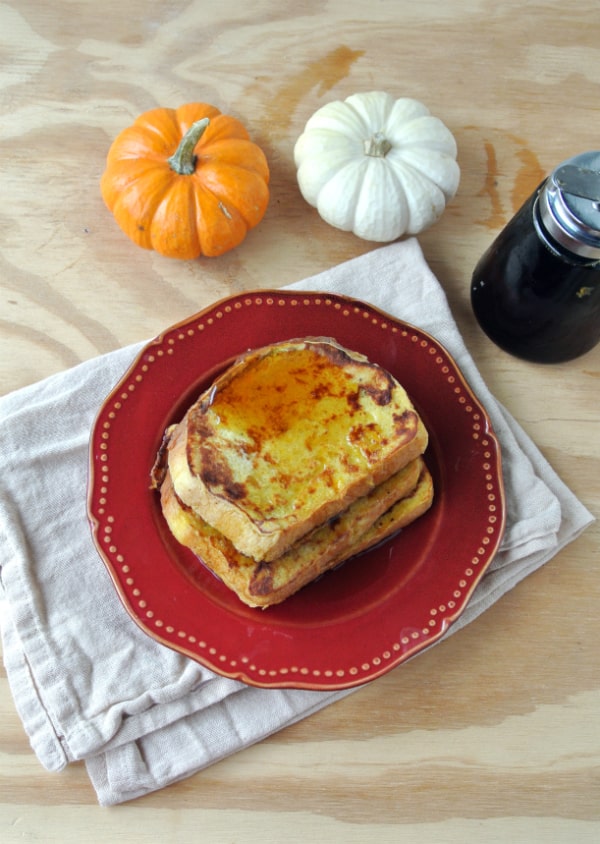 In order to make the best french toast there are a few things you need to follow.
1. Stale bread – If the bread is stale it will better absorb the batter. Now I made my bread the same day I made the french toast, so that didn't give me a lot of time for it to stale. So what I did as soon as I could I sliced up my loaf and let it be exposed to area. This helped enough for the bread to absorb the batter.
2. Use half and half – A lot of recipes call for using milk in the batter. I say forget that and go all out using half and half. Yes it adds more fat but aren't we making the best french toast here? Don't so as crazy as to go with heavy cream. You don't want the bread to be too heavy.
3. Give the bread sometime – Let the bread have a moment to soak in the batter. Often people just dunk it and take right back out. Give it a minute. Your patience will be rewarded.
Cooking Recommendation
Whenever I cook french toast or pancakes, we always bust out the Electric Griddle
. It's wide surface helps us cook more at once. Yes a frying pan will do but you will spend a lot more time cooking when that time can be spend eating. They aren't very expensive, so I highly recommend picking one up if you don't have one. I am not one to just litter my kitchen with small appliances, but this one is worth.
Pumpkin French Toast
Ingredients
1

large loaf of bread

cut into slices (12 to 16 slices)

8

eggs

3/4

cup

half and half

2/3

cup

pureed pumpkin

1

teaspoon

ground cinnamon

1/2

teaspoon

ground ginger

1/2

teaspoon

ground nutmeg

pinch

of salt

butter for the griddle

real maple syrup for serving
Instructions
Heat up an electric griddle to it's highest setting.

Rub some butter onto the griddle.

Place the eggs, half and half, pumpkin, spices, and salt in a large, wide container.

Allow each slice of bread a minute or two to soak up the liquid before placing onto the griddle.

Cook until browned on each side, about 2 to 3 minutes per side.

To keep warm, place in a oven set to it's lowest temperature.