Need to cook a lot of hamburgers at once? Turn to the wide open spaces that the electric griddle provides. A great way to get your burger fix when the weather isn't good for grilling.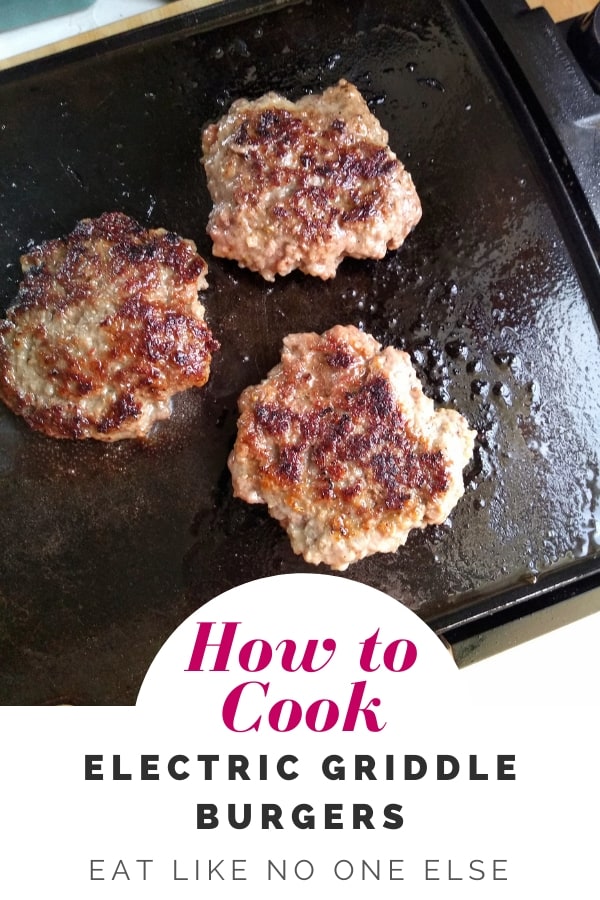 This post includes affiliate links. This means that, at no additional cost to you, I will earn a commission if you click through and make a purchase. These are products and services I recommend because I use or trust them. Cookies will be used to track the affiliate links you click.
If you go to any classic diner restaurant or watch an episode of Diners, Drive-Ins, and Dives, you would encounter an extra large griddle.
All sorts of things are turned out on these. One of those things would be hamburgers.
A nice, wide open surface is a great spot to cook a lot of hamburgers in no time at all. Giving the burgers their flip is a singe.
The electric griddle gives you the ability to bring that diner taste into your home.
Now I admit there is a certain charm to a grilled burger, but sometimes that is not practical. If you live in a climate like mine, you probably don't want to grill while snow is falling on your head. I have a cast iron grill pan that I could cook some burgers on and I have before.
But if you are lacking a grill pan, or you want to cook for a lot of people, an electric griddle is a great option to have at your fingertips.
Jump to: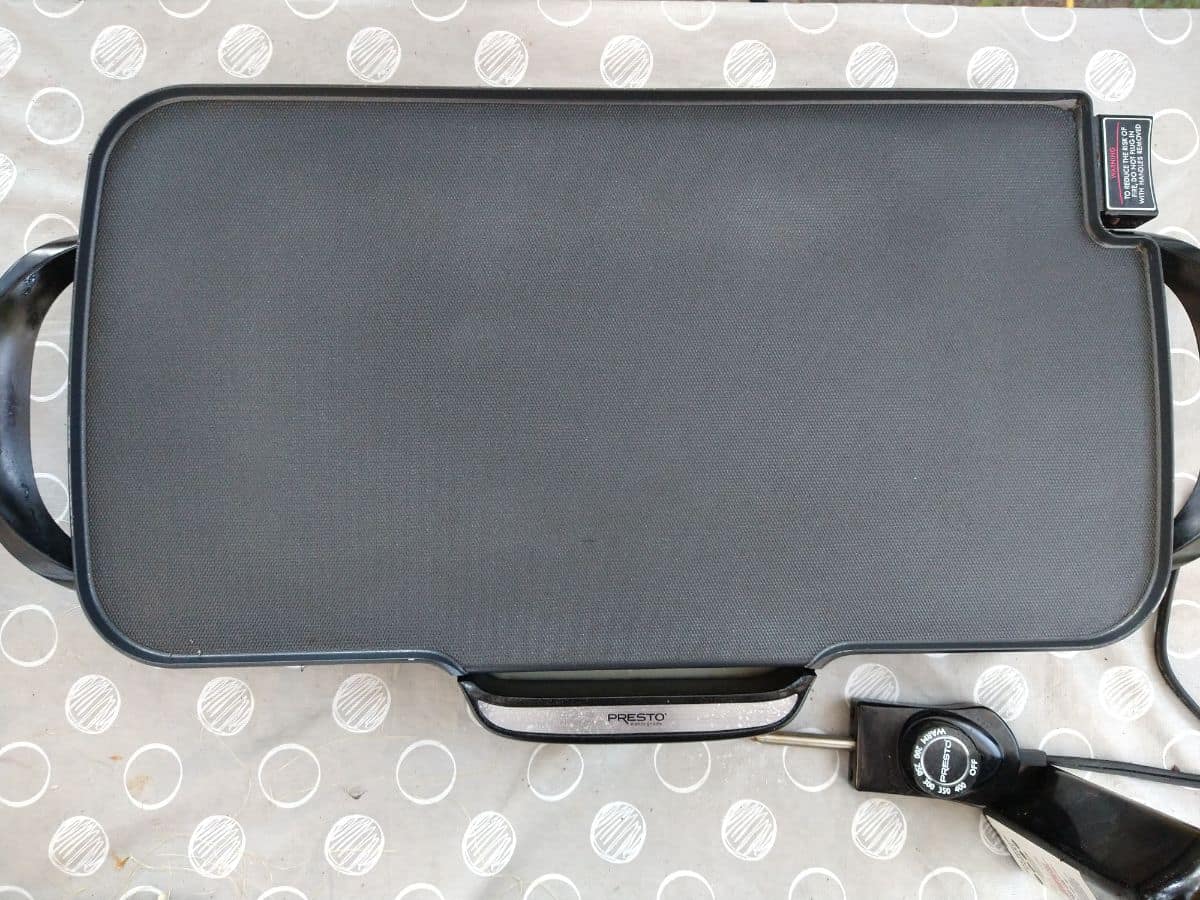 Buying an Electric Griddle
If you don't already own a griddle, they aren't very expensive to buy. You don't need anything fancy. Just a wide space to work with. It should be more of a rectangle in shape than a square.
The one in our household is a Presto Cool Touch. It's cheap, wide, non-stick with a drip tray, and it's easy to clean.
Make sure to pick one that is fully immersible in water.
Electric Griddle vs. Electric Skillet
Electric skillets have higher sides than a griddle. While you can cook hamburger in them, I prefer the griddle because you can cook more on it at once and it's a lot easier to quickly flip the burgers.
How to Cook Burgers on the Griddle
It's pretty simple to do but there are still some tips and tricks that will help you be more successful. Let me show you how I do it, starting with my burger recipe.
Choosing the Meat
Combining ground beef and ground Italian sausage is how I like to do my burgers. I like the flavor and texture that adding sausage brings to the burger. This same combo is great for meatloaf too. I find that the leftovers are better when using this combo than just beef alone.
Looking to make turkey burgers instead? See our recipe for our Ramped Up Turkey Burgers.
Last time I made these burgers I used Real Salt Organic Garlic Pepper Salt for my seasoning. I have been a huge fan of their salt for years. They kindly send me this seasoning to try. Feel to season to taste your burgers with salt, pepper, and garlic powder.
Weight Out the Burgers
Combine the ground meats and you seasonings together in a large mixing bowl. I like a wide one so I can really get in there and quickly get the meat mixed together. Try not to overwork the meat just get it to it's mixed together, don't worry about being perfect.
This may sound like me being a nerd, but I do what Alton Brown does, a weight my burgers before I cook them. The best way to have all your burgers done around the same time is if they are the same size. A simple, cheap kitchen scale will help you weight out the burgers.
For 1 pound of meat, I make 4 quarter pound burgers (or 4 ounces).
As tip, place some plastic wrap over the scale, so that you aren't putting raw meat directly on the scale. Makes clean up easier.
What Temperature to Set the Griddle To?
Heat up the griddle to 350 degrees. That is enough heat to cook the burgers without burning them.
Use a pastry brush to spread oil onto the griddle. Or you can use tongs and a paper towel that you dip into some oil. Just a thin layer is good.
Another tip is to make sure you space your burgers out evenly and to watch for any spots that seem to be cooking faster. My griddle definitely has hot spots, so I need to watch them and move the burgers around for even cooking
How Long to Cook the Burgers?
Is best to cook the burgers to temperature not time. On average I would say it's about 4-5 minutes per side. But a lot of factors go into that. First you need to decide how you want your burgers cooked.
Medium rare- 130-135
Medium- 140-145
Medium well- 150-155
Well done- 160+T
The thickness of your burgers will determine how long they take to cook. Plus how much fat is in them. How hot your griddle actually gets is a factor too, which is why cooking by temperature is so important.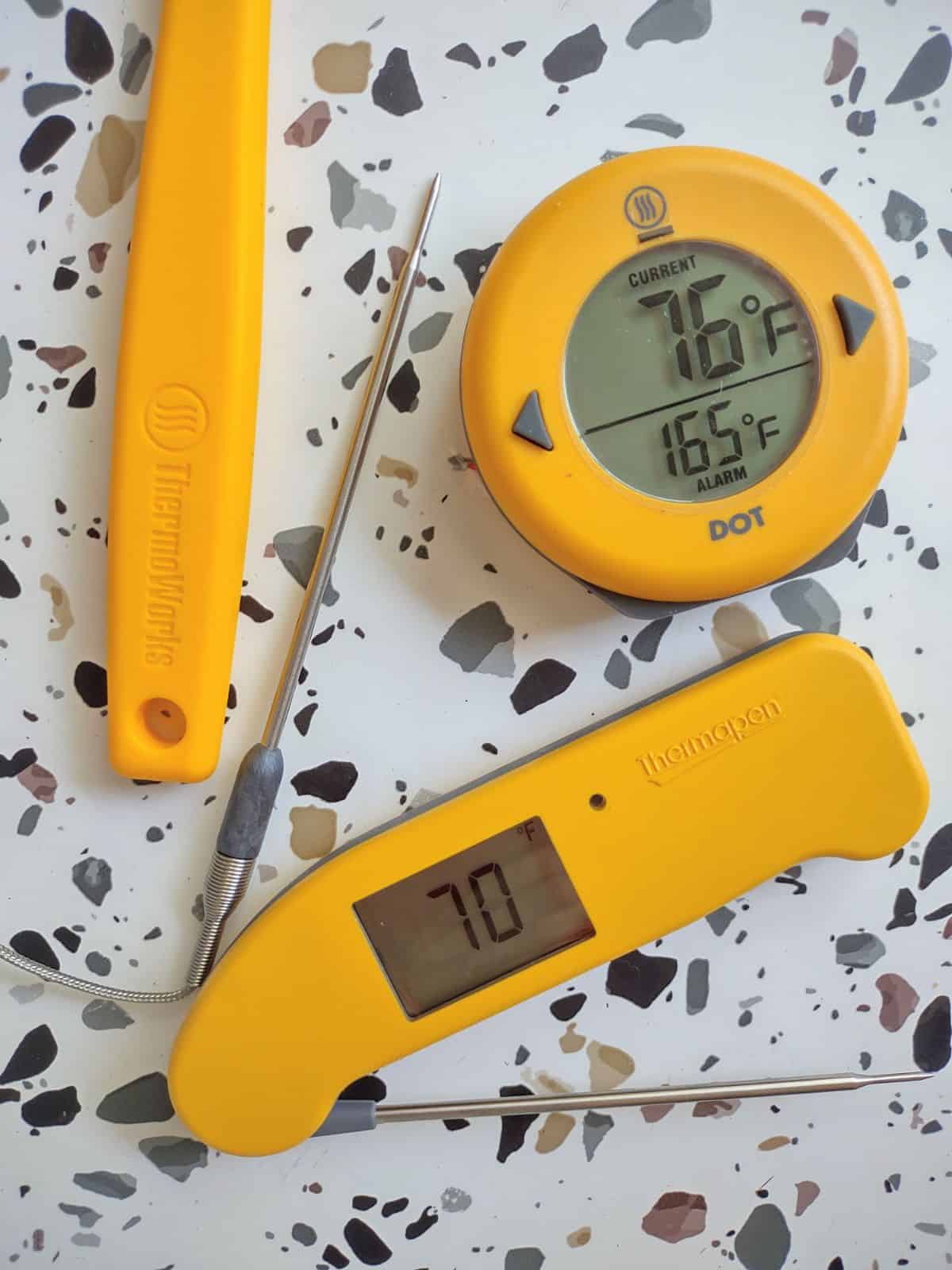 To nail that perfect burger, each and every time, I recommend getting the best Instant Read Meat Thermometer. I use The Thermapen® ONE from ThermoWorks. It only takes 1 second to register the temperature. I have had other ones where it took 10 seconds or more and when you are cooking something like a burger that can make a big difference.
Cleaning the Griddle
Once the griddle has cooled enough, wipe it down with a towel to remove excess oil. Then with a soft brush or sponge, clean it with some soap and water. I use my spray hose by my faucet to rinse it off.
Electric Griddle Beef & Sausage Burgers
How to cook beef & ground sausage burgers on an electric griddle
Print
Pin
Rate
Instructions
In a large bowl, combine the beef and ground sausage. Add Real Salt Organic Garlic Pepper to taste (or a combination of salt, pepper, and garlic powder).

Using a kitchen scale covered with plastic wrap, weight out 4 ounces portions. With your hand form into a patty and place on a plate. Repeat until you have 8 burgers total.

Set your electric griddle to 350 degrees. Brush with some oil.

Add the patties to the griddle, making sure they don't touch. Don't touch the burgers for 4-5 minutes, then flip. Add cheese if desired (see notes below)

Serve on buns with your favorite fixings. Extras can be saved for later and reheated.

Clean the griddle as soon as it's cool enough to touch.
Notes
If you want cheese add it once you flip the burgers. You can use a lid over the burger to help the cheese to melt.
Tried this recipe?
Mention @eatlikenooneelse or tag #eatlikenooneelse