Find out where you can buy bison (buffalo) meat in the state of Michigan. We have listings for grocery stores and farms.
One thing I like to do on this site is include information that I myself am looking for.
If I can help someone as well that it's a win-win.
I have been looking into sources where I can buy bison meat. It's not as readily available as beef, so I have had to search out some sources. It was quite a search that is still ongoing today since I orginally wrote this post back in 2012.
I'm glad to say that it is becoming more readily available.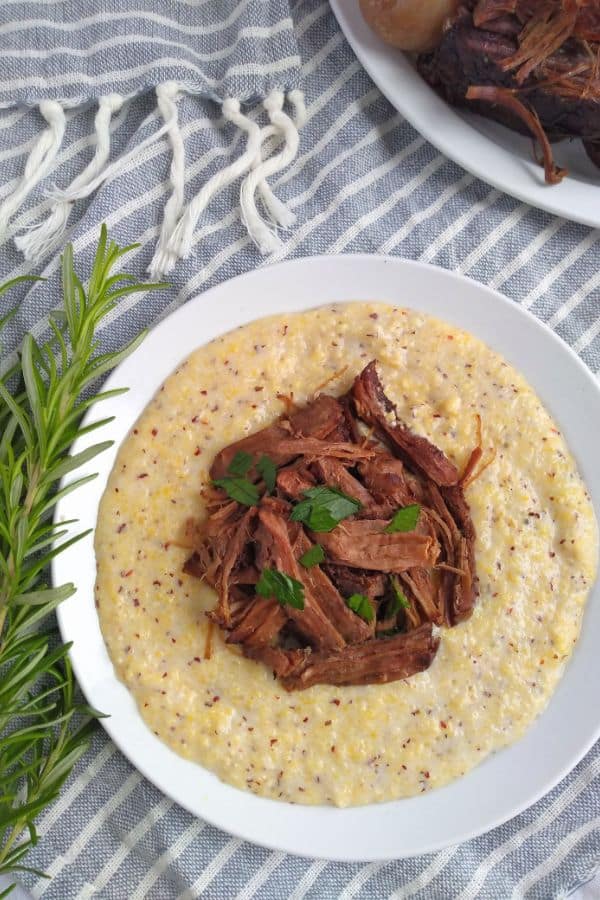 Why Eat Bison Meat
So why bison?
Well it is lower in fat and higher in protein than beef.
I made a pot roast out of a bison chuck roast and I found it to be just as delicious, but without the huge chunks of fat.
Get our recipe for a delicious Bison Pot Roast.
Bison vs. Buffalo
Some people will market bison as buffalo. It really isn't the same animal. Buffalo refers to the water buffalo that look more like a cow with huge horns than a bison. For the sake of this post, I am only using the word "bison".
Stores in Michigan That Carry Bison Meat
This page lists all the places that I found in Michigan that carries bison meat.
There are two types of listings - one for grocery stores and the other for buying direct from the farm (your best option!).
If you have bought bison meat in Michigan, please share that info in the comments below. I would love to add your info my list.
Kroger | Various locations across the state
Kroger now carries bison in several cuts under their private label Simple Truth brand. A lot of their Simple Truth stuff is organic, but not the bison meat, so don't be mislead.
| | |
| --- | --- |
| Ground | $9.99lb |
| Sirloin Steak | $9.99 for 8 oz steak |
| Strip Steak | $9.99 for 8 oz steak |
| Chuck Roast | $14.99 for 24oz roast |
| Ribeye steak | $9.99 for 6oz steak |
Meijer | Locations throughout the state
I have found that most Meijer stores I have checked out have ground bison going for around $9.99/lb. It comes in an already sealed 1 pound package.
Whole Foods Market | Locations in Ann Arbor (2), Troy, Rochester Hills, West Bloomfield, East Lansing, Detroit
Whole Foods carries some bison meat. They pretty much always have ground bison. Sometimes they have bison chuck roast and New York strip. There are 7 locations in the state of Michigan.
Costco | Various locations across the state
Costco carries ground bison produced by Kiva Sun. The price last time I checked was $7.19 per pound.
Oleson's Food Stores | Locations in Petoskey, Charlevoix, Traverse City (2), and Manistee.
They call themselves "Northern Michigan's Home of the Buffalo". Contact the specific store for more info.
Veldheer Tulip Gardens | Located in Holland, MI
Not quite a grocery store, but this place that specializes in tulips, also sells bison meat. All of their meat is grass fed, hormone free, antibiotic free. Check their website out for more info or call 616-399-1900
Marquette Meats | 3060 W. US 41 Marquette (Next to Westwood Mall)
Marquette Meats offers ground bison and bison steaks. Visit the store for pricing information and selection.
Arbor Farms | 2103 West Stadium Boulevard Ann Arbor, MI 48103-3896
Arbor Farms has a couple options for ground bison meat, located in their freezer section. If you want to buy already made bison patties for burgers they have that there.
Fresh Thyme Farmer's Market | Various locations
I found two different types of ground bison at Fresh Thyme - TenderBison at $8.99 for 1 lb package and Blackwing Meats Organic Patties for $11.99/lb.
Nino Salvaggio | Locations in St. Clair Shores, Clinton Township, and Troy
They sell bison patties in their freezer section for $9.99/lb
Ben's Supercenter | Located in Marlette
Ben's offers a complete line of locally raised bison meat.
Trader Joe's | Locations in Ann Arbor, Farmington Hills, Northville, Rochester Hills, Royal Oak, Gross Pointe
The only bison I have seen at Trader Joe's in their bison jerky. It is pretty good though.
Jerry's Market | Tecumseh
They carry frozen ground bison already formed into patties.
Michigan Farms That Carry Bison Meat
This is a list of farms that I have heard carry bison meat. Check with the individual farm for availability.
Regal Bison | 60139 County Road 652 Mattawan, MI 49071
They have a list of where to find their premium bison meat.
Schultz Fruitridge Farms | 60139 County Road 652 Mattawan, MI 49071
They have bison meat available year around. You need to call in advance for meat cuts, prices, and sales. Their phone number is 269-668-3724.
AJ's Bison | 456 W. Hatmaker Road, Bronson, MI 49208
Has USDA inspected meat. For more information call them at (517) 369-9037
Peaceable Kingdom Bison Ranch | 810-387-2237
They sell bison meat at the Lapeer Farmer's Market and Vantage Point Farmers Market (July to October) in Port Huron.
Cushman Bison Farms | 2427 W. 32 Road, Boon, MI 49601
Cushman Bison Farms located just north of Cadalliac in Boon, has bison jerky, steaks, roasts, and burgers. You can purchase their meat through their website.