A simple, easy way to cook one of the best squash of the fall season. Learn how long you need to cook and what the ideal temperature is.
This post includes affiliate links. This means that at no additional cost to you, I will earn a commission if you click through and make a purchase. These are products and services I recommend because I use or trust them. Cookies will be used to track the affiliate links you click.
I love my air fryer! Do you love yours too?
It's so much easier than turning on the oven, especially when you don't really need that much space to cook in.
Vegetables are my favorite thing to cook in the air fryer. I will try anything in it. Recently I tried our family favorite fall squash, Delicata in the air fryer to fantastic results.
Jump to:
⚙️ Why This Recipe Works
Cooking the squash in the air fryer will cook the squash quickly so that it's brown on the outside, creamy on the inside without being dried out. The browning will bring out the natural sweetness of the squash. You don't need to add any brown sugar!
Get it just right and it will be like eating French fries. Plus it's an easy side dish recipe you can cook on even a busy night of the week.
🛒 Ingredients
You don't need much to make this dish good.
Delicata squash can be found in most grocery stores and definitely farmers markets at least September through November. Whole Foods and Trader Joe's will have them for sure. You may find a darker looking Delicata squash, which I recommend you use if you can (read more about it!). It's smaller size and thinner skin makes it easier to work with than butternut squash.
For the cooking spray - I recommend using olive oil, coconut oil, or avocado oil. You just need enough to give a light coating. If you want to skip the oil, you may find the squash to come out dry.
Seasonings - Simple salt can be enough. But also some freshly cracked black pepper or garlic powder are always welcomed. Or you can try one of those Everything seasonings that are popping up everywhere. If you want spice it up cayenne pepper is always a good option. Or you can find an excuse to use more pumpkin pie spice! Finish with a drizzle of Balsamic Vinegar if you like.
🔪 Instructions
Here is how to prepare your squash for the air fryer:
Start by cutting the squash in half. Cut from end to end the long way.
Next scoop the seeds out of each half. You can save the seeds to air fry later as well.
I like to use an ice cream scoop with a wider mouth and edges that can dig into the squash.
💡 Tip - Eat the skin! Delicata has an edible skin, so you don't need to peel it before you slice the squash.
Next cut the squash into half moons or half rings. Aim to cut them as thin and as evenly as you possibly can. The thinner they are the quicker and more crispy they will be. It's equally important to make the sizes as even as you can so they will cook at the same rate.
⏲️ How Long to Air Fry?
This will vary depending on how thin you got your squash and your specific air fryer. To take this as a place to start, knowing you may have to make adjustments to get your desired results.
I cooked the squash at 400 degrees. I want a nice and hot temperature. Arrange the squash in a single layer in your air fryer basket. This is important as you want the squash to cook evenly. Work in batches if need be. You can always throw everything back in at the end to warm through.
At 10 minutes the squash was finished. It was cooked through and soft enough to eat. It had some browning on it but wasn't really crispy, but certainly ready to eat at this point.
At 15 minutes, the squash was more crisp, It did have some darker spots on it but was not burned tasting at all. I liked it better at 15 minutes.
⏲️ Aim for 10 to 15 minutes of cooking time. For more even browning you can flip the squash half way through.
🍟 Dipping Sauces
Now that you have your perfectly air fried Delicata squash fries, you are going to need something to dip them in, right? Ketchup is the easy and obvious choice. But that doesn't mean you can't get more creative.
Here are some great options to choose from:
I like to have a couple difference sauces on hand. I put them at the top in shot glasses. They make the perfect vessel for dipping!
➕ More Squash Posts
Want to learn more about squash? Here is some additional reading and recipes.
👩‍🍳 Air Fryer Recipes
We have a few more air fryer recipes on the blog. Looking to add more. Some of these recipes have a traditional method and a Air fryer method. So make sure you look for the air fryer instructions.
ℹ️ What other side dish to serve with this? Try Shredded Brussels Sprouts with Bacon.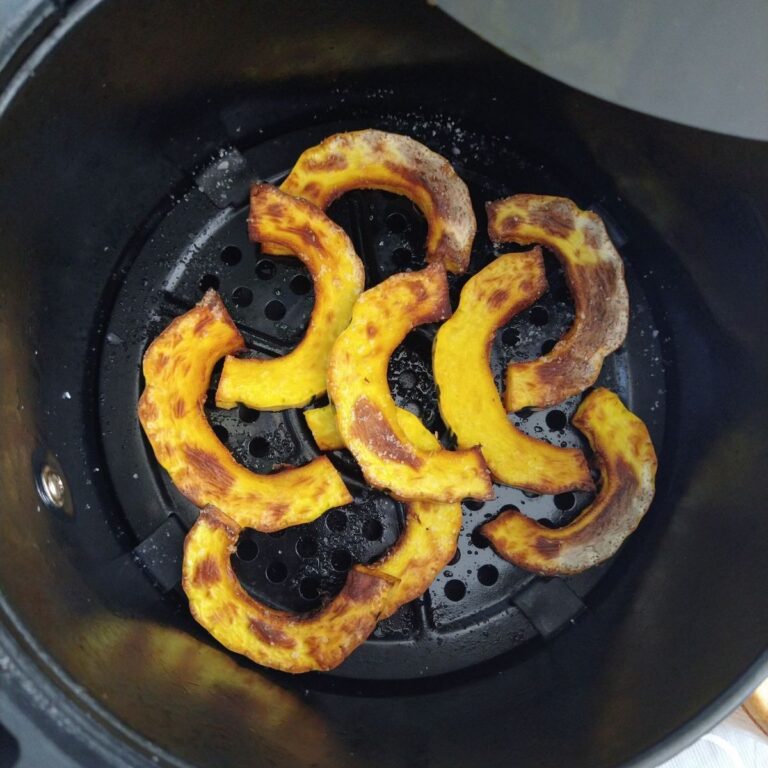 Air Fryer Delicata Squash Fries
Learn how to make crispy Delicata squash in the air fryer.
Print
Pin
Rate
Instructions
Start by cutting the squash in half from the stem to the opposite end (or the long ways).

Scoop out the seeds and any stringy pulp. I like using an ice cream scoop. You can save the seeds for roasting.

Cut the squash into half moon shape pieces. Try to cut them as thin and evenly as you can.

Place the pieces into the basket of your air fryer. Make sure they are in a single layer, work in batches if you need to.

Spray with oil and then season with kosher salt. Flip them and repeat.

Cook at 400 degrees for 10-15 minutes or until the squash is brown on the outside and cooked all the way through.
Notes
If you have to work in batches because your air fryer won't fit all the squash in a single layer, you can put all the squash back in the fryer when done to reheat for 1 minute. 
If you want more crispy squash, cook for the full 15 minutes, but keep an eye on it, so it doesn't burn. You could turn the temperature down if they are getting too dark but aren't crispy enough yet.
Here are some ideas for dipping sauces:
Your favorite tomato based BBQ sauce
Buttermilk Ranch Dressing
Bachan's Original Japanese Barbecue Sauce
Tried this recipe?
Mention @eatlikenooneelse or tag #eatlikenooneelse