Find out how to cook the Tiger Stripe pumpkin. And yes that means that the pumpkin is edible! You can use them as an alternative in a recipe for any squash.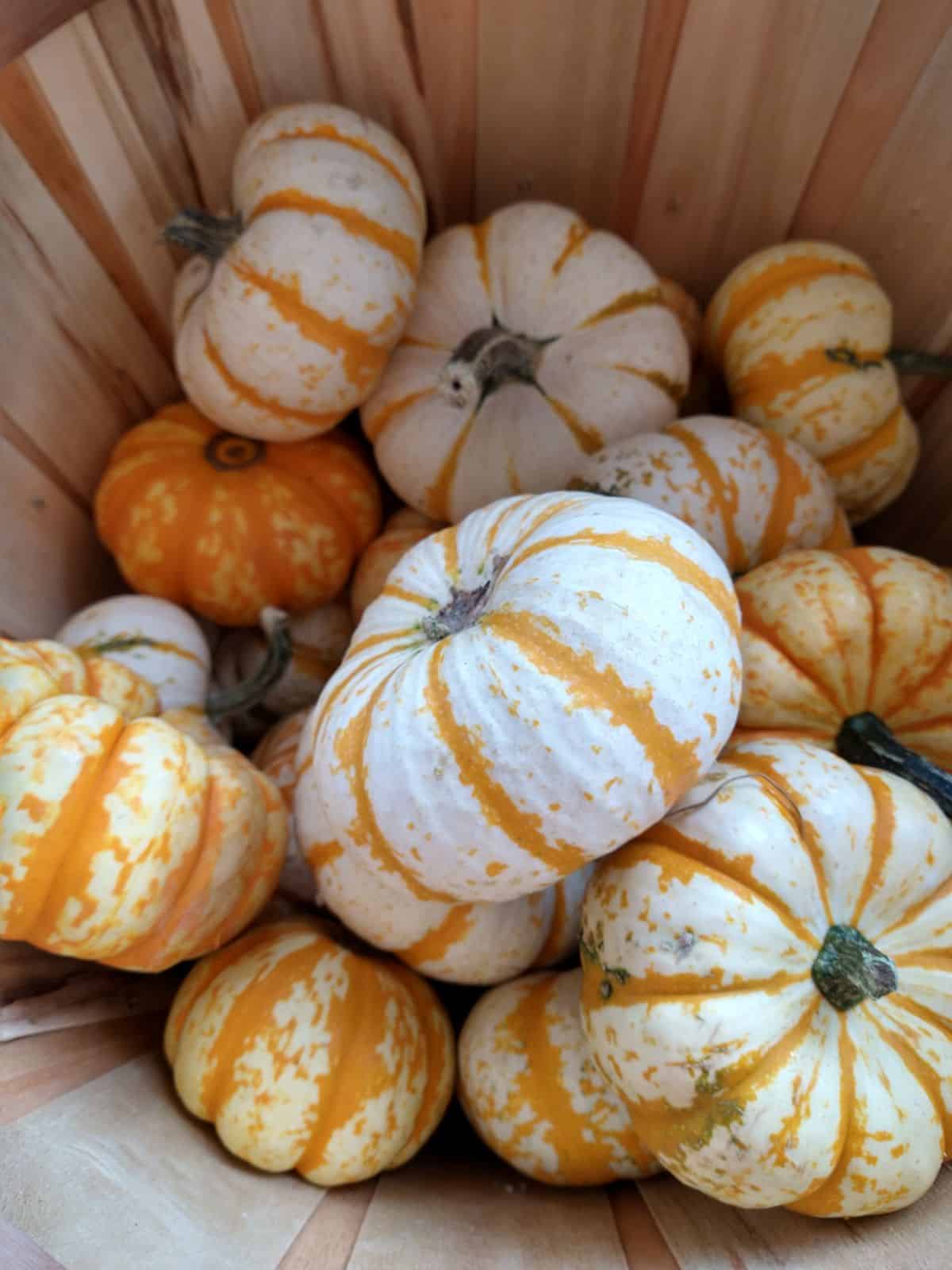 This post includes affiliate links. This means that at no additional cost to you, I will earn a commission if you click through and make a purchase. These are products and services I recommend because I use or trust them. Cookies will be used to track the affiliate links you click.
Have you seen these beautiful striped pumpkins at Trader Joe's before? I see them there every year but haven't taken the time to try one for myself.
That is until now!
I think a lot of people just buy these for decoration, but there is no reason you shouldn't buy them to eat them.
Let me tell you more.
Jump to:
🐅 What is a Tiger Stripe Pumpkin?
Tiger Stripe are a small pumpkin is more flat in shape that most pumpkins. This makes them easier to cut into that round pumpkins. They are white with orange strips. Some of the striping takes over more of the pumpkin on some specimens. And some will have some orange spotting.
The flavor is sweet and some what nutty. If you are a fan of the Delicata squash you will love this one. They tasty very similar. Like Delicata the skin can be eaten, but I think it's a little tougher the Delicata. It's up to whether or not you want to eat it.
The best thing about these pumpkins is with their small size they are a lot easier to manage.
🎧 Listen to our podcast episode on - How to Freeze Squash
🍂 When in Season?
I find these pumpkins showing up in mid to late September. I would say early October is the peak for them. You might be able to find them after Halloween, but don't hesitate to buy them sooner. They should last a while. If you want them for Thanksgiving, buy them early just in case you don't find them later.
🛒 Where to Buy
Where can you score one of these small pumpkins? Here are stores that I know have had them:
Trader Joe's
Fred Meyer
Kroger
Jewel-Osco
Mariano's
Meijer
Safeway
Stop & Shop
Vons
Walmart
Check out the Best Pumpkin Items to buy at Trader Joe's this year.
🔪 How to Cook
The way I normally cook pumpkin is in the oven. But you can also cook one in your air fryer - more on that in moment.
You will want cut the pumpkin in half to roast it. The easiest way is to follow the natural grooves of the pumpkin. It's pretty easy to cut. Since they are small you can just cut them in half.
Another option for cooking is to peel off the skin and cube the pumpkin. You then can sauté them in a pan with some oil.
The most often way I use cooked pumpkin is roasted and then pureed to add to different recipes, like any of these.
One of these pumpkin should produce about 1 cup of pumpkin.
🥣 Stuffed Pumpkin
Their small size would make them great for stuffing and/or using as a bowl. Here is some idea for what to put in them
Oatmeal - baked in oven with oatmeal inside
Curry
Chili
Soup
Couscous
Ground meat with veggies
🌬️ Air Fryer Instructions
My new favorite way of cooking a pumpkin is in my air fryer. Here is how to do it with the Tiger Stripe.
Slice the pumpkin in half with a sharp knife.
Scoop out the seeds. I think the best way to do that is with a wide ice cream scoop. It allows you to really dig into the flesh and get those seeds out.
Put the pumpkin into the air fryer basket with the flesh side up. Liberally season with kosher salt.
Cook the squash for 15-20 minutes at 400 degrees or until a fork easily pierces the flesh. Check to see how the pumpkin is coming along after 10 minutes.
💡 Tip - If at any point the flesh is getting too dark/burnt and before you can pierce it with a fork, lower the temperature of the air fryer to finish.
🎃 Cook the Seeds
Don't just throw out the seeds that came inside of it, put them in the air fryer too when you are done cooking the pumpkin.
I cook them for about 10-15 minutes until crispy. Once browned I reduce the temperature to make sure they are tender.
Follow my instructions for Air Fryer Delicata Squash Seeds for more info on how to air fryer the seeds.
Air Fryer Tiger Stripe Pumpkin
How to cook at Tiger Stripe Pumpkin in the air fryer
Print
Pin
Rate
Instructions
Cut your pumpkin in half.

Scoop out the seeds. Save them for the air fryer later.

Place the pumpkin halves into the air fryer basket with the flesh side up. Liberally season the pumpkin with kosher salt.

Cook in your air fryer at 400 degrees for 15 minutes. You can check after 10 minutes to be sure the pumpkin isn't getting to dark before it's done. To tell if done, a fork should easier go through the flesh.

Remove from the air fryer basket. Add more seasonings and eat.

Or you can remove all the flesh from the skin. Mix the pumpkin well with a fork to smooth it out. You also could run in through a blender if you want it real smooth. Use in your favorite pumpkin recipes.
Notes
If you are going to eat your pumpkin right away, here are some seasonings you could add:
Freshly cracked black pepper
Garlic powder
Chili powder
Freshly ground nutmeg
Cayenne pepper
Tumeric
Ground ginger
Rosemary
Smoked paprika
Ground cumin
Tried this recipe?
Mention @eatlikenooneelse or tag #eatlikenooneelse