Meat can be one of the most expensive things in one's food budget every month.
Stretching your dollars to the max is important to many of us.
One of the best ways a meat eater can do that is buying whole cuts of meat.
That can be easy as in the case with chicken where you buy the whole chicken or harder with say a pig. You probably aren't buying a whole pig.
Although...
Why Buying Whole Cuts of Meat Saves Money
What does it pay to buy whole cuts? When you buy meat that has been already cut into portions and packaged, you have to pay the person who did this, hence your paying more money for the meat, whether it be beef, chicken, or pork.
If you take the time to cut the meat up yourself, then you don't have to pay someone else to do it for you.
One of the best examples of this concept is with beef tenderloin. If you go in and try to buy a filet mignon already cut and packaged for use your going to pay around $20 a pound. If you buy the entire tenderloin and cut it yourself into filet mignon, then you can get the price way down.
We have researched beef tenderloin prices and found that you can get a whole one for as low as $11.59/lb and even cheaper at some stores during the holidays. That is a significant savings and makes something expensive like filet mignon, more affordable for the average cook.
These savings can also be able with other types of meat: buy a whole chicken and cut it into drumsticks, thighs, and breasts yourself. Buy a whole pork loin and cut it into chops and roasts.
Freezing Meat
A lot of people don't buy meat whole or in bulk because they say that can't eat all that meat before it goes bad. Well you don't have to. Since we have an invention called the freezer, we are able to buy meat now and save it for later.
Alton Brown referred to his freezer as a time machine. He was the one that got me into buying whole cuts, thanks AB!
Cook Some Now, Freeze Some For Later
For example, I bought an entire eye of round and cut it into a roast that I ate that day. Then I cut the rest of the beef into 6 steaks and one month later I was enjoying the last of that purchase. The one thing to keep in mind when freezing meat is that you need to wrap it tightly in heavy duty aluminium foil to prevent freezer burn and then into a good zip top plastic bag to keep you any nasty smells your freezer might dish out.
One more thing I like about buying freezing meat for later is that I have more options on hand at any given time and am not always having to shop for more meat. So I say do your checkbook a favor and buy big!
Buying Whole Cuts of Beef
As I mentioned earlier. buying whole cuts of meat can be easy or hard. Chicken is simple. Beef can be tricky. You have to know a few more things. And you have to be prepared to be making a much larger investment.
Questions come like do you want boneless or bone-in? Do you want choice or prime beef?
You need a good knife when cutting your own steaks from cuts like whole Ribeye or whole strip steak. It's always important to make your cuts the same thickness so when you are cooking them they cook at the same rate.
If you can master it, buying while cuts of beef is where you are hard work is really going to pay off the most.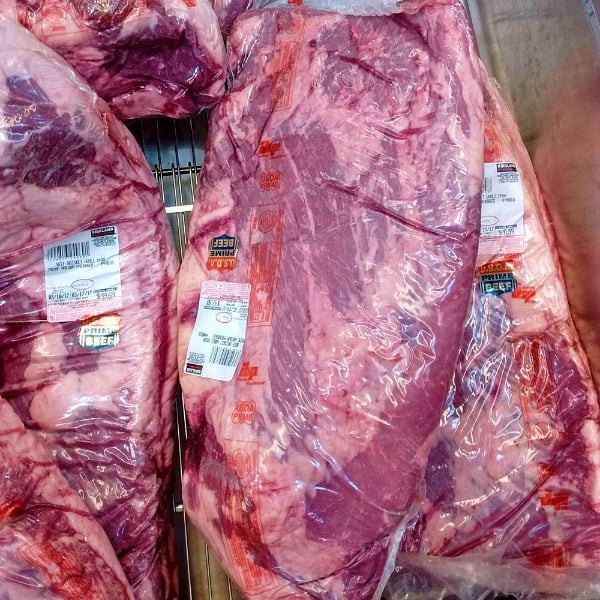 It Is Better to Buy Lunch Meat and Cut It Yourself ?
Another topic is wanted to over is deli meat. We often buy that by the slice at a pretty big markup.
Is it better to buy the met and slice it yourself? That is a tricky one. While you can save money on doing this, especially if you do it a lot, it's hard to get the thin slices at home without special equipment
You can purchase a meat slicer for your home. Bad news they can be expensive, but the good news is that if you go through a lot of meat in your house it will eventually pay for itself. The other downside is that they are bulky, so unless you have a lot of space in your kitchen, your own meat slicer might be out of the question.
Resources
Here are a couple items that will help you with cutting your own meat at home.
The Best Knife for Cutting Meat - When it comes to cutting meat, it's about what you feel comfortable with. I don't want you to cut yourself. Three types of knives are recommended:
Pick what is most comfortable for you. You don't necessarily have to have them all but at least one in your house will make cutting your own slabs of meat easier.
Electric Knife - We may not think of electric knives has being anything more than what we use to carve a turkey, but they can be useful when it come to slicing your own meat. I think using one makes it easier to make even slices when it comes. Especially goo for tenderloin and pork loin that you can slice right through without bones.
Secrets of the Butcher - This book will help you learn how to select, cut, prepare, and cook any time of meat at home. Butchers can tell you more than I ever could.
This post includes affiliate links. This means that at no additional cost to you, I will earn a commission if you click through and make a purchase. These are products and services I recommend because I use or trust them. Cookies will be used to track the affiliate links you click.