Are you looking to get a turkey after Thanksgiving? Maybe for a post Thanksgiving get together or for your Christmas? Find out what you can expect to find in stores.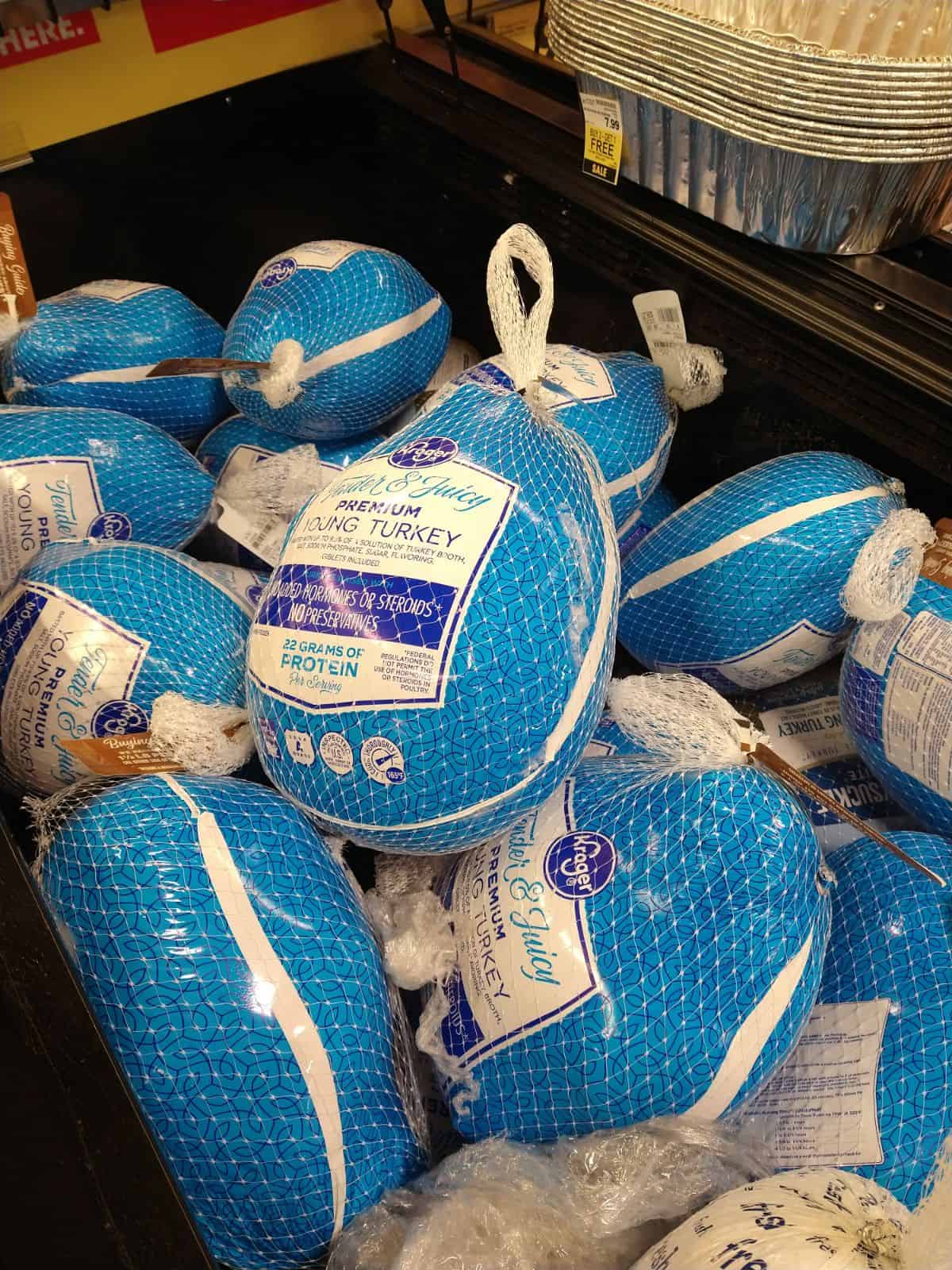 For years I have been talking on this blog about shopping for a turkey for Thanksgiving. But what if you want to get one after Thanksgiving? Maybe you are having your Thanksgiving late and waited to get the turkey. Or you just love turkey and want some more!
Jump to:
🦃 Buying a Turkey Right After
Do you want to shop for a turkey on Black Friday or the weekend after? Can you still find them in stores? I decided to do a little research. I went to 3 different stores in the Savannah, Georgia area on the morning after Thanksgiving. Here is what I found in each.
Publix
The selection here was extremely limited. I did not find any fresh turkeys at all. Just frozen birds. They only had a small amount left of whole turkeys and they were all pretty much big ones. Like this 25 pound behemoth.
They did have more frozen turkey breasts. As for prices, nothing was on sale. In fact, the frozen turkeys were now more money than they were pre-Thanksgiving.
RELATED - Publix Turkey Price Guide
Kroger
I found a lot more at Kroger than I did Publix. They did indeed have fresh turkeys and in fact they were on sale for 49 cents a pound! And you could find smaller turkeys. I found several in the 14-15 pound range instead of only just the huge ones at Publix. They are cheaper than before Thanksgiving.
The frozen turkeys were still plentiful but those were no longer on sale. Plus just as Publix it was hard to find any ones that weren't 20 pounds plus. Anyone one buying one would be better off with the fresh ones.
RELATED - Kroger Turkey Price Guide
Food Lion
They had both fresh and frozen turkeys left. No sale or reduced prices at all.
💡 Top Tips
Here are some things you need to keep in mind when shopping for a turkey after Thanksgiving.
The frozen ones will be more expensive than before Thanksgiving likely. Since they are frozen there is no need for the stores to try and sell them quickly. If you are going to buy a frozen turkey for after Thanksgiving you should just get it earlier to save money if you can and just let it hang out in the freezer.
Fresh turkeys become harder to find. However you may be able to find a sale on them like I did at Kroger and have in the past at Costco. They have a sell-by date on them so the stores need to move them. You can totally freeze them if you want for later use.
The "hen-sized" turkeys which are 16 lbs and under are a lot harder to find then the "tom-sized" turkeys that are over 16 lbs. Don't expect to have the same choice in terms of size as you did pre-Thanksgiving.
🎧 Listen to our podcast episode on Using Thanksgiving Leftovers to Make Ramen.
🎄 Christmas
Stores will get more turkeys in for Christmas including fresh ones. However there usually are less of them and the prices just aren't as good. I highly recommend if you have the freezer space and are doing a turkey for Christmas to is buy to ahead. You can even grab one of those clearance sales on a fresh turkey and freeze it.
After Christmas, the fresh turkeys will disappear until next Thanksgiving season. I have never seen a fresh whole turkey in a store outside of the holiday season.
Have you ever gotten a turkey after Christmas? What is your reason for shopping for one post Thanksgiving? Leave a comment below.