Is olive oil something that we can only get from overseas or it is something that is made right here in the good old US of A?
The answer is yes!
Find out about where olives are grown for olive oil and how to know you are getting 100% US grown olive oil.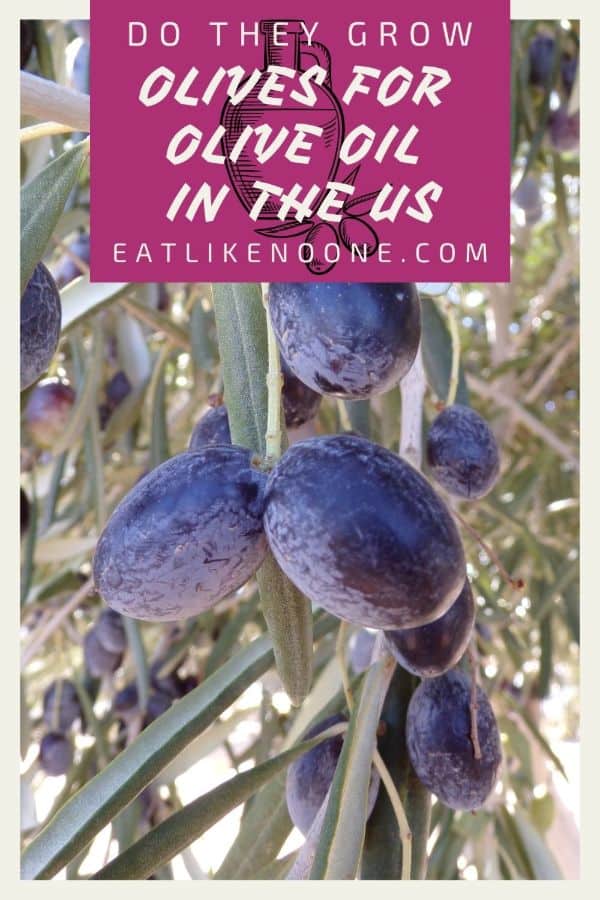 When you think of where olive oil comes from what is the first place that comes to mind?
Italy?
Greece?
Spain?
Those are all likely choices, but what about these
Texas
Arizona
California
That's right you don't have to just get your olive oil from overseas. There is plenty to be had right here in the United States.
There are things to look for and to look out for.
Jump to:
🕊️ Where Is the Most Produced?
This is clearly California. According to reports, California made 4 million gallons of olive oil in 2019.
However they aren't the only ones in the game. Arizona, Texas, Louisiana, Oregon, Hawaii, Florida, and Georgia. I was surprised to find out that you can grow olives in Oregon. They are grown on the west side of the state.
In case you were curious Spanish olive oil is the most widely produced in the world.
🏆 Who Makes the Best?
That is certainly up for debate. One of the great things about American olive oil at this time is that there isn't an overwhelming amount of huge operations producing olive oil. When you get it from some of the other states on the list besides California, you are more likely buying from a small scale operation that is focused on quality. You can nearly count on that you are getting the good stuff.
I myself got to visit the olive groves at Queen Creek Olive Mill near Phoenix, Arizona. I saw the quality first hand of what goes into their oil and the quality standards they strive to live up to. It was shown in the taste of their oils.
👀 Read Labels
Most of the time when we are reading bottles of olive oil we are looking for words like "cold pressed" and "extra virgin" But you might also look at origin which you will always find on the bottle. You may also be able to find the harvest date as well.
If you want oil made from 100% grown US olives, you need to read the labels. There is no hiding it, companies much report the source of their oil. Even if it's a US based business doesn't mean they don't mix in olives from other countries.
In fact one of the most popular, California Olive Ranch uses olives from other countries for their global blend. Demand has increased so much they weren't able to keep up with it with their own olives. However they are not trying to hide anything. It does say clearly on the bottle any other country of origin from which the olives come that make up the oil. They do have the California Reserve series of oils that are 100% from California.
💡 Tip - Look for the seal California Olive Oil Council on bottles of California grown olive oil.
But even when an oil isn't 100% from that producer, they still want their oil to live up to the standards they have set. That was clear to me on the tour I took at Queen Creek.
I recommend if you can to try an American made olive oil that is made from one particular type of olive, like the Arbosana from California Olive Ranch. It's like buying a varietal honey such as avocado blossom. You get to taste the distinctive flavor of that olive.
🇺🇸 Brands
Here are all the brands that produce olive oil from US grown olives. This may not include every brand and also these brands may also sell blends of oils from different countries. Remember to read your labels.
Brightland (CA)
California Olive Ranch (CA)
Cobram Estate (CA)
Durant Olive Mill (OR)
ENZO (CA)
Florida Olive Farms (FL)
Georgia Olive Farms (GA)
Livo (AZ)
Maui Olive Oil (HI)
McEvoy Ranch (CA)
Olive Orchards of Georgia (GA)
Pueokea Farms (HI)
Queen Creek Mill (AZ)
River Ranch (OR)
Texas Hill Country (TX)
Texas Olive Oil Company (TX)
Know of a brand not on this list? Share it with us in the comments below.
I know you can grow olive trees in Louisiana, although it's not easy but I was unable to find a company selling 100% Louisiana grown olive oil.
🛒 Where to Buy
The only brand I find the grocery store is California Olive Ranch. Many of these other American brands are only found in their region's grocery stores or you have to order directly from them.
➕ More About Olive Oil
Learn more about olive oil!