Find out whether cooking spray on popcorn is a good option, especially for olive oil. This is for all methods of popping including microwaved, stove top, or air popped.
We list all the pros & cons as well as another way to get olive oil onto popcorn.
This post includes affiliate links. This means that at no additional cost to you, I will earn a commission if you click through and make a purchase. These are products and services I recommend because I use or trust them. Cookies will be used to track the affiliate links you click.
Do you prefer to put olive oil on your popcorn over butter? Maybe because you can't or don't eat butter? Or you just want an alternative.
What you want to consider is how to get it on there evenly and without overdoing it. Straight out of a bottle is going to be too much.
But what about using cooking spray? Let us take out through the pros and cons of using olive oil sprays on popcorn.
Jump to:
🤲 Pros & Cons
First off this is definitely something you could do and is a worthwhile option. You need to look at the pros and cons.
👍 Pros - Easy to use, fast, gets the oil onto the popcorn without pooling in the bottom of the bowl, olive oil spray can be found at most grocery stores.
👎 Cons - Easy to spray too wide, can make the popcorn soggy, can be pricey
The sprayer indeed works. It's easy and fast.
However you have to be careful with it. You need to be at the right distance from the bowl or the oil either gets too saturated in one spot or ends up all over the place. The sprayer performs best when it's vertical like when spraying a sheet pan you are holding up. When the spray is running low this becomes more of an issue.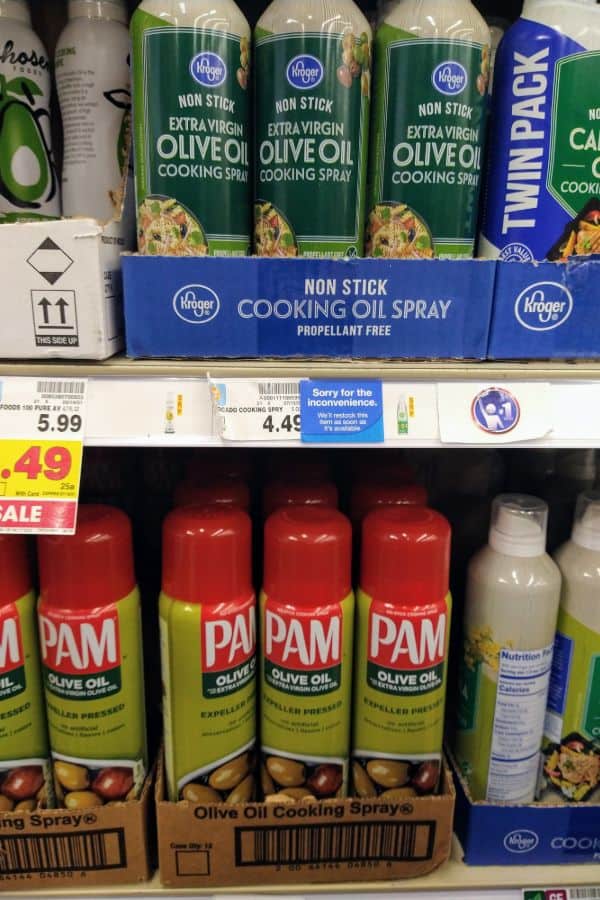 🛒 Choosing the Oil
One of the reasons you want to use olive oil is you like the flavor. You want a good olive oil, which can be really hard to find in a spray can.
At most grocery stores I found one or two options. Usually Pam or a store brand. All of which were extra virgin olive oil but none of them were ones I would recommend for their flavor.
However there are some out there that are better. You will need to shop at a store like Whole Foods Market. Garcia Cruz makes different sprays that have different flavor profiles, like earthy & wild or subtle & delicate.
💲 Buy Your Own Sprayer
They do make sprayers that you can load with your own oil and use yourself. I have not tried any of these yet myself as of yet. But if you own one, let me know what you think of them in the comments below.
This would enable you to use whatever oil you wanted, so you could pull our your favorite extra virgin. It would be more eco-friendly to buy something you could re-use.
They come in four different types of containers: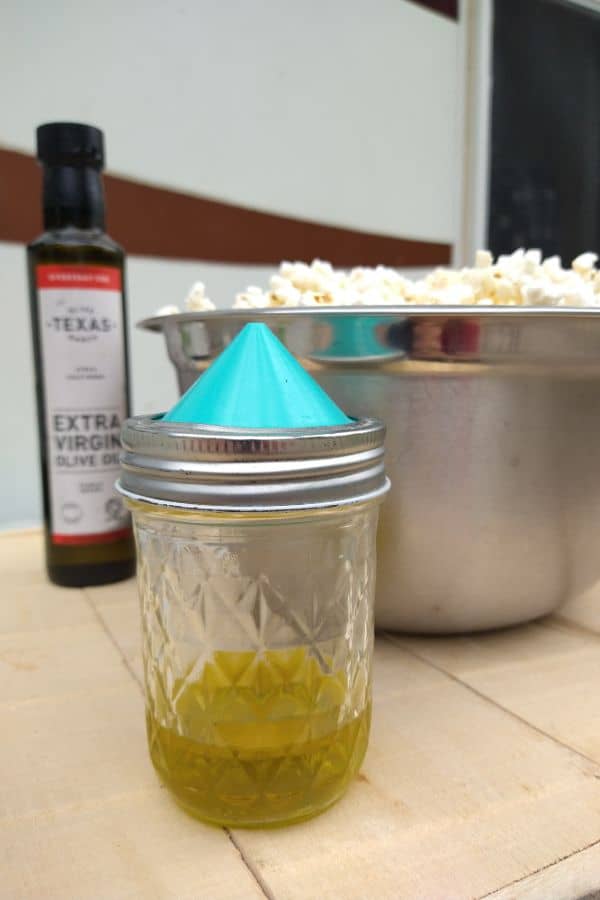 🏆 Better Option
While the sprayer idea does work, I have found an option that I think tops it. It's called Mini Ergo Spout from the makers of the Ergo Spout.
It's a device you attach to the top of a regular sized mason jar. It has a small hole on top, in which you can pour things out of it. I have been using it for a while with melted butter, but I thought I would try it with olive oil and compare how it did.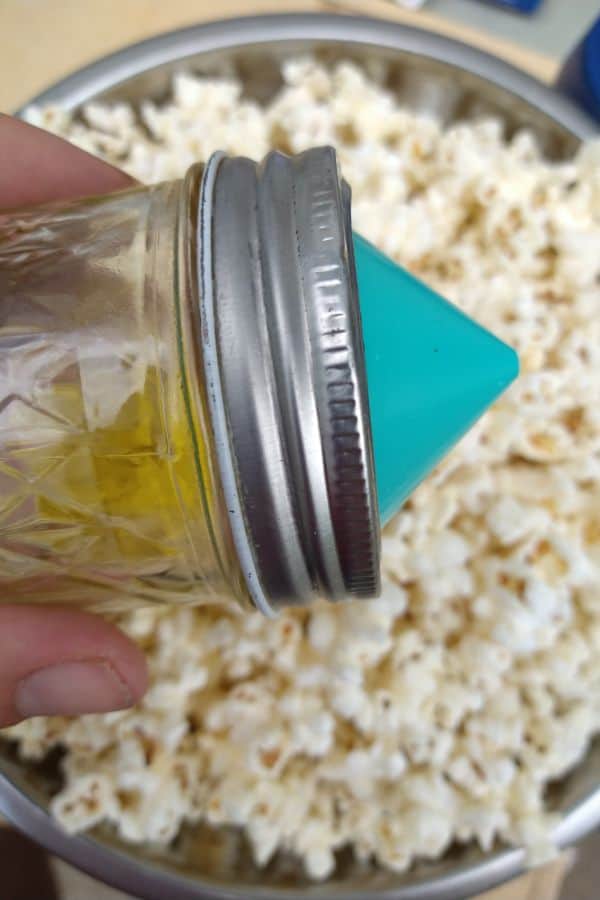 Get your own Ergo Spout Mini. Enter our exclusive coupon code "pourlikenooneelse" at checkout for 10% your total order.
In comparison to the sprayer it did a better job of not oversaturating the kernels with oil. It does take a just a little longer, but it's still rather fast. All the oil ends up on the popcorn and not on the surface surrounding the bowl. You get better control.
📧 Sign Up for Free Email Course
🕊️ Read More About Olive Oil
Here is some additional reading on olive oil:
🍿 Read More About Popcorn
Increase your popcorn knowledge with these posts: