Find out how to make homemade popcorn in the microwave using paper bags or silicone popcorn maker. No reason to buy bags of microwave popcorn at the store with these two simple, tasty, and cheaper methods.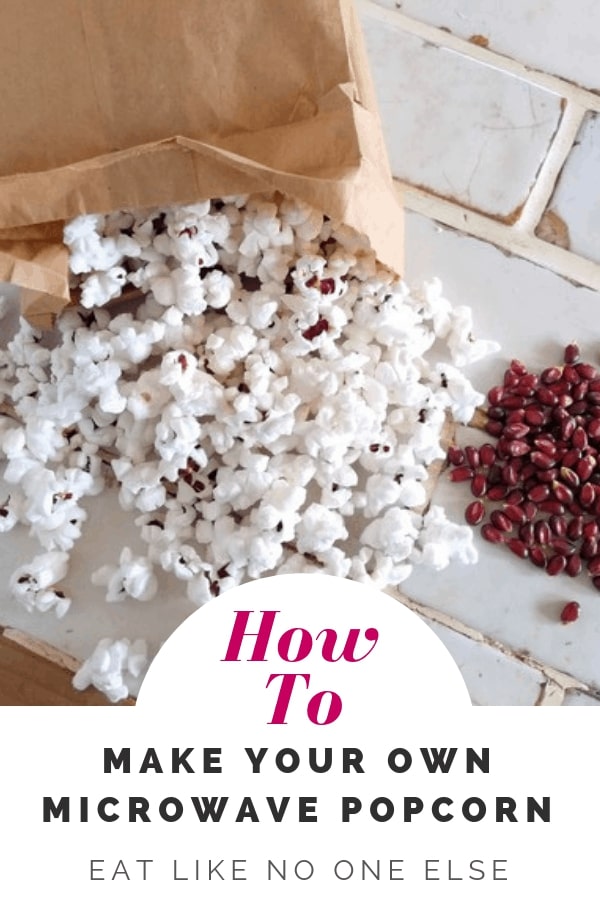 One of the most popular snacks in this country is popcorn.
And why not? It's easy to find, it's cheap, and with the simple addition of butter and salt, it's super delicious.
Many of us can't watch a movie without it. Whether it be in the theater or even at home.
Much of the popcorn that is consumed in your home theater is popped in the microwave. It comes out from a bag that already contains your seasoning. Convenient right? Tasty, meh. Good for you? Definitely not!
Before I knew any better this was how I ate popcorn. I used to buy big boxes of microwave popcorn, especially when I lived in the dorms in college.
Until I was introduced to a better way. This was yet another situation where I was influenced by the great Alton Brown. He wrapped up his Ear Apparent episode of Good Eats by showing us how to popcorn your own microwave popcorn. Once I tried it I never went back.
Now there are two main methods of popping popcorn in the microwave that I will talk about in this post.
Paper bags
Silicone poppers
How to Pop Popcorn in Paper Bags
How I do it now is a little bit different than Alton Brown's version. I start with ⅓ cup of unpopped popcorn kernels.
The kernels are placed in a standard lunchtime paper bag. Alton staples his bag shut.
Wait, what? Alton puts a metal staple in the microwave. Is he crazy? Totally cray cray. However his point is that the staples are so small that won't cause sparks. I have tried it and he is right. However, I have found that if I just fold the bag a couple times, the bag hardly ever opens up in the microwave.
How Long Does It Take to Pop?
The popcorn is popped in the microwave for whatever time I have determined is perfect in my microwave. You will have to experiment with your own microwave. My previous microwave took an entire minute longer and had more unpopped kernels.
Current microwave takes about 2 minutes and 45 seconds. I would guess the average is in between 2 ½ minutes and 3 ½ minutes.
As for toppings the sky is the limit. I just stick to some melted butter and Real Salt (to learn more about Red Salt, click here). One of my daughters likes dill salt, a combination of dried dill from our garden and salt.
? For the dill salt recipe, you can find it in a recipe for sweet potato tater tots.
Silicone Popcorn Poppers
Are you looking for a method that is more sustainable? Then silicone is the way to go. I have owned a couple different silicone poppers.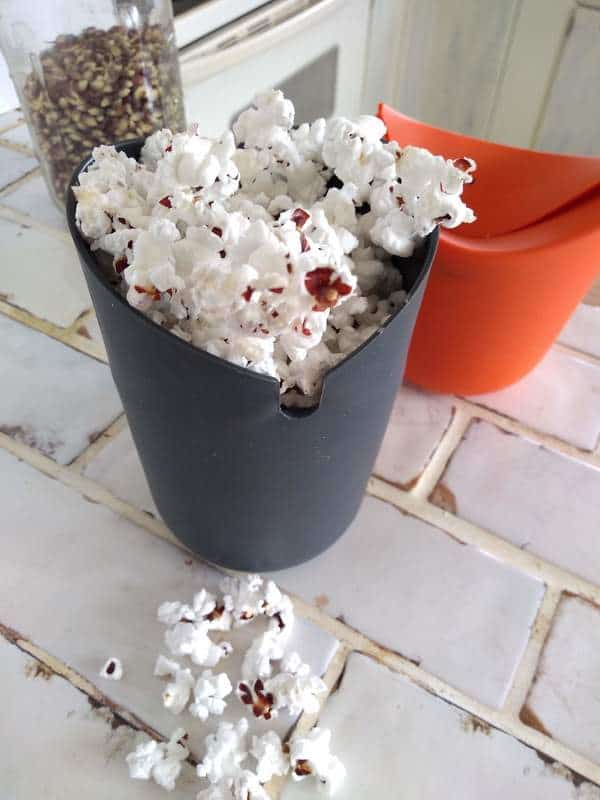 Joseph Joseph Microwave Popcorn Maker Review
If you are interested in using an item to pop your popcorn that you can reuse, consider the Joseph Joseph Microwave Popcorn Maker. They are sold in a pack of two silicone single serving containers.
To use the Joseph Joseph (so nice, they named it twice) Popcorn Maker you just dump the kernels in the bottom and fold the maker shut.
I think this device does the best of anything I have tried besides the paper bags. It pops the popcorn just as well as the bags. The flaps will open in the microwave, but usually the popcorn stays put. I have had a few times where it spilled everywhere.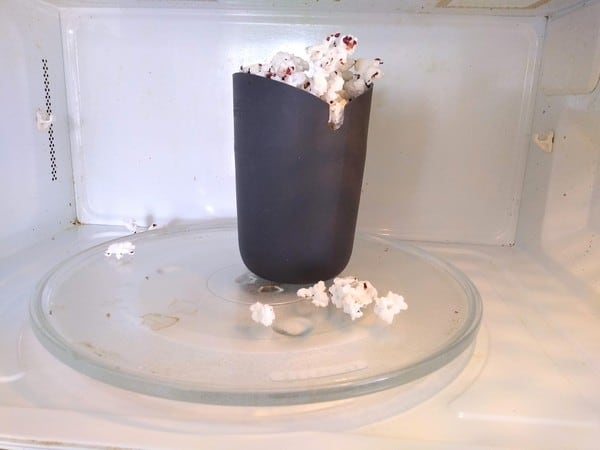 The single serving size is good for kid size. I prefer to eat more popcorn in a setting, so I need to use both of the makers that come with it to get that amount.
The issue I have with the maker is that it gets hot to the touch. I have sensitive hands so I have to remove it wearing oven mitts, which can make it hard to grip and easy to spill. Or you can allow 5 minutes or so for it to cool off. Normally I am not that patient!
Overall, I still think they are a useful option to have on hand, especially for the kids. We regularly use them.
Salbree Microwave Popcorn Popper Review
This is a bowl style popcorn popper, also made of silicone. The popcorn goes into the bottom part that has a marked fill line. The lid then goes on top. I have never had a single kernel escape with this one.
This style better allows the popped corn to rise to the top, while giving space for the kernels at the bottom to pop. I found I had a much higher rate of popped kernels than with any other microwave methods.
Also it's wonderful because it flattens how for storage, great for those like myself, living in a small space.
Just as the other silicone popper I mentioned it does get hot in the microwave. It has little handles on the side that make it easier to grab with a oven mitt.
? Tip - Allow the popper to cool down before popping another batch. You can throw it in the freezer for a couple minutes to chill it out.
It comes in a very wide range of colors, so you can certainly find one that is your favorite color or matches the back splash in your kitchen!
Pros & Cons
Here are the pros & cons to the paper bag or silicone method. For this I am suffering to the Salbree bowl style popper.
| | | |
| --- | --- | --- |
| Method | ? Pros | ? Cons |
| Paper Bag | Bags don't get too hot, cheap to buy upfront, easy to store | Can only be used once, Popcorn sometimes comes out while popping |
| Silicone popper | Higher rate of popped kernels, you can pop more at a time, easy to store | Gets hot in the microwave |
My go to right now is no doubt the Salbree Microwave Popcorn Popper. This popper does the best job and is easy to store. And for under $20 it's a great price.
Benefits to Making Your Own
There are three main benefits from following this method over buying already packaged bags.
I have read many reports like this one that a chemical (PFOA) that is in the lining of microwave popcorn bags has been linked to cancer or other health risks. When you microwave the bag, the chemical can escape into your popcorn. Why run the risk?
You get to experiment with different salts, kernel types, and toppings with you completely in the driver's seat.
It's CHEAP!!! I typically pay between $.79-$1.99 a pound for my popcorn. If you want to do organic, you can purchase organic popcorn kernels. Paper bags can easily be picked up at a dollar store for 50 bags for a buck.
Best Popcorn for Microwaving
The most fun part of making it yourself is that you can choose from so many different kernels. I like hitting up farmers markets in places like Wisconsin and Ohio where I can find popcorn grown by small farmers, including heirloom varieties.
What is the best? Whatever you like! However I do want to say that I have noticed that the popcorn varieties that pop up small tend to not do as well in the microwave. There are more likely to burn. Varieties like Ladyfinger and Tiny But Mighty I save for the stove top.
? Check out our blog post on the Best Popcorn in America for some great popcorn recommendations.
More Popcorn Reading
Want to learn more about popcorn? Read these posts.
Paper Bag Microwave Popcorn
How to pop your own popcorn in the microwave just using a paper bag.
Print
Pin
Rate
Instructions
Measure out your pocorn kernels and place them into a paper bag.

Fold the bag at the top twice, making sure you leave plenty of room for the popcorn to expand.

Place the bag in your microwave for about 3 minutes or until you don't hear an popping for 5 seconds once the popping has really gotten going.

Dump the popcorn into a bowl. Add butter and salt. Enjoy.
Notes
Use a new bag for each serving. I have found that trying to reuse the bag, you end up with poor results the 2nd time.
Tried this recipe?
Mention @eatlikenooneelse or tag #eatlikenooneelse
Buy Popcorn Supplies
Here are our best recommendations for all your homemade microwave popcorn needs.
? Tip - For distributing butter onto your popcorn try the Ergo Spout Mini. It attaches to any regular sized Ball or Mason jar. Melt the butter in the jar and then attach the spout. Super easy and works well to evenly distribute the butter.