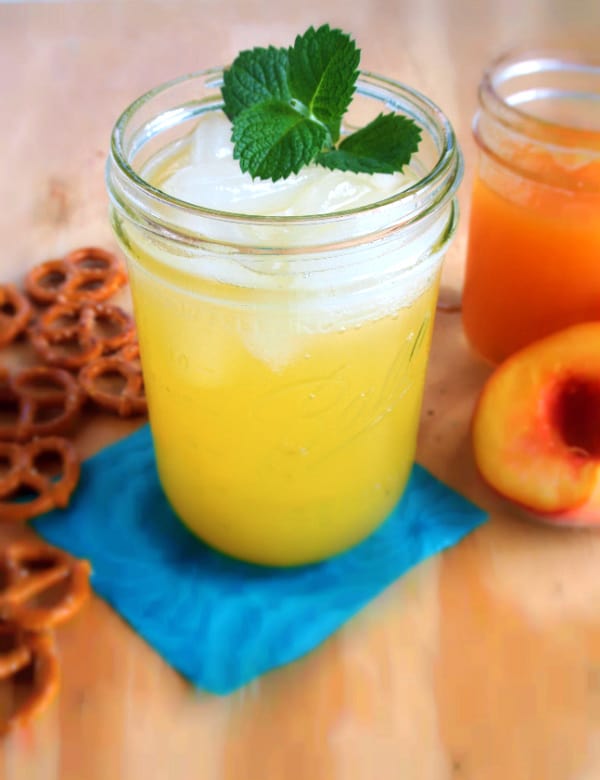 My wife's favorite flavor of soda pop has always been peach. Not as common a flavor as say orange or lemon-lime, they are several companies that turn out pretty good peach soda like Filbert's and Nehi. Even thought those are tasty brews, they still don't have the genuine fresh peach taste that homemade soda does. Since it's using real fruit then they are some healthy benefits to it, right? At least you will be avoiding High Fructose Corn Syrup or any artificial flavors or preservatives.
Now you don't need an fancy equipment to make your own pop. Just a pot, burner, and a bottle of carbonated water. If you have one of those Soda Streams or a more traditional soda siphon
that would be great but you are ok without them. It is cool to have one of those gadgets as you can better control the amount of carbonation going into your soda.
Recipe Notes
1. Making the syrup for this soda is super easy. Three ingredients : peaches, sugar, and water. You want to choose the best peaches when in season (click here to learn more about when peaches season is). This soda is only as good as the peaches in it. Cling stone or freestone it doesn't matter.
2. In the recipe I do not indicate how much syrup to add to your carbonated water. Everyone taste's differs. I recommend adding a little bit at a time, then tasting until you get to the strength you like.
Ingredients
3

peaches

peeled and pits removed

1

cup

water

1

cup

sugar
Instructions
Peel and removed the pits of your peaches. Place them into a food processor or blender. Puree until smooth. Pass through a sieve and.

Bring 1 cup of water and 1 cup of sugar to a boil in a medium saucepan.

Stir to dissolve the sugar. Then add the pureed peaches.

Lower the heat to medium high and cook until the mixture has thicken to a syrup consistency like maple syrup.

Cool and store in the fridge until ready to use.

To make the soda, fill a glass of carbonated water, and slowly stir in some syrup, tasting it until it is the strength you like.
Tried this recipe?
Mention @eatlikenooneelse or tag #eatlikenooneelse