A great shortcut for making tortellini for soup, use Wonton wrappers. Let us show you how!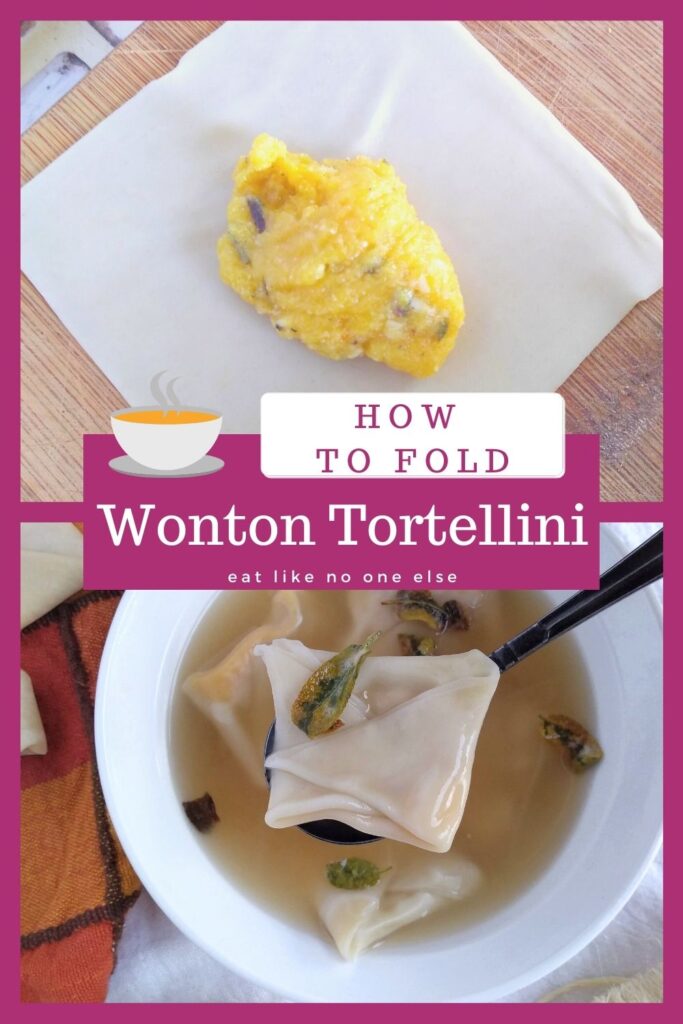 Tortellini is a ring shaped pasta that orginated in Italy. It can be made from scartch from a homemade dough.
But what you can also do is use wonton wrappers. While not exactly the same, this is a great shortcut that you can use to make a delicious soup, you just may want to skip serving it to your Italian grandparents or at least don't tell them how you did it 🙂
Let's show you how it's done. Watch the short video below and then I will go into more details below.
How to Fold Them
Start by laying your wonton wrapper out on a smooth surface. I used a cutting board.
Then put a dollop of filling in the middle. You don't want to overfill them. It may take a few for you to figure out exactly how much you need. I suggest you start with less than you think at first and if you think they can handle more, do a little more on the next one. You don't want the filling to come out when cooking which is what happens if over fill.
Next you want to crack an egg into a bowl. Add just a tiny bit of water to thin it.
Spread the egg wash with your finger around all sides of the wonton wrapper.
Fold one corner over to the opposite corner, making a triangle.
Gently press down to seal on all sides.
Then place egg wash on one corner on the longest side. Put your finger underneath the corner of the opposite side on the longest end and fold.
Then put egg wash on the point that is still sticking out and fold then point down. It should appear to look like an envelope.
If all the sides are sealed then you are good to go and move onto the next one.
Once you get the hang of it, it's not too hard. My daughter was able to make them herself and she did a great job.
What to Fill Them With?
When it comes to filling there are many great choices. What we did in the fall is fill them with fresh pumpkin, Parmesan, Ricotta, and Panko breadcrumbs.
Here are some other options:
Mozzarella
Ground sausage
Prosciutto
Herbs (dried or fresh)
Sautéed Mushrooms
Ground turkey
Ground beef
Pesto
Baby spinach
Fresh grated ginger
Diced pork loin
Butternut squash
The list could easily go on!
Broth for Soup
Once you have decided on that filling and you know how to make the wonton tortellini, you need some flavorful liquid to serve it in. Homemade chicken stock would be best. I always try to save any chicken bones I have in the freezer until I have enough for stock, then make it in the Instant Pot.
If you are going to go with a store bought brand, Kettle & Fire make excellent bone broth.