Need a little inspiration for how to use fresh pumpkin puree in savory recipes? Read on and be inspired!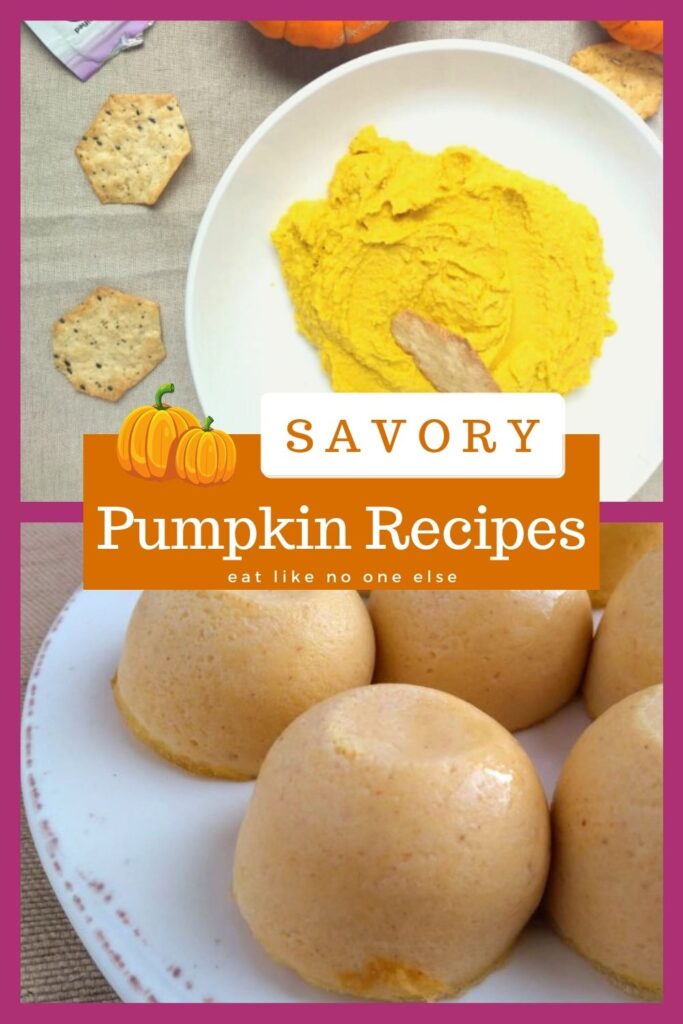 This post includes affiliate links. This means that at no additional cost to you, I will earn a commission if you click through and make a purchase. These are products and services I recommend because I use or trust them. Cookies will be used to track the affiliate links you click.
I love good pumpkin baked goods like the rest of it.
We got recipes for donuts and snickerdoodles on the blog.
But I also want to use pumpkin for savory dishes as well.
So often pumpkin is only seen as an ingredient for something sweet. When it comes down to it, pumpkin is a squash just like butternut or acorn. It's got plenty of uses on the savory side of life.
When you get fresh, smooth pumpkin puree, it's super easy to add it to a variety of dishes. Sometimes it's nearly effortless, like with our first recipe...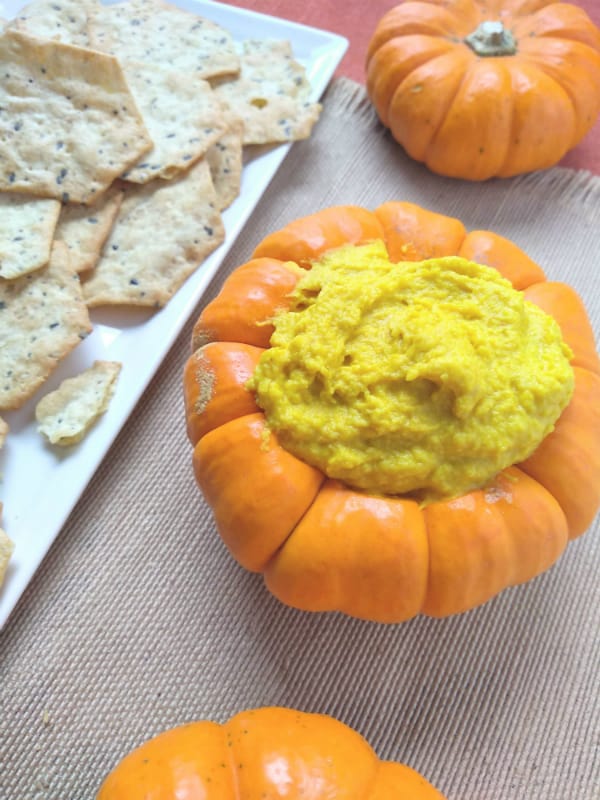 Hummus
This simply a matter of taking making hummus and then mixing in some pumpkin. It can totally be done to taste.
Our recipe calls for the chickpeas (or garbanzo beans) to be cooked in the Instant Pot and then blended together with fresh pumpkin. If you want to increase the color to make it look more like pumpkin you can add some ground turmeric.
Pasta Sauce
Years ago I was saw a jar of pumpkin pasta sauce in the store. I thought it was a good idea but I didn't want to buy. After reading the label I came up with my own recipe, which I am fairly sure is better tasting than what was in that jar.
This pasta sauce contains pumpkin, chicken stock, milk, Parmesan cheese, and chopped sage. It's made with a roux in a similar fashion of how I do mac & cheese.
Why Fresh Pumpkin?
All this recipes call for fresh pumpkin. Why does it even matter?
Here are my reasons
Fresh pumpkin has a better flavor. Canned pumpkin's flavor has been muted. And if you get a good pumpkin like a Long Island Cheese you will notice the difference.
Canned pumpkin is more expensive. You get more pumpkin for your buck when you buy it fresh.
You get seeds to roast. You don't get those with your can.
Making your own pumpkin puree isn't too challenging. I am a fan of Alton Brown's recipe.
Spaghetti Sauce
After coming up with the pasta sauce, I had people asking about a pumpkin spaghetti sauce. And I thought why not. You just need to add the pumpkin to the tomato sauce. As effortless as the hummus.
The trick was getting the ratio correct. I think a 4 parts tomatoes to 1 part pumpkin was perfect.
Wonton Soup
This one is a really fun one. I take wonton wrappers and stuff them with pumpkin, Panko breadcrumbs, Parmesan, and Ricotta. The wrappers are folded up, kind of like tortellini. They are then cooked in chicken broth until done.
A tip to make it really yummy is to quickly fry some fresh sage leaves in butter and use them on top of the soup.
Egg Bites
We have been making egg bites in the Instant Pot for a while now. For a fall version I mix these ingredients together:
4 eggs
½ cup pumpkin
Salt to taste
A pinch of cayenne pepper
You put all the ingredients into an egg bite mold with a cup of water in the bottom. Then cook on high pressure for 6 minutes with a manual release at the end.
If you need help making egg bites in your Instant Pot, check out one of our other egg bite recipes that will provide more instruction.
? Pro Tip - If you are going to freeze leftover pumpkin puree to use in future recipes, I suggested freezing it in 1 cup increments in individual bags. Then wrap all the bags in foil to help prevent freezer burn and put them into a gallon sized bag.
Yeast Bread or Rolls
I know when you normally think of pumpkin bread you think of a sweet, almost dessert like bread. That isn't what this bread recipe is. It's pumpkin added to a tasty yeast bread that can be made as a loaf of bread or dinner rolls.
Cornbread
For another type of bread that is perfect to accompany a hot bowl of chili in the fall is this Pumpkin cornbread. Yes this does have some brown sugar in it, but I don't think it's as sweet as most pumpkin bread, so I have no problem including it on this list.
Other Ideas
Here are some other ideas I have not tried yet, but want to in the future. If you really like how on one of these sounds leave me a comment below and I will move to the top of my to-do list!
Gnocchi
Lasagna - use my pumpkin spaghetti sauce
Chili
Shepherd's Pie - mix some puree into the mashed potatoes for the topping
Deviled eggs - you can mix some pumpkin into the egg yolk
Oatmeal - just add some right to your oatmeal and serve, or cook the oatmeal in a pumpkin