Learn how to make a delicious homemade cinnamon tea while using ground cinnamon. Find out what cinnamon is best to use for the tastiest cup and what are some others ingredients you can add to it to make it even better.
When it comes to drinking tea, I am not so much a true tea drinker, more of the herbal type. When I was younger I use to drink iced tea, but I am not talking about freshly brewed ice tea, more like the sugar laden Lipton that comes in a plastic bottle along with artificial flavors.
I don't drink that anymore!
I would drink tea that is made with ground cinnamon. Let me show you how I like to make it. This recipe is for what would be considered an herbal tea that doesn't contain actual tea leaves. So it will be caffeine free.
Two of my daughters drank this tea when they were having allergies issues or some type of virus. Regardless of what it was they were coughing a lot. They drank the tea and it immediately helped them out. Just sharing my experience as a parent of 4!
Jump to:
🛒 Ingredients
You can for sure use cinnamon sticks and steep them in hot water. Today you are probably here because you want to use ground instead, so that is what we are going to focus on.
For a simple tea you will need:
Hot water
Ground cinnamon
Honey
Other sweeteners you could use would include monk fruit, maple syrup, sorghum syrup, cane sugar, etc. I am such a honey connoisseur that I am always to opt for it. When choosing the right honey for a recipe, I tend to go with darker honeys that have more assertive flavors, such as buckwheat honey or a darker wildflower. Clover honey will work as well.
🍯 Learn what the difference is between clover honey and wildflower honey.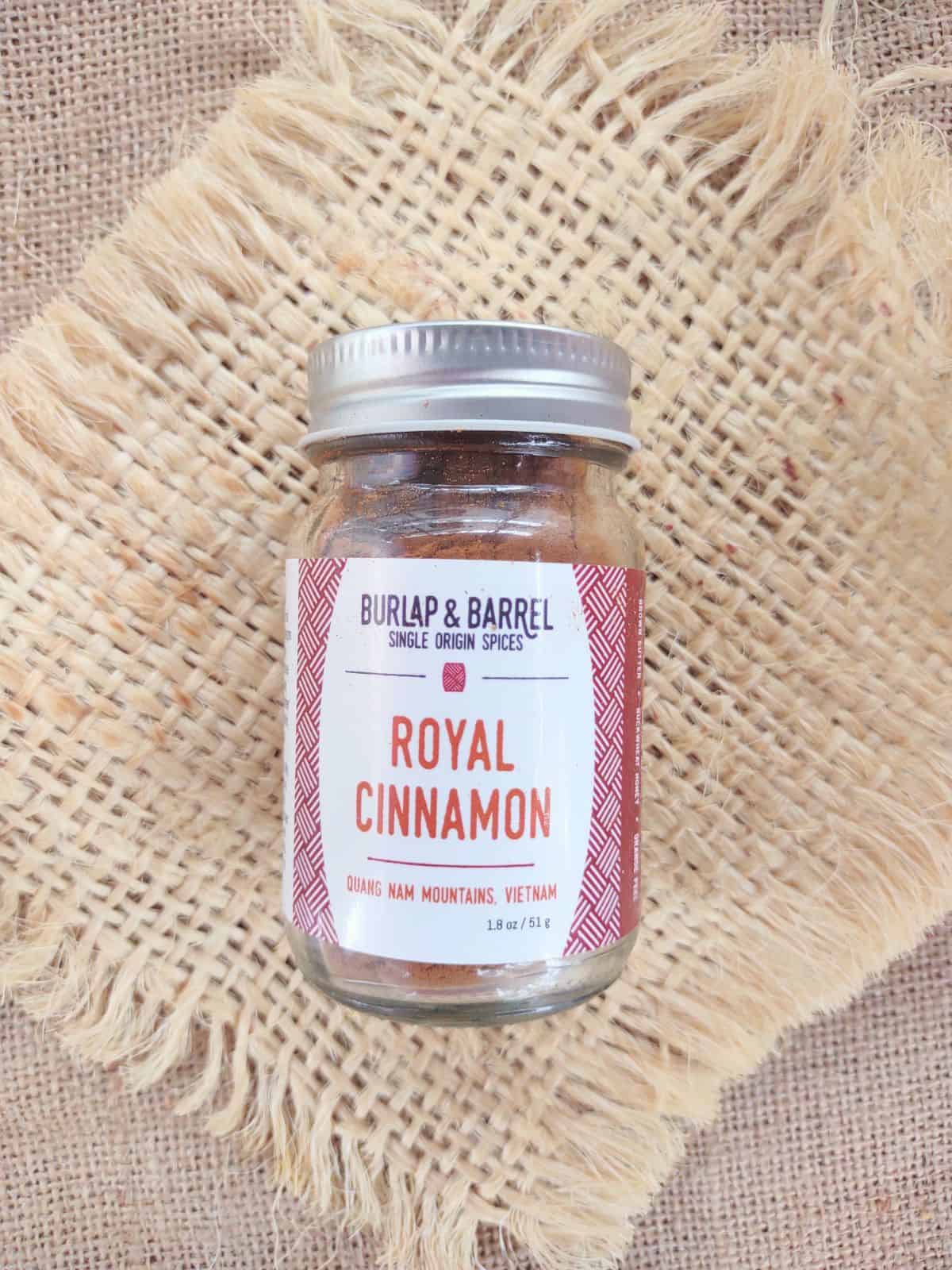 🏆 The Best Cinnamon
What is going to make or break this tea is the cinnamon you use. This is when you want to break out the good stuff as this is your main flavor of the tea. To me it doesn't get any better than Burlap & Barrel.
They offer two different types of cinnamon
Making this tea was the perfect way for me to get really get a chance to taste the differences. The Royal Cinnamon has a more bold cinnamon flavor that is sweet and vibrant. Cinnamon Verum is more subtle on the cinnamon bite, but has more citrus and herbal undertones. It's actually a good cinnamon to use in stews because it won't make you think you are eating a cinnamon roll but it will turn the flavor up of beef or lamb.
🛒Buy the Best Cinnamon
Source your cinnamon directly from the farmers that grow it by purchasing from Burlap & Barrel Single Origin Spices. For bold flavor go with Royal Cinnamon. For a herbal/citrus flavor go with Cinnamon Verum.
📋 Instructions
I would call this a tea for the impatient as it doesn't take long to prepare.
Bring hot water to a boil. Add to a cup. I typically use an 6 ounce cup that I leave some room at the top.
Then I add in the ¼ teaspoon of ground cinnamon and ¼ teaspoon of honey. The nice thing about using honey in a hot drink is that you can use honey that has crystalized on you because it will completely dissolve when you stir the tea up.
You don't need to steep the tea, it's ready to go once it's cool enough to not burn your tongue (that's my biggest problem!). Try to wait around 5-10 minutes.
➕ What to Add To It
You could enjoy the tea with the ingredients we already gave, but why not add more flavor if you can. Here are some ideas:
A splash of milk or cream
Orange juice
Lemon juice
Food grade essential oils
Apple cider vinegar
Freshly grated nutmeg
A splash of milk or cream is nice. What my family really likes is adding some orange juice. When we were in Hurricane, Utah we visited this amazing bakery called Muddy Bees. They crafted the best huge cinnamon rolls. One day we got an orange flavored cinnamon roll that was as epic as the nearby canyons of Zion National Park. That was my inspiration here. Orange and cinnamon work so well together.
You can just use any bottle of orange juice from the store with or without pulp. But I know that freshly squeezed orange juice would put it over the top!
Lemon juice would work in the tea as well. Or if you don't have juice and you have essential oils that are approved to use in food, then lemon, lavender, or orange oil would be delicious. Remember a little goes a long way. And double and triple check to be sure that it's safe for ingestion as not all essential oils are.
You also could up the spices and add in some nutmeg. I only buy whole nutmeg such as Stone Nutmeg from Burlap & Barrel. Then I grate it myself using a Microplane zester.
If you are looking to add apple cider vinegar to your diet, then a little bit could be added to this tea. Make sure you buy vinegar with the mother. It will say on the jar. This is the bacteria that turn the apple juice into vinegar, so it's the best quality with the most benefits.
Got any other ideas of what might be good in this tea? Leave a comment below.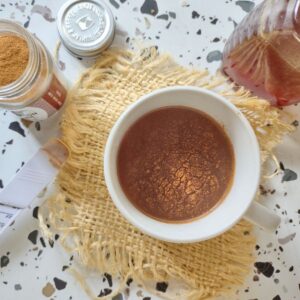 Instructions
Add honey and ground cinnamon to a cup.

Pour water over top. Stir to combine.

Tea will be very hot, so allow at least 5-10 minutes for it to cool before drinking.
Notes
If you have raw or crystalized honey feel free to use it as it will dissolve in the hot water.
Want to up the flavor? Any a splash to taste of any of these:
A splash of milk or cream

Orange juice

Lemon juice

Apple cider vinegar
If you want more spice, you can add some freshly grated nutmeg.
A drop or two of essential oils that are marked as being safe for consumption can be added.
Tried this recipe?
Mention @eatlikenooneelse or tag #eatlikenooneelse