Not sure whether to keep or toss the potatoes you bought from the grocery store last week? Learn some tips and tricks to help you with your internal debate! I will answer your FAQs, like can you eat a potato that tastes sweet.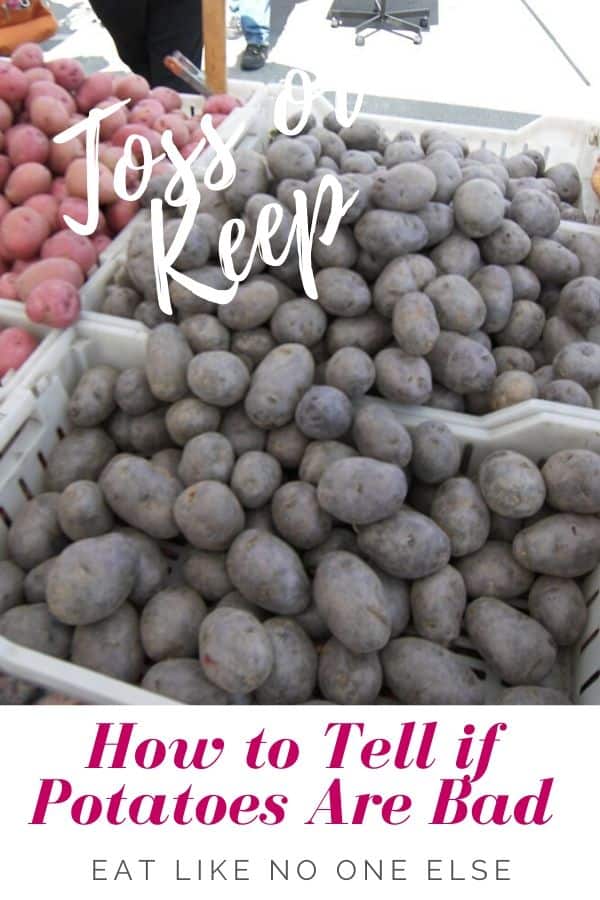 This post includes affiliate links. This means that at no additional cost to you, I will earn a commission if you click through and make a purchase. These are products and services I recommend because I use or trust them. Cookies will be used to track the affiliate links you click.
Potatoes are a food that we sometimes buy and forget about.
They don't go in the fridge. So they could end up in a place we don't look often. I am sure most of us have forgotten about a potato.
In the interest of reducing food waste, we are here to help you navigate potential issues with raw potatoes you may run into.
What are the signs of spoilage you need to be on the lookout for?
Keep in mind these are my best recommendations, it's up to you to make the final call. If you don't feel comfortable with saving something then I would rather you error on the side of caution.
Jump to:
🟢 The Skin is Green
When the skins of potatoes are exposed to light, they turn green. The colorization is most commonly seen on light skinned potatoes like Russet or gold potatoes. It's not seen as much on red or purple skinned potatoes.
When potatoes are grown it is common practice to cover the potatoes with more dirt as they grow as that they aren't exposed to light.
I have worked at two different grocery stores. Both places would cover up the potatoes when the store closed in order to reduce the amount of time the potatoes got light on them, even the lights of the store could turn them green.
What do you do when you have green potatoes?
This is a tough call. The green in the skin could mean the presence of a toxin. Some of it may be removed if you peel them. I admit I have peeled the skin of potatoes that were just barely a hint of green. Those potatoes tasted totally fine. I have heard that if they taste bitter at all, that you definitely need to stop eating them.
With that being said I can't recommend you keep them out of caution.
Recommendation - Toss
If are struggling with potatoes going green on you too fast, try to stick to potatoes with a darker skin. And make sure the ones you buy at the store don't have any green on them at all when purchasing. Give the a good look over, especially if in a bag.
👀 Eyes are Growing
When I am growing potatoes myself I love to see them sprout. The more the better. But not when I am trying to just eat them.
Potatoes are often treated with something to keep them from sprouting eyes in the grocery store. But even that won't completely stop them from growing eyes, just inhibits them.
In the early stages, you can simply remove the small sprouts and eat the potatoes. As the sprouts getting bigger the potato will start experiencing other issues.
Recommendation - Keep them, as long as the potatoes aren't wrinkly or super soft
🛏️ Potatoes Feel Soft
As potatoes age they will start to feel softer. This is ok to a point.
You don't want them to be mushy, that's too soft. But if they feel a little squishy, it isn't the end of the world, it's just means your time to enjoy the potatoes is coming to an end, so cook them immediately.
Why are they going soft? The likely reason is water loss. Potatoes are mostly water when it comes down to it. So if the potato is dehydrating, then it will start to feel soft.
Recommendation - Keep if not mushy, use immediately
🦨 Smells Bad
I don't think potatoes ever smell good. They have a more earthy type of smell. Not offensive but not something you want to fill the room with.
If your potatoes have a really bad odor. Then it's over. Trust me you will know. I was quite surprised how awful bad potatoes can smell when it's gone south.
For weeks we couldn't find the source of a bad smell in our van. It turned out to be a potato that had rolled under a seat. Yuck!
Recommendation - Toss if smell is really strong or offensive.
👴🏻 Wrinkly
Most of the time when I see a potato go wrinkly it has already grown eyes. The potato will also be really soft at this point as it has lost a lot of water.
Pass!
Recommendation - Toss
🍌 Skin Peeling Off
If you find potatoes where it looks like the skin is peeling off, that normally indicates they are new potatoes or freshly dug potatoes. They were harvested recently and they have been cured yet. The skin wasn't allowed to dry out.
This is a great thing as it means you have some really fresh potatoes. Usually you only find these at farmers market or vegetable stands. They won't last as long as potaotes have been allowed to cure, so you need to use them ASAP.
Recommendation - Use these fresh potatoes soon. You will really enjoy them!
🥶 Can You Refrigerate Potatoes to Keep Them Longer?
You could and it would help keep them longer. However when potatoes get cold their starches covert to sugar, creating a sweet taste. Some people think when this happens they smell like cinnamon. I haven't experienced that but we do associate cinnamon with sweet things.
Is it safe to eat potatoes that taste sweet? Yes, they are still safe to eat, I just don't think they taste very good, so I don't want to eat them, but I could.
Potatoes are best stored in a dry, dark place that is cool, but not as cold as the fridge, so around 45-55 degrees.
One of the produce markets I worked for had a cooler that was set to that temperature. It was the same place we kept hard squashes as well.
An old fashion root cellar is perfect, but most of us don't have that anymore. If you can dedicate a drawer in your kitchen to storing potatoes by themselves. Don't store them with onions, this cold cause them prematurely go bad.
🥔 By Type
I want to take a moment in look at specific types of potatoes and some things to look for to tell if they are bad or not. Here are the most common issues I see with each type.
Fingerling
There are different colors fingerling potatoes on the market. The most common you will find is a yellow skinned potato. As with yellow skinned potatoes you are more likely to see them turn green.
I also find that smaller potatoes seem to get soft quicker than larger ones so look out for that.
Honey Gold or Petite Gold
Any round small yellow sized potato like Honey Gold or Petite Gold is going to have the same issues as the light skinned fingerling. They are going to go green. They do some in bags that block some light, not all. Move the potatoes around in the bag when you are buying them to examine to make sure you don't have any green ones hiding.
Produce workers are going to hate me for saying this, but pick from the bottom of the stack.
📦 Storage Tip - If you bought your potatoes by the pound and use a plastic bag, remove them from that bag when you get home. They are better stored in a cardboard box inside a cabinet or pantry.
Russet
Russet potatoes have a thicker skin then other types, which is why I normally peel them for mashed potatoes when I would not for red or yellow. I don't see greening being the main problem with them. More likely it's the wrinkly route they go. Or sprouting eyes.
In my experience, Russet potatoes store longer than other types.
Red
In the photo earlier in the post you saw a red potato that was green under the skin. It's not as obvious as with the lighter colored varieties but they still turn green.
What if they are yellow on the inside, not green? Well there are actually some red skinned potatoes are have a yellow flesh naturally, so there is nothing wrong with them. An example of this would be the Klondike Rose potato.
Purple
Purple potatoes are almost always purple inside but you can find some that have a white interior, although I am disappointed when I do. They seem to hold put pretty well, so I haven't really experienced any issues with them going bad before.
I have an entire post dedicated to cooking purple potatoes that includes baking them, making potato salad, breakfast skillets, and more. You'll want to check that out for some great recipes.
📰 If You Liked This Post, Read These
I hope you enjoyed this post today. I love to help people try and save food from the trash. Check out these other posts from other series as well. The Can You Eat Broccoli That Turned Yellow? is my most popular.