Worried about whether the cauliflower you bought has gone bad and now you have to throw it out? We got some advice for you on when to save and when to toss. We will look at common problems like dark spots, unpleasant smell, and soft spots. We also include a section on the super popular cauliflower rice.
Find a recipe at the end that will show how to use the stems of cauliflower so that nothing goes to waste.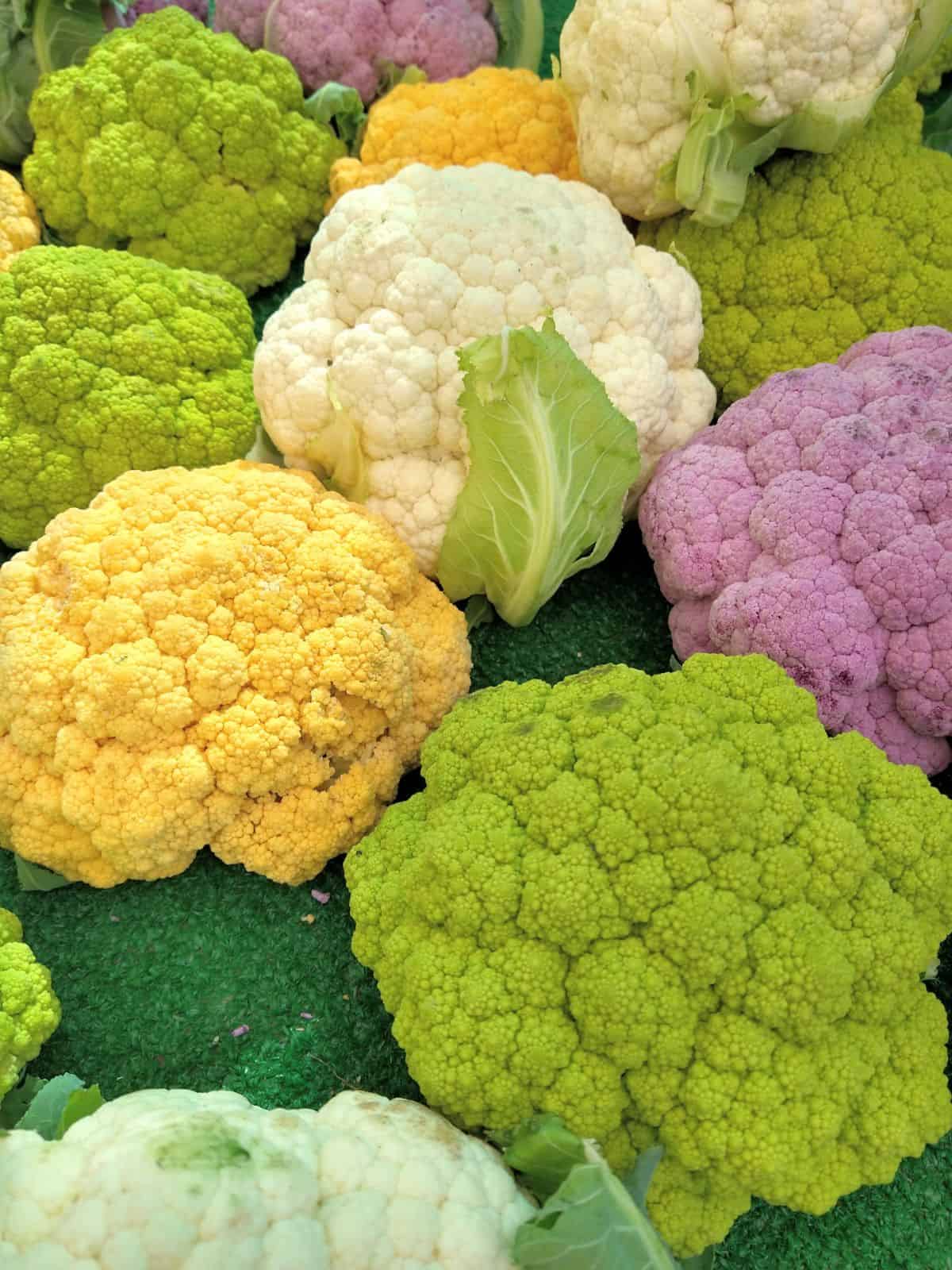 This post includes affiliate links. This means that at no additional cost to you, I will earn a commission if you click through and make a purchase. These are products and services I recommend because I use or trust them. Cookies will be used to track the affiliate links you click.
No one likes to waste food.
It sucks when you get something at the grocery store and it never ends up on your dinner table.
Actually knowing when something is bad isn't always easy. Sometime it's a borderline situation.
I want to help you today by talking about one vegetable in particular that you may be wondering about, the versatile vegetable we call cauliflower.
🎧 You can listen to this blog post on my podcast. The episode includes a bonus recipe for Roasted Mustard Cauliflower.
Jump to:
Keep in mind these are my best recommendations, it's up to you to make the final call. If you don't feel comfortable with saving something then I would rather you error on the side of caution.
🦨 Smells Bad
Your nose is usually a good guide. When cauliflower goes bad, you certainly can smell it. If you are buying packaged cauliflower that is already cut, diced, or riced. then it's more likely to have some smell to it when you first open the package. It normally dissipates in time.
If you find the smell to be overwhelming then I would recommend you toss it.
Recommendation - Toss if it is a really strong smell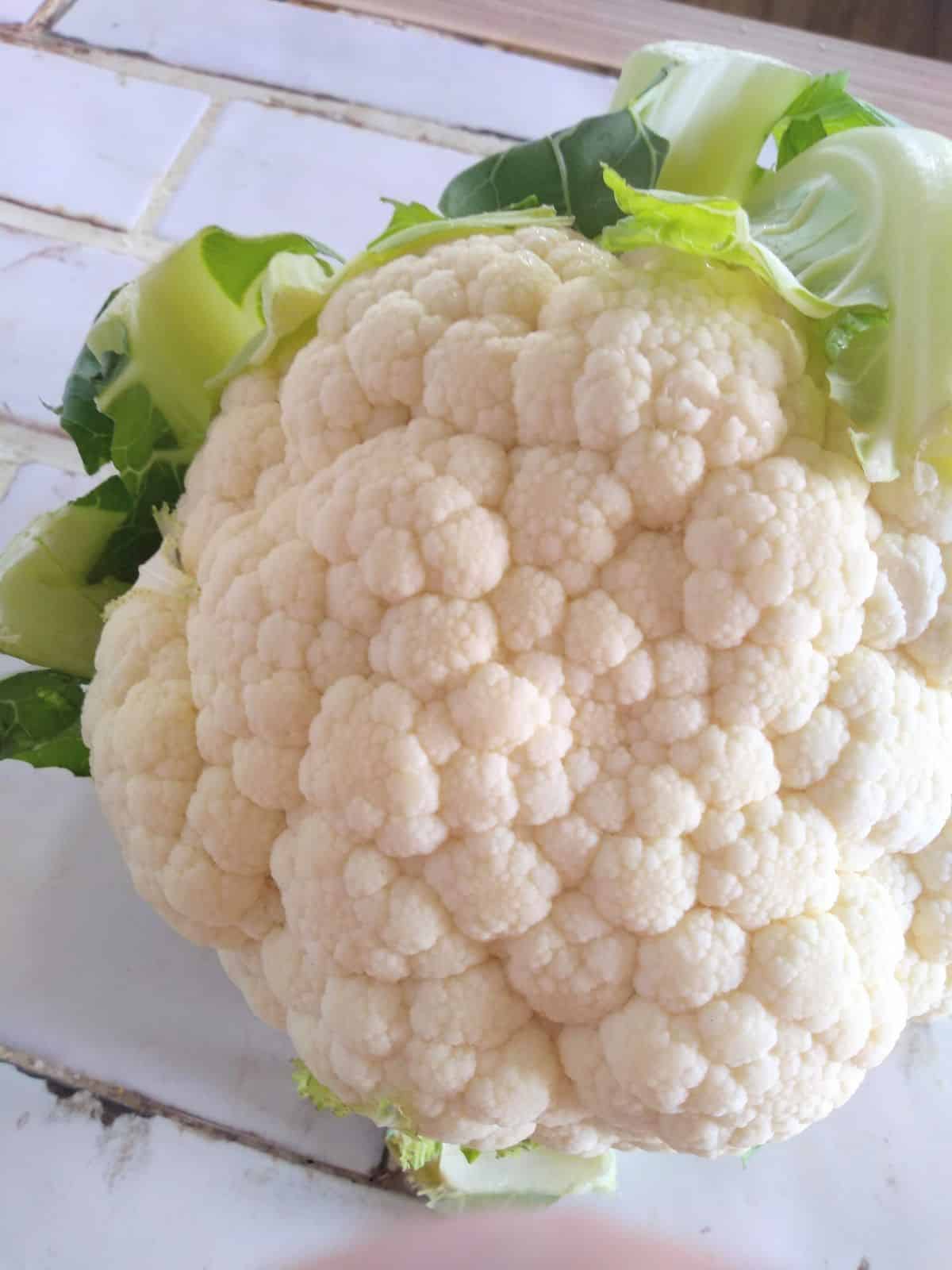 🟤 Brown Spots
This is problem is the most common issue with cauliflower. Most of the time the spots are just caused by oxidation. Just like if you cut an apple open and it gets exposed to air and turns brown. The apple is still ok to eat, it just doesn't look great.
Same with the cauliflower. You can cut off the brown or black spots if you want, they are just on the outside.
This doesn't just happen with traditional white cauliflower it also happens to green, orange, and purple cauliflower. It will just be more easy to notice on the lighter colored cauliflower.
Recommendation - Keep, can still be great roasted. I wouldn't serve raw as that can be off putting to your guests.
🛏️ Soft Spots
Soft spots are another story. This means the cauliflower is starting to break down. Most of the time this happens if too much moisture is present. Most cauliflower comes wrapped in plastic which is great for shipping but not the best in our refrigerators.
If the plastic is wrapped tightly I would poke some holes so that some moisture can escape. Or re-wrap in plastic and let it be more loosely wrapped.
While I haven't tried this yet myself, you could try the many reusable produce bags available on the market.
Recommendation - Keep! If it's just mushy cut off the soft spots or use it for soup or a puree.
🤢 Slimy
The next step up from soft spots is slimy. Only when my kids are making homemade slime do I want to have slimy things in my house.
However if you aren't seeing mold I don't have a problem with cutting off the area with the slimy texture.
Recommendation - Keep, cut off the slimy part, including an extra inch or so.
🍄 Fuzzy Mold
Mold can be great when cheese is involved. Vegetables, not so much.
With mold I would error on the side of caution and toss it all out if the cauliflower was really tightly wrapped in plastic wrap. I might cut of a good portion of it if I wasn't in sealed in plastic. In most cases, it's time to get a new head of cauliflower.
Recommendation - Toss!
📅 How Long Does Cauliflower Last?
Uncooked cauliflower is one of the better storing fresh veggies. Broccoli will usually go bad a lot quicker than cauliflower. I have had cauliflower in my fridge for 2-3 weeks and it was still edible. The best place to store it is in the crisper drawer of your fridge.
If you leave it out at room temperature it won't last quite as long, maybe a couple of days. If you are limited on fridge space you can leave it out when you bring it home from the store, especially if you are going to cook it in the next day or two.
🟢 Green Inside or Green Stems
I had people asking if they could get cauliflower that is green inside. I have never seen a situation where this is an issue. Cauliflower can have different colorations. For example, baby cauliflower also called sprouting cauliflower or Fioretto naturally has green stems.
If the stems are green there is no reason to be concerned, it's ok to eat. In fact if you find this type of cauliflower buy it up. It's super tender and cooks faster than normal cauliflower. You can find baby cauliflower sold at Trader Joe's and other grocery stores.
🙋 Should You Remove the Plastic
In case you were wondering if you bought your cauliflower wrapped in plastic if you should keep it in the plastic. I would say yes, otherwise you could start seeing those dark spots we talked about earlier.
What you should do is loosen the plastic. If it's tied tight at the bottom see if you can loosen it up. This will help keep moisture from being trapped inside that could lead to soft spots and mold.
Another way to store it is cut the cauliflower into bite sizes pieces when bring it home from the store. Place that into a airtight container. Or you can use a ½ gallon sized silicone bag, like that one I have from Stasher. It looks like this:
🧊 How to Freeze
If your cauliflower is showing the signs we talked of above but you have ruled that it's still good, freezing it would be a good option now if you can't eat it immediately. Cut the florets into bite sized pieces and place into freezer bags.
I would try to use it up within a month or so. Freezer burn can eventually become an issue. Vacuum sealing the cauliflower instead of just putting it in freezer bags can help.
Did you know that you don't need to thaw the cauliflower before using? I have made sous vide cauliflower with broccoli and it wasn't an issue at all when I cooked it. Couldn't tell it was frozen.
🍃 Can You Use the Stems & Leaves?
Most cauliflower comes with the leaves already cut off mostly unless you are buying jacket cauliflower which has much of the leaves still attached.
The leaves of cauliflower can be tough. But that doesn't mean you can't eat them. I would say they aren't tender enough to be enjoyed raw. You can however cook them like you would collard greens which are related to cauliflower. I have even heard of people roasting them.
Here is how I like to use the leaves and stems.
I like to use the stems and leaves for different purposes. Remove as much stem as I can and then remove the leaves from the stems. Chop both up.
I use the leaves to add a little green to Ramen or soup, like this
And take the stems and steam them like you would broccoli stems. They pretty much taste the same. Recipe below.
🍚 How to Tell if Cauliflower Rice is Bad
Cauliflower rice has become hugely popular in the last several years. It's just cauliflower that has been broken down in pieces more like the size of rice. Follow the small rules as a head cauliflower to tell if it's bad or not. The first thing that you will notice is a bad smell. It also can get mushy, which is not very good eats.
It tends to be more perishable than a head of cauliflower. If you bring some home from the store fresh, you should try to eat it within a couple days for best quality. And you want to finish leftovers in that amount of time too.
📧 Join Our Email List
💡 More Tips on When Veggies Go Bad
Learn about what to do with these other veggies that may be turning bad.
Steamed Cauliflower Stems
Easy way to use the stems of cauliflower
Print
Pin
Rate
Ingredients
stems of cauliflower

kosher salt and black pepper to taste

water
Instructions
Remove all the stem you can from a head of cauliflower

Remove the leaves portion of the stems. Save them for adding to soup or adding them to the stems at the end.

Cut the stems into small, bite sized pieces.

Place the stems in a saute or fry pan with just enough water to come about half way up the stems.

Cover with a lid and reduce to a simmer.

Cook for 3-5 minutes or until the stems are tender

Season with salt and pepper to taste
Notes
If you want to use the leaves in this dish, chop them up and add them in the last minute of cooking. 
Use a smoked or other seasoned salt if you like to add more flavor.
Tried this recipe?
Mention @eatlikenooneelse or tag #eatlikenooneelse