Learn how to use your air fryer to make crunchy taco shells for your next Taco Tuesday. See how you can do it with your own easy to make DIY taco shell mold.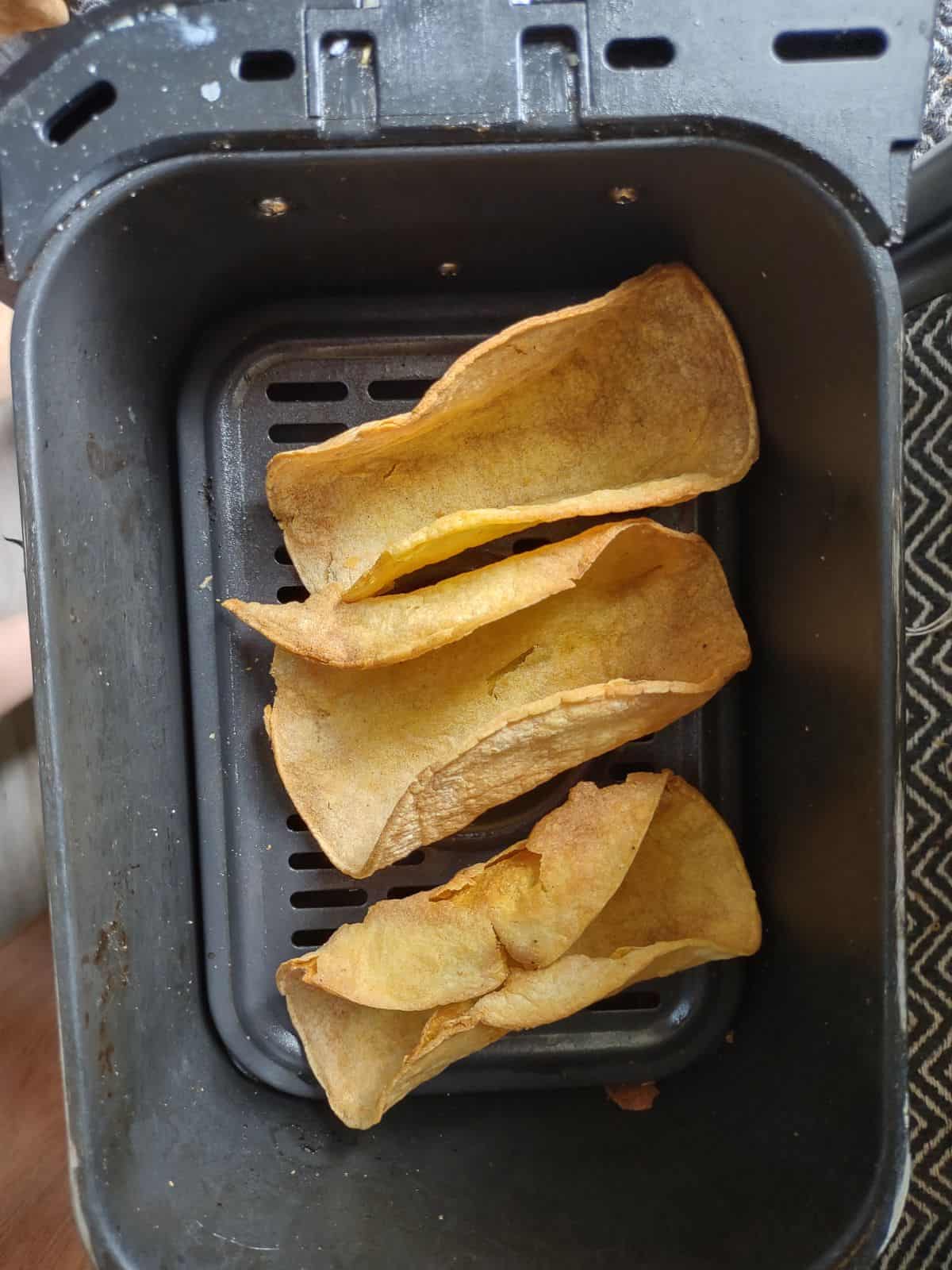 This post includes affiliate links. This means that at no additional cost to you, I will earn a commission if you click through and make a purchase. These are products and services I recommend because I use or trust them. Cookies will be used to track the affiliate links you click.
Do like the idea of making your own crunchy taco shells but don't like the idea of getting oil out to deep fry with? We are going to show how you can do it in your air fryer instead. After you try this you won't miss deep frying at all!
Jump to:
✋ DIY Taco Shell Mold
To start making your crispy taco shells you will need a mold. If you don't have a mold for making a taco shell or even if you do it might not work in your air fryer. Instead you can simply use aluminum foil. Choose heavy duty foil because it won't rip as easily as the cheaper foil. I use it exclusively in my home.
Start by tearing out a sheet of foil and laying it out flat on the table.
Then roll it into a log shape.
Then take that log and fold it over on itself once. Now it should be about the size of the typical store bought corn tortilla. You will need enough of these for each taco you want to make as well as I use a couple to wedge between tacos to keep them tight in my air fryer basket.
🛒 Ingredients
So you of course could make your own dough from scratch and that would be amazing. But today we are just going to start with some soft corn tortillas that you get at the grocery store. You won't need much else, here is the ingredient list:
corn tortillas
cooking spray oil
fine salt to taste
Most of my recipes call for kosher salt, but when it comes to these tortillas you want a fine grain salt to evenly distribute and stick to your tortillas. For that I always choose Redmond Real Salt. It's the best tasting salt and it very good at sticking to the tortilla. We use it on popcorn all the time as it sticks to that good as well.
As for the cooking spray here are the ones I like to use:
Avocado oil
Olive oil
Grapeseed oil
I don't like coconut oil because I have found that it tends to clog up the sprayer after several uses as coconut oil is a solid at room temperature.
📋 Instructions
Take your corn tortilla and wrap them around your foil mold. Place them bottom side up in the air fryer, like you see in the picture below.
I wedge other pieces of foil between the tortillas to make sure they stay in position while cooking.
Set your air fryer to 325 degrees for 7 minutes.
At this point your tortillas are formed but could probably be a little more crispy. So I carefully remove the foil and then place them back in the air fryer for 1 more minute at 400 degrees.
🌽 Tostada
If you just want something flat, then you can make your own tostada in the air fryer. the challenge here is keeping the corn tortilla flat enough. It will want to curl. Tostadas are not perfectly flat when you buy them in the store. They are more wavy. So you only need to make sure they don't curl up on to it's itself.
You can choose a vessel that will keep your tortilla flat like a small dish or bowl that it safe to go in the air fryer. You cook them just as long. Most likely you will be only be able to fit one at a time unless you have a large air fryer.
🍽️ Wondering what to fill your crunchy taco shells with? Try out our recipe - Air Fryer Ground Chicken Tacos.
☀️ Ortega Instructions
Now if you just came to this website because you were wondering if you could throw those Ortega premade taco shells in the air fryer, I hope you have been inspired to make your own crispy tacos from corn tortillas. With that being said, let's talk about warming them up in the air fryer.
Air fry them for 1 minute at 325 degrees. That should be enough to get them warm. And will be much better than doing it in the microwave. I always appreciate a warm taco shell!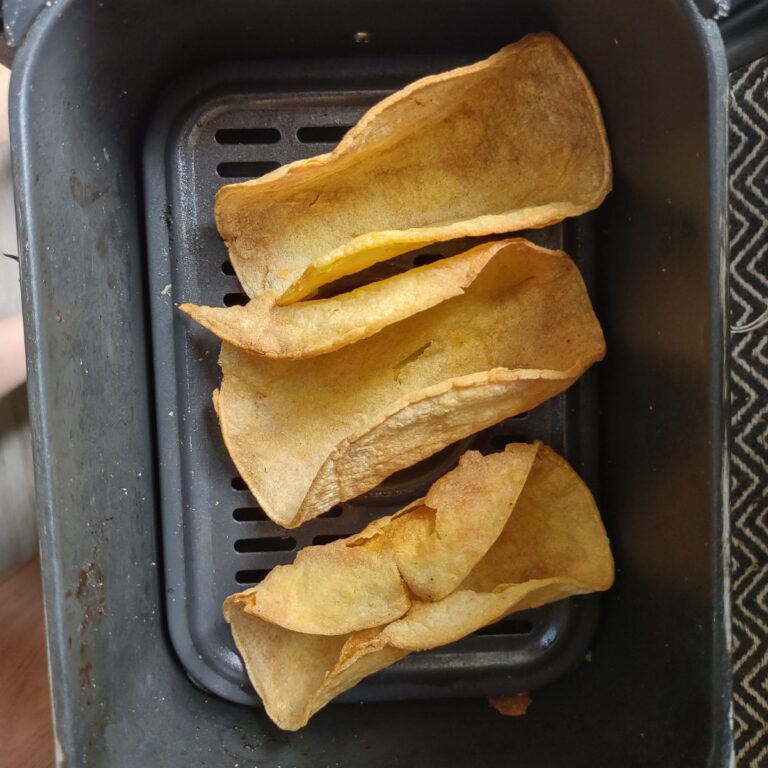 Air Fryer Corn Taco Shells
Learn how to make crispy corn taco shells in your air fryer.
Print
Pin
Rate
Ingredients
corn tortillas

cooking spray oil

fine salt

to taste
Instructions
Roll a piece of foil into a log and then fold it over onto itself. Wrap your corn tortilla around the foil.

Place as many as you can fit in your air fryer basket. Use a piece of foil if needed to wedge between tortillas to keep them from moving.

Air fry for 7 minutes at 325 degrees.

Carefully remove the foil from all the tortillas. Place them back in the air fryer and cook for 1 more minute at 400 to make them fully crispy. Watch them carefully so they don't burn.
Tried this recipe?
Mention @eatlikenooneelse or tag #eatlikenooneelse