I have often wondered, "How can one company produce enough grapes to ship them across the entire country? Our country is huge!" As someone with a modest garden, I couldn't even supply a single grocery store with anything worth their time. It's hard to visualize in my mind. There had been a disconnect for me as I imagine there is a disconnect for mny of us. We just head into the grocery stor, pick a bag of grapes or any other type of fruit and go on our merry way. Lucky for me, I got a golden opportunity to connect the dots. Grapery owner Jack Pandol invited me to take a tour of the beautiful vineyards around Bakersfield, California.
I came into Bakersfield from the south. I had to pass through the beautiful Tehachapi mountains. As you reach the peak on the highway of over 4,000 feet, you begin to descend into the San Joaquin Valley. As I rolled by signs indicating where the next runaway truck ramp was, I came into a beautiful valley, full of green, full of life. It was one of those take-your-breath-away moments. It was then I started to get an idea of how large of an area this was. Once I got out to the actual vineyards of the Grapery and saw vine after vine after vine that seemed to just go on forever. I could finally wrap my brain around how vast the vineyard was and how they can ship grapes across the country - and they are by no means the largest grape producer in California.
The first section Jack brought me to featured the famous Cotton Candy grapes. This was the first vineyard I have ever step foot in. As this was late March, all I could do was imagine the flavor. Getting an up close view of the beginning of a growing season was well worth it. At this point leaf growth was well underway and you can see tiny cute bunches that would eventually grow up to be those uniquely flavored grapes.
To produce such outstanding flavored grapes it all has to begin with the soil. You need soil that is alive and rich. Great grapes start with great compost. Jack pulled back the soil and showed me first hand how rich their soil was. It evened smelled like good earth.
Grapery uses a unique trellis system to grow their grapes. It is a Y-shaped trellis, that brings the grapes higher off the ground. This system does several things. It allows air to circulate better between the bunches. It provides more shade to the bunches and the workers who are picking the grapes in temperatures that can soar over 100 degrees.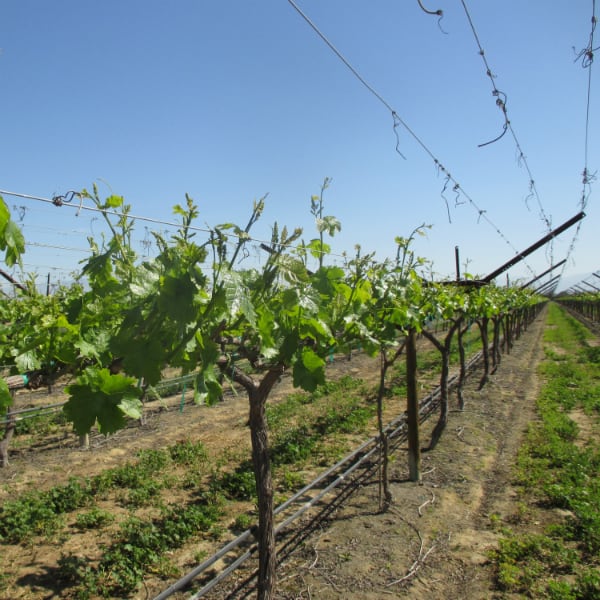 The trellis is fully adjustable - very ingenuous design. They can move wires to different positions to help train the grapes where they want them to go. It is a labor intensive process. Growing great grapes doesn't come without some hard work. Their willingness to go the extra mile is what separates them from every other grape grower who is just in it to make a buck.
I learned a ton on this tour. If you didn't know this about grapes yet, they only produce fruit on new growth. The growth sprouts from the year old wood. In the photo above you can see the new growth beginning from last year's wood.
In these two photos you can see close up of bunches of grapes forming from the new growth. Can you imagine that from those little bumps, big juicy grapes will form!?
One of the varieties that is sure to become a hit is Moon Drops. These are an elongated grape with a blunt end. It was featured in their Witch Finger line last season, but this year has been given it's own name. What you see in the photo directly above is some Moon Drops vines after one year of growth. In the 2nd year they will train the vines just like the ones the mature ones you have seen in other photos. The 3rd year you can begin harvesting from them. In the next couple of years we will see Moon Drop production skyrocket. It is an easy to grow variety, that is unique, and very flavorful.
Even after hitting a home run with Cotton Candy grapes, Grapery is not a company who rests on the laurels. They are always looking for ways to do things better. This year they are experimenting with covering some of their grapes with shade cloth. The cloth allows 80% of the sunlight to get through. High temperatures can impede the ability of the leaves to produce photosynthates. Photosynthates are the products of photosynthesis - in the grape leaves that would be sugars. The shade cloth lowers the temperature of the leaves allowing them to be more efficient at producing sugars for the fruit. This method has been shown to be successful in hot climates like the Jordan Valley of Israel as well as proven successful in more moderate climates such as the Eastern Mediterranean area of Spain. The cloth should also reduce the amount of water needed, which is critical at this time in California.
One of the most exciting things happening at Grapery that the consumers won't directly see is their new cooling center. This is where my tour wrapped up. I got a chance to see this center as it was still under construction (I got to wear a hard hat!). This center is being built to meet their needs now and for expansion in the future. Until this season they had been renting a facility, which they have outgrown. The importance of this cooling center is cool the grapes down as fast and efficiently as possible. It's hot out in those fields, you need to get that heat out as quick as possible to give the grapes a good shelf life. The center also serves as the storage places for the grapes until they are ready to be shipped off. They will be using solar energy when they open up to completely meet their energy needs.
A major "thank-you" to Jack Pandol for taking time out of his schedule to give me a tour so I could provide you with a virtual tour. He was a pleasure getting to know and chat with. His passion for bringing the consumer flavorful grapes comes through in every word he spoke. Flavor is not just a buzzword they use on their packaging, it's a constant driving force that compels Grapery to continue to strive to deliver on the promises they make.
I am looking to return to Bakersfield in the summer of 2016. After this experience, I really want to be there when the grapes are ripe for the picking. In the meantime countdown is on for this season - under 5 months from now until the next explosion of flavor from Grapery hits my tongue.