Are you looking for some ideas of what to serve with green beans? What other sides go best? Let's give you some ideas.
Do you have some nice looking green beans sitting in your fridge right now? Want to serve them but also looking for what else to make? We have some ideas of what other sides to serve, what you can add to your green beans, and what meat they go best with.
Jump to:
🥕 Sides
Here are some great ideas on what you can be serving alongside your green beans for dinner. Some of these are great mixed with the green beans and some you will eat on their own.
Carrots
Mushrooms
Potatoes
Grits or Polenta
Zucchini or Yellow Squash
Winter Squash
Cauliflower
Baked beans
Bell peppers (especially red, orange, or yellow)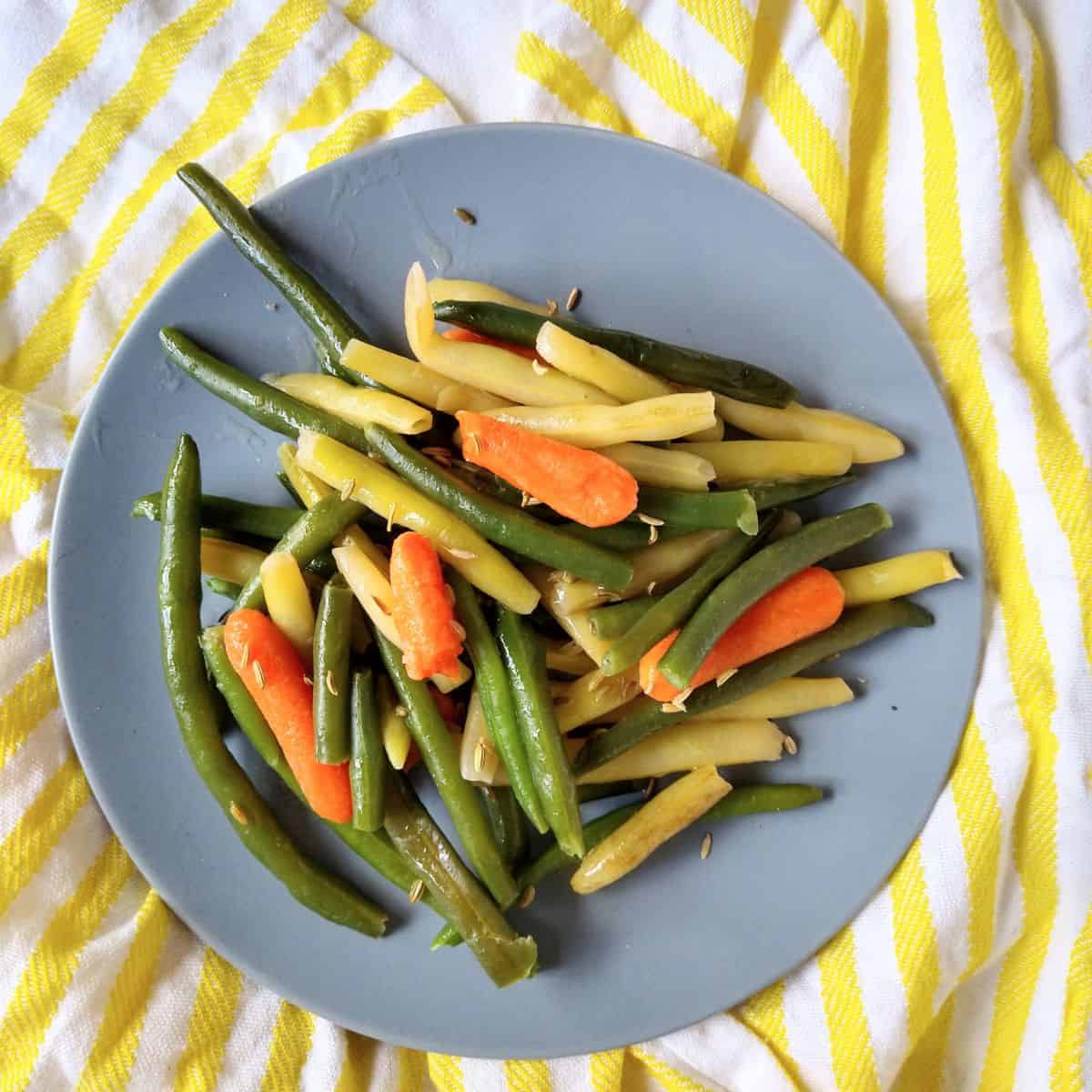 Carrots
The vegetable that I like to pair with green beans the most is carrots. I really enjoy the contrast in color of the green beans and the orange carrots.
I like to serve them mix together with a drizzle of honey, butter, and chopped tarragon.
Have you heard of the Prince Edward Medley? It's a mix of green, wax (yellow), and baby carrots.
If you are using full sized carrots, keep in mind they take longer to cook. Sometimes I will cook the carrots first, then cook the green beans in the same pot or pan, and then add the carrots back in along with my seasonings.
Mushrooms
Meaty mushrooms are a nice contrast to serve along side green beans. Their cooking time is pretty similar.
Potatoes
Anything you want to do with potatoes are great with beans. Mashed potatoes are my top recommendation. Try my Swirled Mashed Potatoes, in which you mix together yellow and purple potatoes. They are both tasty and visually stunning.
Grits (or Polenta)
Grits are so underrated in my mind. The southern part of this country knows what I am talking about! What I am NOT talking about is instant grits, yuck! I am talking about stone ground grits that take longer to cook but you will be rewarded with a velvety texture and great corn flavor. They are my 4 year old's favorite.
Zucchini or Yellow Squash
Zucchini and yellow squash are both in season at the same time as green beans. You can easily find them at the farmer's market, often sold by the same vendors. They are vastly different and give you another texture on your dinner plate.
Go with the yellow squash for a nice contrast in color, you can cook them the same as zucchini. Or you can find yellow zucchini.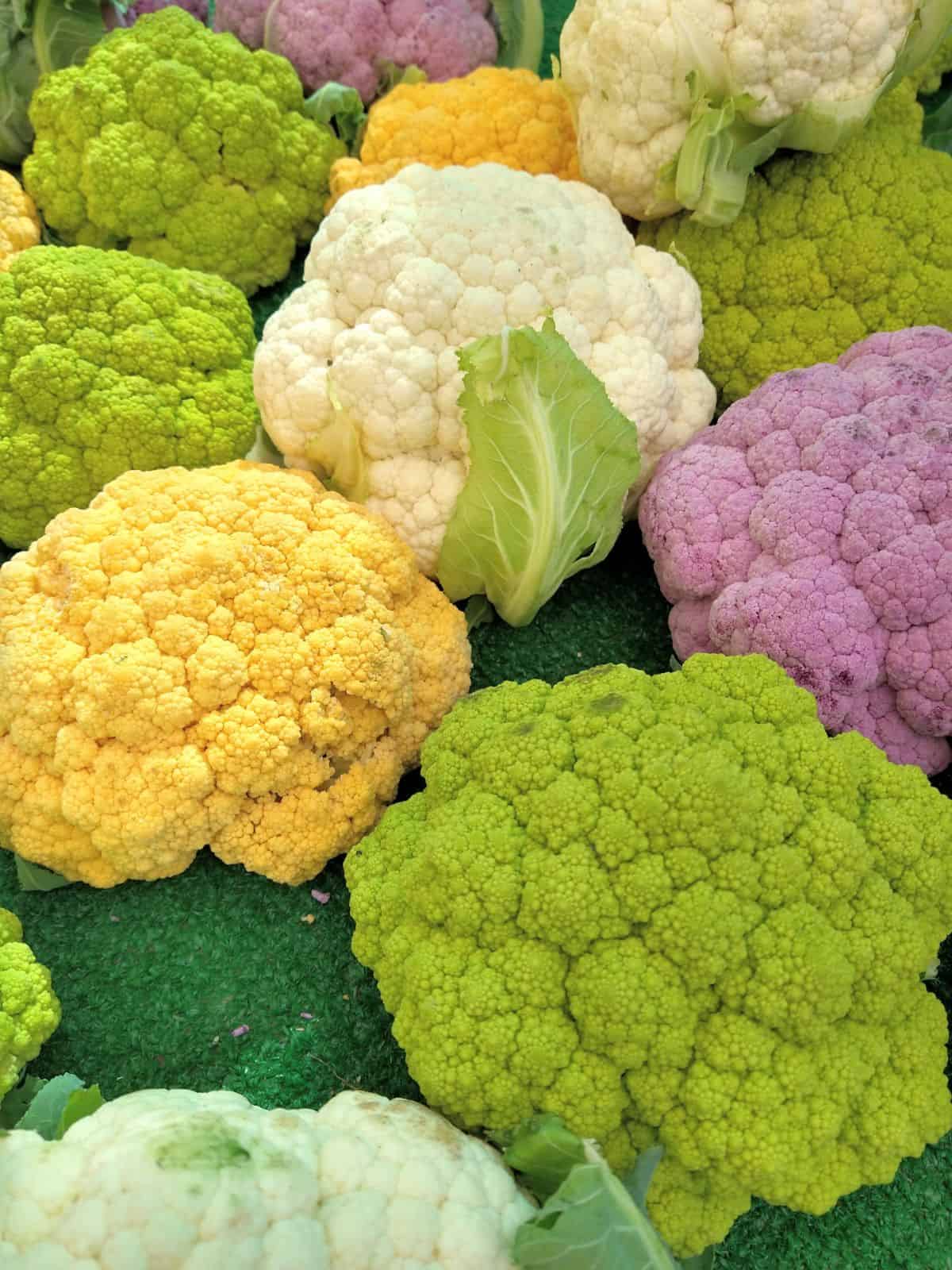 Cauliflower
I will sometimes serve broccoli and green beans for dinner, but I think cauliflower is really the better choose. Again I love color contrasts on a plate and nowadays you can get cauliflower in a variety of colors.
🍽️ RECIPE - Roasted Cauliflower with Tahini Sauce
Winter Squash
In late summer, early fall winter squash provides another textural difference on your plate. Acorn and butternut are the top most common, but I personally prefer Delicata squash.
Baked beans
Could you served beans with beans? Sure. They are different enough, then that can go well together. Baked beans are more heavy, so a nice green veggie alongside them I think is perfect.
Bell peppers
Yellow, purple, brown, red, orange - these are some of the colors you can find bell peppers in. I have been saying over and over again that I love a colorful plate and bell peppers provide a lot of color to contrast with your beans. Skip the green ones, they aren't as sweet or flavorful plus they are green!
🍋 Added Seasonings
Here are some seasonings that go well with green beans.
Garlic
Onions
Shallots
Sesame seeds
Lemon juice
Nutmeg
When you have good garlic and good green beans it really doesn't get much better! Try to source your garlic locally if you can in season. The flavor will be miles better than store bought garlic.
A little lemon juice has a remarkable ability to brighten up the flavor of any veggie. I always think why don't I do this more often.
Nutmeg is an underrated spice. It's not just for baking during the holidays. It's good o veggies too. To get the best flavor but whole nutmeg and grate it yourself using whatever you use to grate hard cheeses.
🍖 Meat
Most of us probably pick the meat first, and then decide what sides we want to cook with them. But sometimes I will do the opposite. Especially if I have fresh green beans from my own garden.
I think Chinese restaurants are the best at utilizing green bean and meat dishes. I once had some amazing pork and green beans from a Chinese restaurant that my wife's aunt had recommended. The pork was shredded pieces (but not pulled pork) mixed with green beans and a slightly sweet sauce with soy sauce, ginger, garlic, and onion.
🍝 Pasta
When I am making a pasta with a sauce like homemade mac & cheese, it's often a good time to steam some green beans to go along with. I like to have an easy side especially when I am already dirtying two pots to make the mac & cheese
Spaghetti with or without meatballs is also a great option. Even though serving a salad and bread sticks is always a favorite, I still like having a hot vegetable to eat.
🙋 What is your favorite way to enjoy green beans? Leave a comment below.