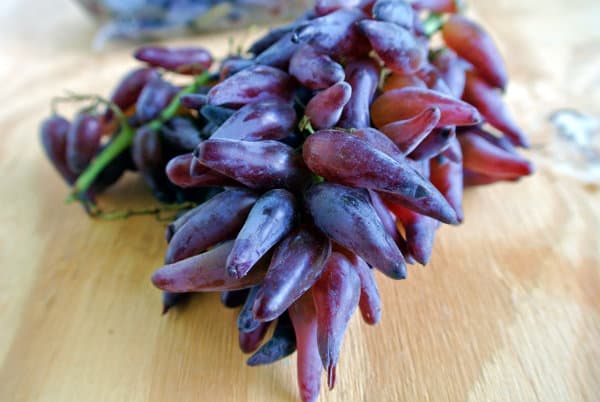 Ladies and gentlemen - it's time! All grapes lovers get ready to run to your local store to pick up some of the world's tastiest and unique grapes, offered by the Grapery - in my opinion the premier grape grower in the country. Their Witch Finger grapes are now beginning to pop up in stores across the country. These grapes are red in color, look like long fingers, and have an amazing crisp bite and flavor. The season runs from July 20th to September 20th. The actual harvest began on July 8th, 2014.
My Journey to Find Witch Finger in 2014
My own personal journey to seek out these grapes in 2014
Here in Michigan I have two potential sources - Kroger and Rocky Produce (which is a distribuitor out of Detroit, Michigan). They supplied the Hiller's store I bought them at last season. I first checked on Friday, July 18th at Hillers - no grapes - but I did find these cool Saskatoon Berries. Monday, July 21st, I walked out of Kroger with some Salted Caramel Ice Cream and milk, but no grapes yet.
Where to Buy Them
This page is your source for where to find these grapes. I will be updating with confirmed locations as the season progresses. I hope I can successfully guide to grape bliss! You will find a basic store listings below and where you see a particular city that is a location that has been confirmed to have them.
Store Listings by State
Alabama
Publix
Rouses
The Fresh Market
Sam's Club
Alaska
None
Arizona
AJs
Sprouts
Sam's Club
Arkansas
The Fresh Market
Sam's Club
California
Sam's Club
Sprouts
Raley's
Gelson's
The Fresh Market
Whole Foods
Sequoia Sandwich Shop (Bakersfield, CA)
Sully's (Bakersfield, CA)
Colorado
King Soopers
Sprouts
Connecticut
Fresh Direct
Nathel & Nathel (Distributor)
The Fresh Market
Whole Foods
Delaware
TMK Produce (Distributor)
Florida
Publix
The Fresh Market
Sam's Club
Georgia
Sprouts
Publix
The Fresh Market
Sam's Club
Hawaii
None
Idaho
Yokes Fresh Market
Pacific Coast Fruit Company
Illinois
Schnucks
The Fresh Market
Target
Treasure Island Foods
Hy-Vee
Niemanns
Indiana
Kroger
Schnucks
The Fresh Market
Iowa
Hy-Vee
Niemanns
Schnucks
Sam's Club
Kansas
The Fresh Market
Sprouts
Hy-Vee
Sam's Club
Kentucky
The Fresh Market
Louisiana
Rouses
The Fresh Market
Sam's Club
Maine
None
Maryland
Wegmans
The Fresh Market
Whole Foods
TMK Produce (Distributor)
Massachusetts
Wegmans
The Fresh Market
Whole Foods
Michigan
The Produce Station (Ann Arbor, MI)
Kroger
Minnesota
Lunds/Byerlys
H Brooks
Hy-Vee
Target
Mississippi
Rouses
Sam's Club
Missouri
Hy-Vee
Niemanns
Schnucks
The Fresh Market
Sam's Club
Montana
None
Nebraska
Hy-Vee
Sam's Club
Nevada
Sprouts
Raley's
New Hampshire
The Fresh Market
New Jersey
Wegmans
Sonoma Produce
Baldor
The Fresh Market
Nathel & Nathel (Distributor)
TMK Produce (Distributor)
New Mexico
Sprouts
Sam's Club
New York
Fresh Direct
Nathel & Nathel (Distributor)
Baldor
The Fresh Market
Wegmans
Whole Foods
North Carolina
Publix
The Fresh Market
Sam's Club
North Dakota
None
Ohio
The Fresh Market
Sam's Club
Oklahoma
Sprouts
The Fresh Market
Sam's Club
Oregon
Roth's Fresh Markets
Pacific Coast Fruit Company
QFC
Pennsylvania
The Fresh Market
Wegmans
Sonoma Produce
Sam's Club
TMK Produce (Distributor)
Rhode Island
None
South Carolina
The Fresh Market
Publix
South Dakota
Hy-Vee
Tennessee
The Fresh Market
Publix (confirmed in Chattanooga, TN)
Sam's Club
Texas
The Fresh Market
Sam's Club
Publix
Whole Foods
Green & Fresh
HEB
Utah
Sprouts
Vermont
None
Virginia
The Fresh Market
Wegmans
Sam's Club
TMK Produce (Distributor)
Washington
Town and Country Markets
Yoke's Fresh Markets
Pacific Coast Fruit Company
QFC
West Virginia
None
Wisconsin
Schnucks
The Fresh Market
H Brooks
Wyoming
None