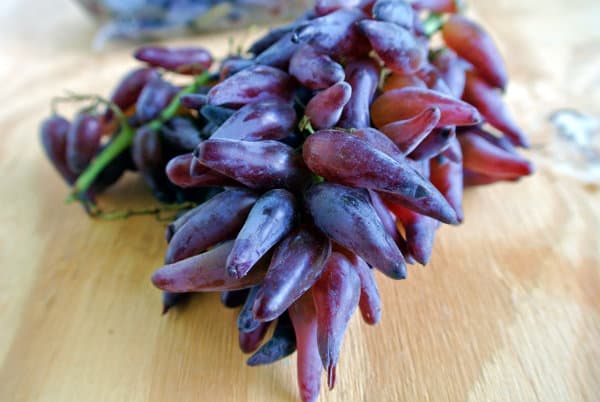 **UPDATE** I have a new list of Where to Find Witch Fingers Grapes for 2014: https://www.eatlikenoone.com/where-to-buy-witch-fingers-grapes-in-2014.htm
I have talked about many different grape varieties over the last couple years on this blog. The one I talk about today is one of the most unique. I have tried grapes of all different flavors, like the seedless Thomcord Grapes with their Concord-like flavor or the new Cotton Candy Grapes from the Grapery that actually do taste like cotton candy. Never have I experienced a grape that looks like the ones you see above. The creator of the Cotton Candy Grape - the Grapery has more than just 1 new variety up their sleeve. They have also developed a grape that looks like a witch finger. It's an elongated red grape that looks something you would see on a Halloween decoration. My kids loved the crazy shape!
What Do Witch Finger Grapes Taste Like
They are a sweet grape that tastes much like a really good standard red grape. But what makes them special is the ratio of skin on the grape. Due to their shape there is more outer skin. This something that both my wife and I can really appreciate. They also are super crisp. They have a nice bite to them. I just love their texture.
Can I Buy Witch Finger Grapes for my Halloween Party
While that would be really cool, timing just doesn't work here. The grapes are harvested between July 20 to August 10. However if you really want them around for the end of October you could toss some in your freezer and serve them as an ice cold treat on October 31st.
Where Did I Get Witch Finger Grapes
I bought my grapes at Hiller's in Ann Arbor, Michigan. I first got the Cotton Candy grapes there. I came back a few days later, but no Grapery grapes. I was scheduled to work this past Saturday morning but it didn't happen, so I decided on a whim to return to Hiller's. Boy was I excited when I saw both the Cotton Candy grapes and the Witch Finger grapes. They were selling for $2.99 a pound.
Where Else Can You Buy Witch Finger Grapes
**UPDATE** Click here for the 2014 store listing
This list includes stores that carry grapes from the Grapery. In parenthesis I include the stores that have confirmed to have Witch Finger grapes specifically. Contact the stores for availability. Witch Fingers are a new variety so availability is going to be limited.
If you are a grape lover like me, you will want to check out my Top 5 favorite grapes that you can grow yourself!
Alabama
The Fresh Market
Publix
Arizona
AJs
Sprouts
California
Sprouts Farmers Market (confirmed: Westlake Village)
Gelsons
Urban Radish
Raleys
Berkeley Bowl
Nob Hill
Sweet Surrender in Bakersfield (confirmed)
El Rancho Market
Colorado
Sprouts Farmers Market
Florida
Publix
Fresh Market stores
Illinois
Mariano's
Fresh Market stores
Schnucks
Indiana
Fresh Market stores
Massachusetts
Idylwilde Farms
Big Y
Roche Bros
Maryland
Fresh Market stores
Michigan
Hillers (this is where I bought them!)
Minnesota
Lunds
Missouri
Schnucks
Nevada
Sprouts Farmers Market
Raleys
New Jersey
Delicious Orchards
B.F. Mazzeo Produce
Nature's Reward Farm Market
Sickles Market
New York
Fresh Direct
Baldor
Grace Market
North Carolina
Fresh Market stores
Ohio
Giant Eagle Market District
Dorothy Lane Markets
Chief Markets
Pennsylvania
Iovine Brothers Produce in the Reading Terminal Market
Di Bruno Bros
Max's Produce
Rittenhouse Market
Gentile's Market
Tanner Brother
Texas
Central Markets
HEB Plus
Sprouts Farmers Market