Learn how to cook and use the Kirkland brand meatballs that you get from Costco. There are several ways to cook them from air frying to baking in the oven. I also talk about how I used them in a Costco croissant and homemade lasagna.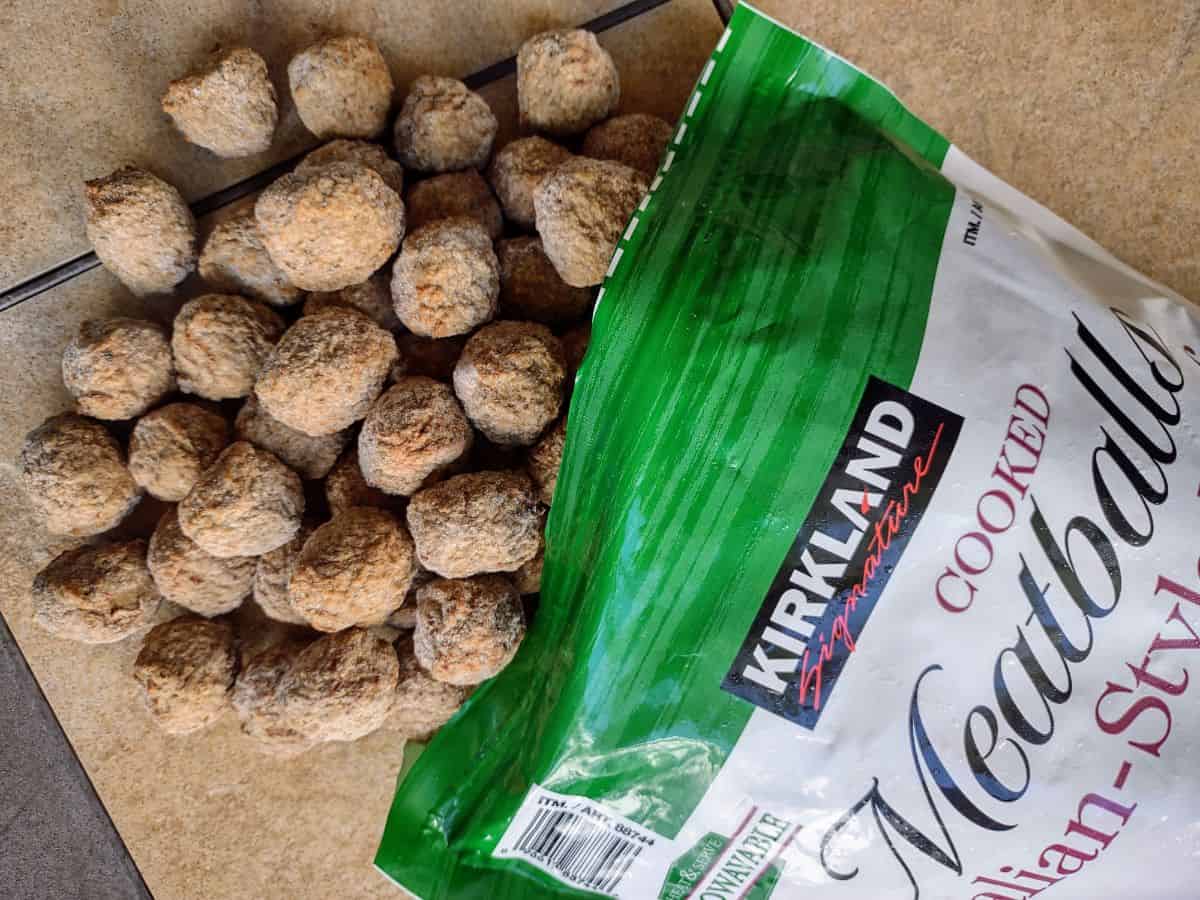 I love me some meatballs.
Homemade. Swedish. Italian. Whether they are fresh or frozen. Pork or beef. Those meatballs you get in a bowl of pho at a Vietnamese restaurant. Meatballs are my thing.
How fun it is to have one of those huge bags of meatballs you get at Costco in your freezer. Let me show a whole bunch of different ways you can make them and serve them.
Jump to:
💲 How Much Do They Cost?
Kirkland Signature Italian Style Meatballs come in a 6 pound bag for $19.99. That comes out to a per price pound of $3.33 per pound.
I checked this price at the Costco store in Spanish Fork, Utah in August of 2023. These are already cooked beef meatballs that come frozen. You get a whopping 140 meatballs in a bag,
🍳 How to Pan Fry
Want to cook your meatballs in a pan? Simply place a couple tablespoons of cooking oil in your pan and put it over medium to medium high heat. Add in the meatballs and stir to combine.
You don't need to wait until the pan gets hot. Besides I think it's a good idea to start getting any excess water from coming from the freezer out of the meatballs. If you put them in a super hot pan, you might get splattered when the hot oil and water interact.
Cook until the meatballs have browned and have passed an internal temperature of 165.
The best way to check for temperature is using an instant read thermometer. In my experience nothing can surpass the The Thermapen® ONE from ThermoWorks. It reads in just 1 second. Super easy to use and the temperature display is easy to read. I can't say enough about how much I love mine.
You also could simmer the meatballs in a sauce you already made or bought. Bring the sauce to a simmer, add meatballs, and then reduce the heat so you keep a bare simmer. Cover and cook for about 20 minutes to heat the meatballs up.
I prefer to brown the meatballs in a pan and then add the sauce and heat it up until hot.
🌬️ How to Air Fry
My favorite way to cook meatballs now is air fry them. It's fast and easy. You don't need any oil. Just put the meatballs in the basket of your air fryer. Cook them until they are 165 on the inside and are browned. This usually takes around 8-10 minutes. See my full instructions at the bottom.
After I am done air frying I add a sauce to them. And maybe put them with some pasta.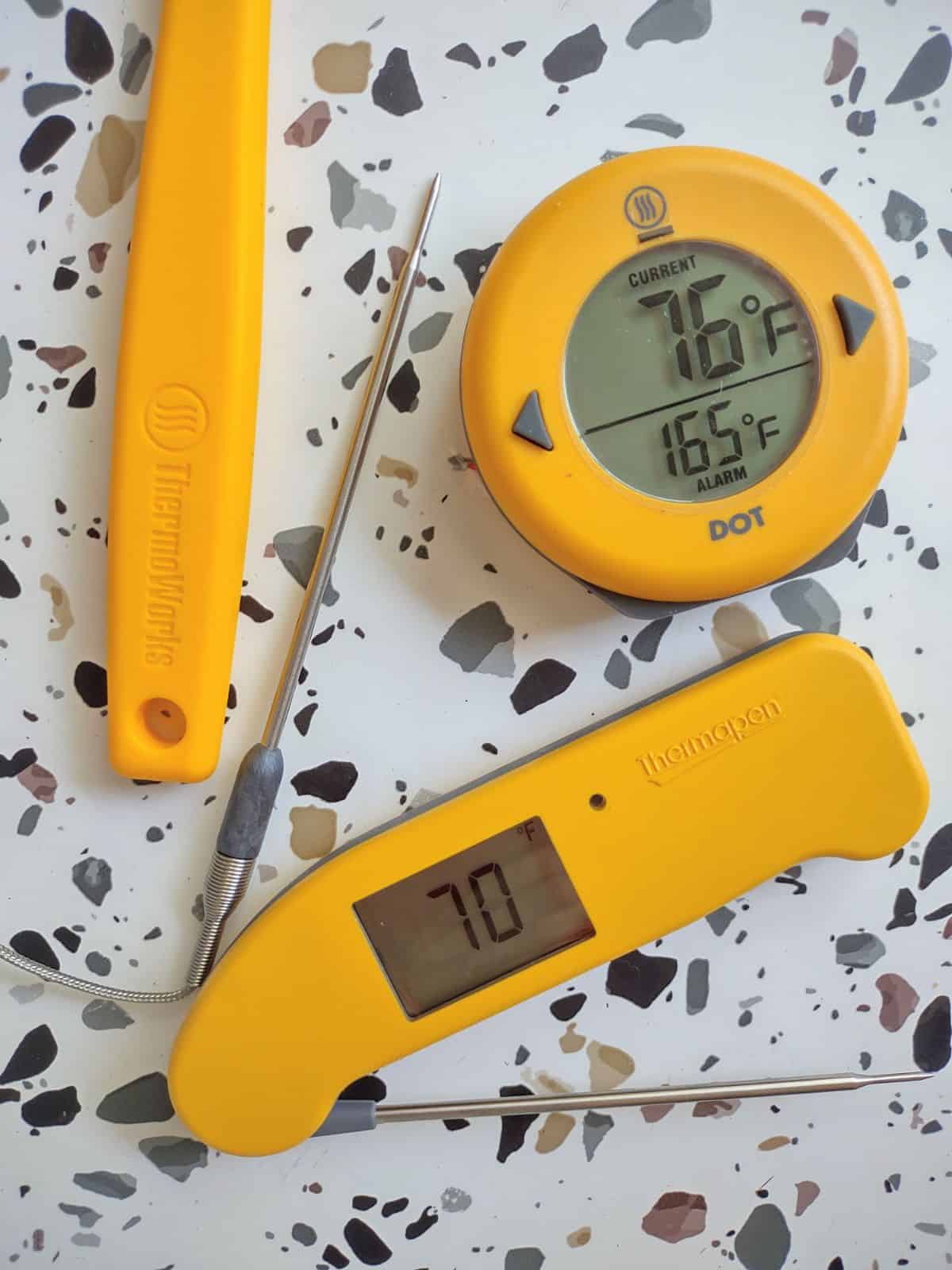 🧁 How to Bake
The best temperature if you want to bake these meatballs is 375 degrees. Arrange them in a single layer on a sheet pan. To make clean up easier, line the sheet pan with parchment paper first.
How long to bake - This should take around 20 minutes or until they reach an internal temperature of 165 degrees.
Want to know the moment they are done? For that I turn to another one of my favorite thermometers, DOT® Simple Alarm Thermometer. Plug the probe end into the middle of a meatball making sure it's not hitting the sheet pan. You then hook it to the unit and set what temperature you want. An alarm will sound when the food is ready. Super easy and saves you from having to keep opening the oven, wasting energy and slowing down the cooking time.
🌫️ How to Microwave
For this I am just going by the instructions that I have on the bag. I prefer every other method.
Place frozen meatballs on a microwave safe plate.
Heat for 10 minutes on medium power or until warmed through. Allow to sit 2 minutes before removing from microwave.
If you have an air fryer it's going to take you about the same time and they will brown better, so I would never microwave or air frying. But if you don't have one this can work out in a pinch.
💧 How to Steam
You can easily steam these meatballs by using a steamer basket in a pot or if you got one, you can use a bamboo steamer lined with some parchment paper. It should take around 15-20 minutes to get the meatballs heated up to an internal temperature of 165 degrees.
💡 Bonus tip - I like using the tough green parts of leeks. You just need to steam them until they are warmed up all the way through. I actually have a bamboo steamer basket that I use with my Instant Pot.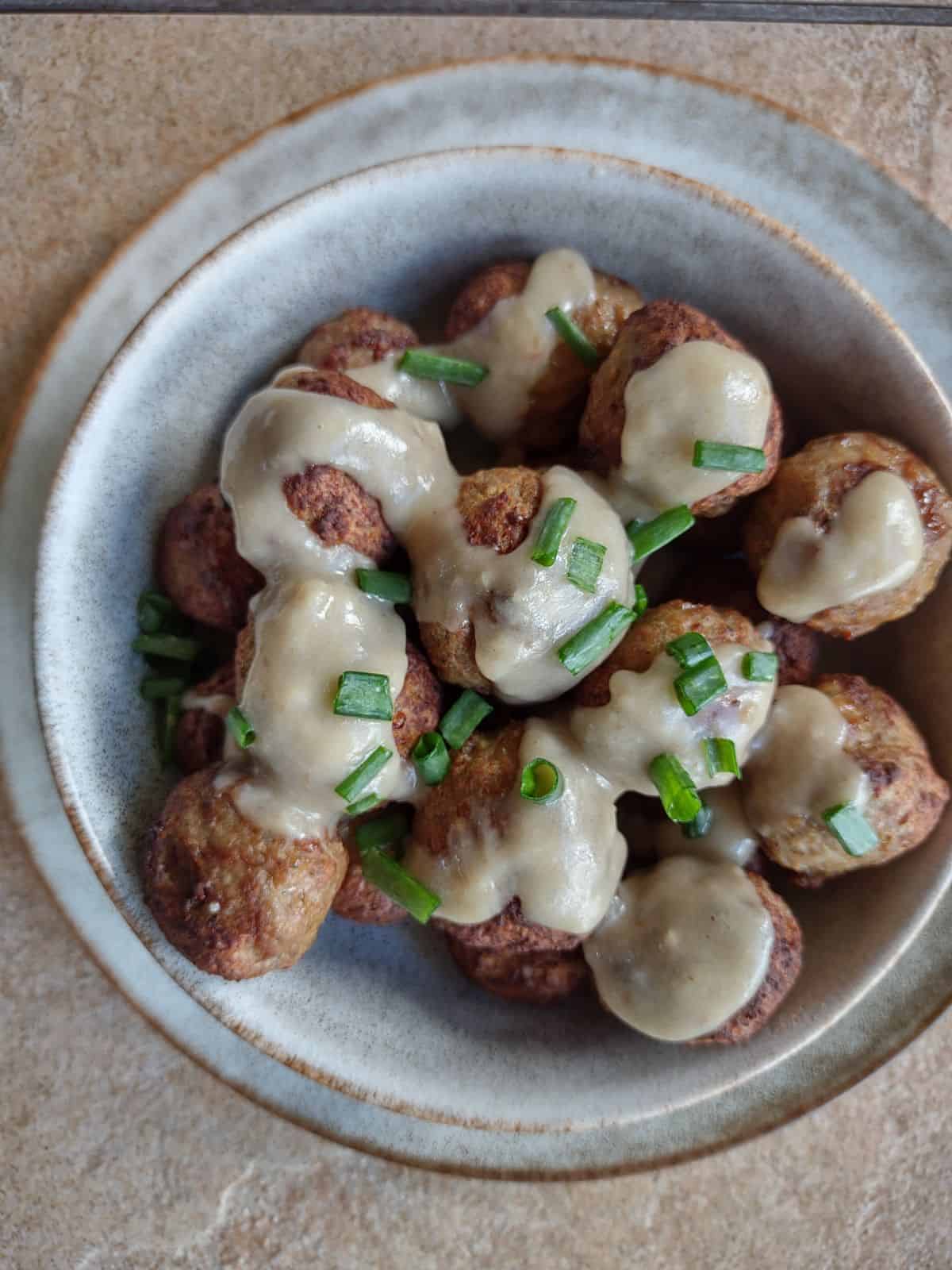 🍅 Sauces
I certainly love meatballs that are topped with amazing sauces. My 3 favorite are tomato sauce, pesto, and gravy.
For the pesto, you can either make your own pesto or buy the Kirkland brand pesto at Costco.
Did you know you can make pesto with ingredients besides basil? I have recipe on the blog for a Spinach & Arugula Pesto, that is a great way to use up those greens before they go bad.
I also have to say that using both tomato sauce and pesto will blow your mind!
🥪 Sandwiches
Meatballs between two pieces of bread? Yes!!! One of my son's favorite foods of all time is a meatball po'boy down in New Orleans. Skip the lunch meat and try throwing a few meatballs in the air fryer and then slice them up and put them in your favorite bread.
Here is what I did before. I had some croissants from the bakery section at Costco. I sliced one open without going through the entire croissant, making a pocket. I filled it with air fried meatballs, sliced in half, then topped with Kirkland Mozzarella cheese. I bought a huge block of it and then grated it myself. I topped it off with my homemade tomato sauce but you can use anything you like from Costco.
🍕 Pizza
Can't get much easier than this. Since the meatballs are cooked, it's super easy to add them as a pizza topping. Just slice them into bite sizes pieces and add to your pizza.
You can't find it at Costco, but if you ever come across Brick cheese, it's seriously the best cheese for pizza. It's what you find on the real deal Detroit style pizza. If you want a Costco cheese, I recommend the Belgioso Fresh Mozzarella logs. Check out our post for my guide to buying cheese at Costco.
🐱 Lasagna
Last up I want to talk about using meatballs to make homemade lasagna. I would take meatballs over ground beef in lasagna any day. I love getting that meaty bite.
Since the Kirkland Meatballs are already cooked, you don't even need to do anything to them, just slice and layer them into your lasagna. You may need let them thaw a bit first to slice them in half. Or you can briefly warm them enough in the air fryer or microwave.
The lasagna will look amazing with the meatballs sticking out of the top.
RELATED - Check out our post to learn What Vegetables Go Well in Lasagna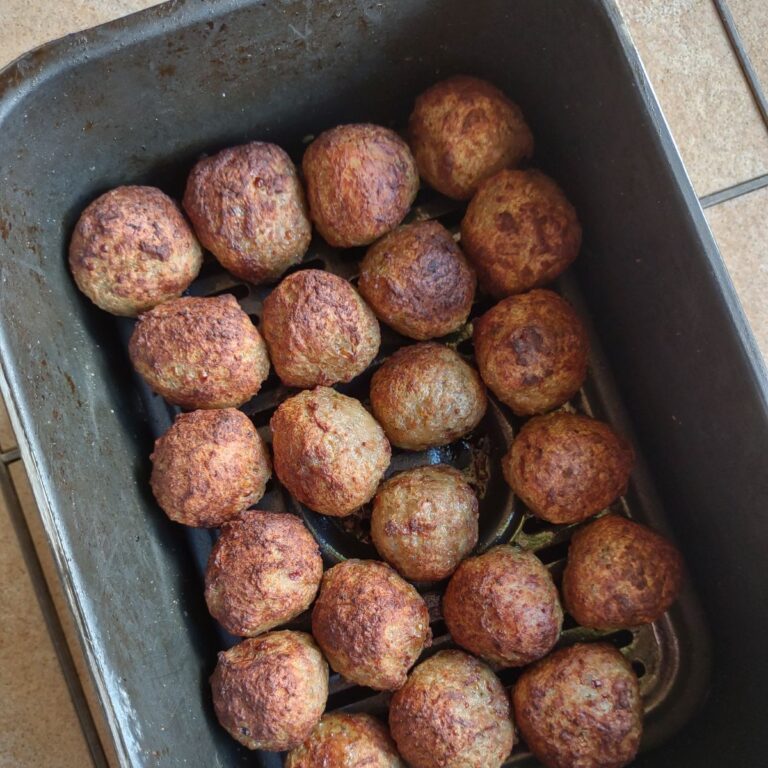 Air Fryer Kirkland Meatballs
Learn how to air fry the cooked beef meatballs from Costco
Print
Pin
Rate
Ingredients
Kirkland brand frozen pre-cooked meatballs
Instructions
Add the frozen meatballs directly to the air fryer basket. No need to thaw.

Only put the meatballs in a single layer. Don't stack them or they won't cook evenly. if you can't fit as many as you want to cook then work in batches.

Set the air fryer to 375 degrees for 5 minutes.

Shake the meatballs in the basket.

Check the meatballs after 5 minutes. If they are browned and have reached at 165 degrees then they are ready. If not cook the for another 3-5 mintues.

Serve whatever way you want.
Tried this recipe?
Mention @eatlikenooneelse or tag #eatlikenooneelse