You must make it a priority to make these Good Eats waffles. Homemade oat flour made from old fashion oats brings a ton of flavor to the party. Another winning recipe from Alton Brown.
There is so much more to the waffle world than just a plain old waffle.
I have been wanting to experiment more with different flavors in waffles. Earlier this month, I wrote about a pumpkin waffle recipe I tried.
Thanks to Alton Brown I was inspired to try another new waffle recipe that appeared in the Good Eats episode entitled "Oat Cuisine II".
As one now opposed to mixing different flours in my waffles. I have done part all-purpose flour and part whole wheat flour, I was pumped to try them with oat flour. This time the AP flour is teaming up with some homemade oat flour.
Below you will find my notes from this recipe and why I chose to feature it on the blog.
Why this Recipe
What about this recipe makes it "Eat Like No One Else" material? It's the use of oats as flour. I learned how to make my own oat flour. It's not something you need to buy separately at the store. I have been making my own oat flour ever since trying this recipe.
In case you haven't tried to yet, oats are great for so many more recipes than just oatmeal.
The key to giving the oats their best flavor is to toast them. You can do that in a pan or in the oven. It's your choice. The pan method you have to keep an eye on or they will burn - as Alton would say that's not good eats!
I used a Cuisinart waffle iron. Its a couple years old and have been pretty reliable. It heats up a lot faster than the previous waffle iron I used. Also you can see that not every waffle will come out perfect, it takes a couple times through usually to figure out exactly the perfect amount of batter to make the perfect looking waffle you saw at the top of this post.[/caption]
Recipe Notes
1. When I first tried this recipe, I do not have a food processor yet. A blender will work as well to make the flour it just takes more time to get it done. I had to make sure I didn't overheat my motor, but it got the job done. You also probably could do it in a coffee or spice grinder but you would need to do it in two batches and make sure your the coffee smell is gone.
2. Make sure you don't leave the room when you are toasting the oats or you might end up with a burnt mess (thankfully I didn't find this out the hard way). Just toast them until you begin to smell oats.
3. When mixing the wet and dry ingredients together, you only need to bring it together. The batter doesn't need to be perfectly smooth, lumps are ok. Pockets of flour not mixed in are not.
4. Allow for the batter to rest for 5 minutes before beginning. This allows the flour to full hydrate. It won't make the waffles tougher. You probably could get a way with putting it in the fridge for 30 to an hour if you really needed to, but I haven't had to so don't quote on me on that. If you try, let me us know!
5. I like to make a double batch. The recipe & instructions you will find below is for a double batch, which was enough to kid my family of 6 (including a baby) and still have about 4 or 5 waffles leftover.
6. As a serving suggestion if you haven't yet it's worth checking our a Bourbon Barrel Aged Maple Syrup. It's exactly how it sounds, it's maple syrup that has been aged in bourbon barrels. It packs a ton of flavor. The brand I like is Crown. I have tried the one from Trader Joe's too but was pretty disappointed in it.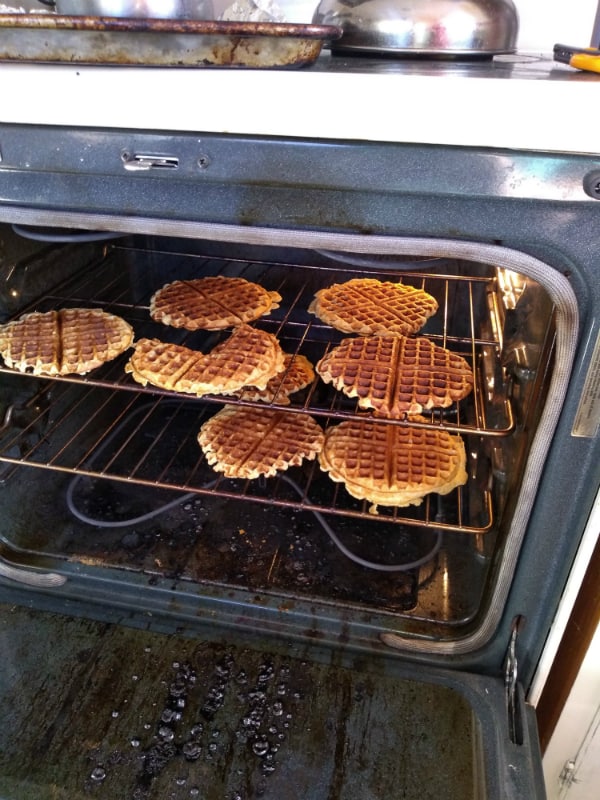 To keep the waffles warm while you cook them all,, place them in a 200 degree oven. I like to put them directly on the oven rack without being stacked. This allows them to stay crisp. Don't keep them in the oven pass a half hour or they might start getting too hard/dried out.[/caption]
Recipe Review
These are among my wife's favorite waffles I have made. They had a bit of crunch to the outside, while being fluffy in the middle. I think the oats provide a better flavor than just wheat flour does.
My son was super excited about them and loved them with some freshly sliced bananas. Since I am always looking for ways to add more oats to my diet and I don't like oatmeal, this is a winner for me.
Can You Make These Oat Waffles Gluten Free?
These waffles are not gluten free as they still contain some wheat flour. They aren't 100% oat. I have not experimented yet with 100% oat waffles so I don't know how they would turn out. There are recipes out there.
What I recommend trying is using this same recipe but replacing the all-purpose flour with a gluten free flour and making sure your oats are certified gluten free. Jessica's Gluten Free Flour is my GF flour of choice.
Other Alton Brown Recipes You Might Like
Alton Brown's Buttermilk Pancakes
Alton Brown's Blueberry Buckle
Alton Brown's Individual Upside Down Peach Cakes
Alton Brown's Oat Waffles
Alton Brown's recipe for oat waffles featuring homemade toasted oat flour. Original recipe has been doubled to fit my family size (2 waffles per person) as well as to have leftovers. Ingredients are from Alton, instructions have been written in my own words.
Print
Pin
Rate
Instructions
Making the Oat Flour
Toast the oats in a frying pan set over medium heat. Stir ocassionally until toasted, you should be able to start smelling them slightly. Should take about 3 minutes.

Remove oats from heat and allow to cool.

Add the oats to your food processor. Process until they are the same consistency of your all-purpose flour. It should take no more than 3 minutes.
Making the Batter
In a medium or large mixing bowl, combine the all-purpose flour, the homemade oat flour, sugar, baking powder, baking soda, and kosher salt.

In a second mixing bowl, beat the eggs. Then slowly drizzle in the melted butter as you whisk it. Add in the buttermilk and thoroughly combine.

Add the wet ingredients on top of the dry ingredients. Using a wooden spoon, stir to just combine. Don't over mix. Any small lumps will work their way out when you cook them.

Allow the batter to rest for 5 mintues. In the mean time, heat up your waffle iron.
Cooking the Waffles
Preheat your oven to 200 degrees for keeping the cooked waffles warm.

Using a ½ cup measuring cup, scoop the batter onto the waffle iron towards the center. Close the iron and cook until brown. Adjust the amount of batter you use depending if the first waffle filled the iron or not. Using a smaller amount if overflowing or using more if the waffle didn't completely fill the iron.

Place the finished waffle into your oven, directly on the rack. Do not stack. This will keep your waffles hot and crispy.
Tried this recipe?
Mention @eatlikenooneelse or tag #eatlikenooneelse
Disclaimer: This posts includes affiliate links. This means that at no additional cost to you, I will earn a commission if you click through and make a purchase. These are products and services I recommend because I use or trust them. Cookies will be used to track the affiliate links you click.