Did you know that a crab apple could actually be sweet? You need try this Minnesota developed variety that combines a sweet, nutty flavor in a small package.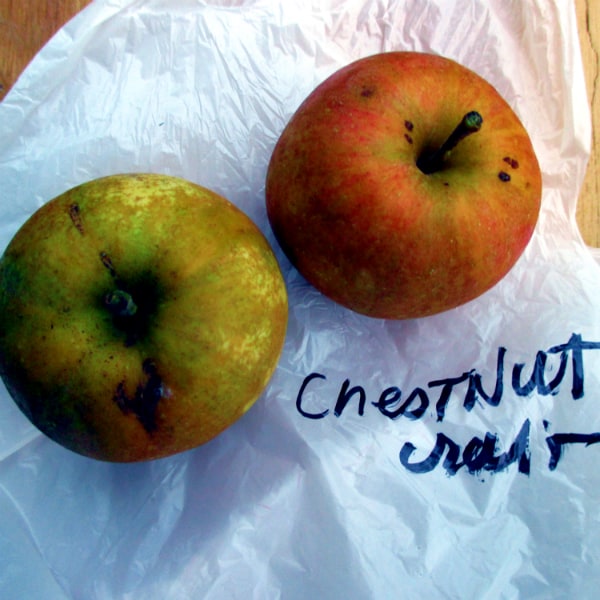 What is the first thing that comes to mind when I say "crap apple"? Do you think of some tree growing in your yard, your neighbor's yard, or your favorite park? Do you have childhood memories that throwing a crab apple at someone was much more fun than actually eating one?
As we grow older our palates become more sophisticated - hopefully, at least mine did. Maybe you have grown to show some appreciate for crap apples. Apple jelly anyone? Just grabbing one and eating then out of hand? Probably not. Are crab apples just not worthy of eating out of hand? Or have you just not found the right crab apple. Let me introduce to you the Chestnut Crab - the apples I am munching on as I write this post.
Jump to:
🌳 Where Did It Come From?
I have more surprises up my sleeve - the Chestnut Crab was developed by the same people that brought the world the Honeycrisp - the University of Minnesota. It was developed back in 1946. You can buy your very own tree from the famous Stark Bros Nursery.
⭐ My Review
What do I think of the apple?
Wow, wow, wow, and wow so more. I love this apple. In my opinion - Best Crab apple EVER. Snack size mall, yet so flavorful. It packs the right amount of sweetness in perfect melody with it's tart side. The flavor is rich and slightly nutty.
My favorite part is the skin. I think apples that have brown or russetting on them make for the best skin. If I wasn't having so much fun eating them, I know they would make an excellent apple jelly or butter.
I made the mistake once of only tasting the Chestnut Crab at Whole Foods and not buying a bag. The moment I see them every year, I made sure to get myself a full bag of them.
Here is my scores for this apple. Our rating scale below goes from 1 to 10.
| | |
| --- | --- |
| Crispiness | 8 |
| Tartness | 6 |
| Flavor | 8 |
| Sweetness | 7 |
| Juiciness | 7 |
🛒 Where to Buy
They are a hard to find variety so your best bet is stores that carry more unique and heirloom apples as well as visiting a farmer's market.
I have found them at farmer's markets in the Midwest and up in Maine.
🍎 Join Our Apple Club
Want to find out when the best apples at in stores? Join our email list.
🍏 More Apples to Try
Here are some other apples varieties you'll want to see out.
Have you tried this apple? What did you think? Leave a comment below telling us. Be a helper and share where you found it. You may make someone's day with your insider info on where to get them! If you are a true apple lover, you'll want to check out all of our apple reviews.