In episode 104 learn what fruit you should be looking out for in the grocery store during the month of April.
🎧 Listen
You can listen to this podcast episode below or listen on any of these podcast players - Spotify, Apple Podcasts, Amazon Music, Google Podcasts. If you would prefer to read the text, you will find a transcript below.
📜 Read
Out of all the months of the year, April is my least favorite for fruit. It's the tail end of the citrus season. Stone fruit is still a month. Apples we are just talking about the same old ones we have been all winter, waiting for the New Zealand varieties to arrive. Domestic blueberry season is almost here but not quite yet in peak as Florida starts up their season.
Before we get started if you are loving these fruit pick episodes, please let us know by contacting us at [email protected] or heading over to your favorite podcast player and leaving us a 5 star review. This helps support this podcast and I am grateful for your help. Alright let's get to the episode.
April is kind of a transition month with a lot of good fruits on the horizon. Let's see what it has to offer.
This is a good time of year to get mangos. The fruit is available year round but the quality and price is best in the month of April. The Yellow Ataulfo mangoes are the best for sweetness and texture. Whole Foods Market has carried Haitian mangoes in years past. They are larger than Ataulfo and are as sweet as candy.
Grapes are rocking right now with lots of tasty varieties being imported. I talked about them last month but I want to again mention the Muscat grape. It has a really unique flavor. The grapes are green with pink blush.
In the last week I have been seeing red Candy Hearts grapes and black Candy Dreams grapes at stores like Costco, Aldi, and Publix. These grapes have that wow factor. Sweet with great flavor. Both were developed by International Fruit Genetics, which are known for their Cotton Candy grapes, which you can also find imported this month.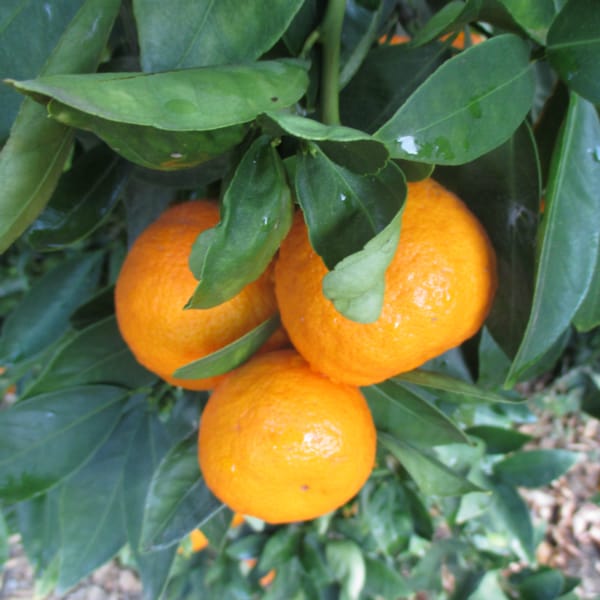 Sadly citrus season is wrapping up. But the end has some pretty good offerings, starting with Ojai Pixie Tangerines. I just got my hands on my first ones of the season at Publix and as usual I was not disappointed. These seedless tangerines are smaller than other varieties, but aren't small on flavor. They are grown north of Los Angeles in the mountain resort town of Ojai. I have been there before and it's a beautiful place that produces some of the world's best citrus.
More widely available are the Gold Nugget mandarins. They can range in size from average to really large. The quality isn't as consistent as the Pixies but they are worth checking out.
Last month I saw and hope to find again is Red Kiwi. The Kiwi is still brown on the outside but less fuzzy. The inside is more yellow with a red ring in the middle. It's sweet and delicious and way better than green kiwi. I found in once at a Rouses Market near New Orleans. Hard to find but if you do, please buy them, you will thank me.
Lastly I want to talk about apples. This time of year it's all about knowing what apples stay crisp longest. I think EverCrisp is one of the best for that. With a name like that you would expect them to be forever crisp! I am going to be talking about these apples soon on the podcast, so look out for that.
Sign up for our seasonal fruit email list so you don't miss hearing about the best fruit of the season.
🛒 Before You Checkout
What you need to know before you checkout at the grocery store or market:
When you are shopping for grapes look at the stems. Are they more black or more green? If the stems are more green than the grapes are going to last longer.
Grapes are sold in either bags or plastic clamshell containers. Typically the clamshell containers protect the grapes better, so when buying in bags you want to examine them better. You don't want a ton of loose grapes in the bottom that are already going bad.